Mini DVI Fiber Optic Extender , 1920x1080p@60hz , Audio , single fiber LC 20KM
Mini DVI Fiber Optic Extender , 1920x1080p@60hz , Audio , single fiber LC 20KM
Superior video quality up to 1920 x 1200 at 60 Hz (24-bit

DVI-D Single Link (18+1) for resolutions up to 1920x1200@60HZ

Gold plated precision mating contacts, EMI protection, low attenuation

DVI-D (18+1) male to LC female, full metal housing

Zero frame delay delay and compression free transmission
Mini DVI Fiber Optic Extender , 1920x1080p@60hz , Audio , single fiber LC 20KM
This DVI Extender is a fiber optic DVI and Audio extender kit that overcomes the length restrictions of standard DVI cables by using a single mode fiber optic strand to send high definition audio, video and over longer distances.
It can transmit DVI-D signals over very long distances, up to 20k m from the source.
The expansion system takes the audio-video data streams from the local source and converts them to serial so they can be transmitted over a single 3.125 Gbps mulitplex optical link, for resolutions up to 1920 x 1200 at 60 Hz and 24 bits, and with perfect image quality.

Features:
- Allows access to a computer installation from a local or remote console
- Supports DVI-D interface and allows transmission of DVI Single Link signals
- Superior video quality up to 1920 x 1200 at 60 Hz (24-bit)
- Support for touch and multi-touch screens up to 10 points
- Dual console operation: control your system from the monitor, mouse and keyboard of both local and remote consoles
- Uses single-mode fiber optic cable with LC connector to connect the local and remote box
- Sound transmission: microphone and stereo speakers supported

.

.

.
.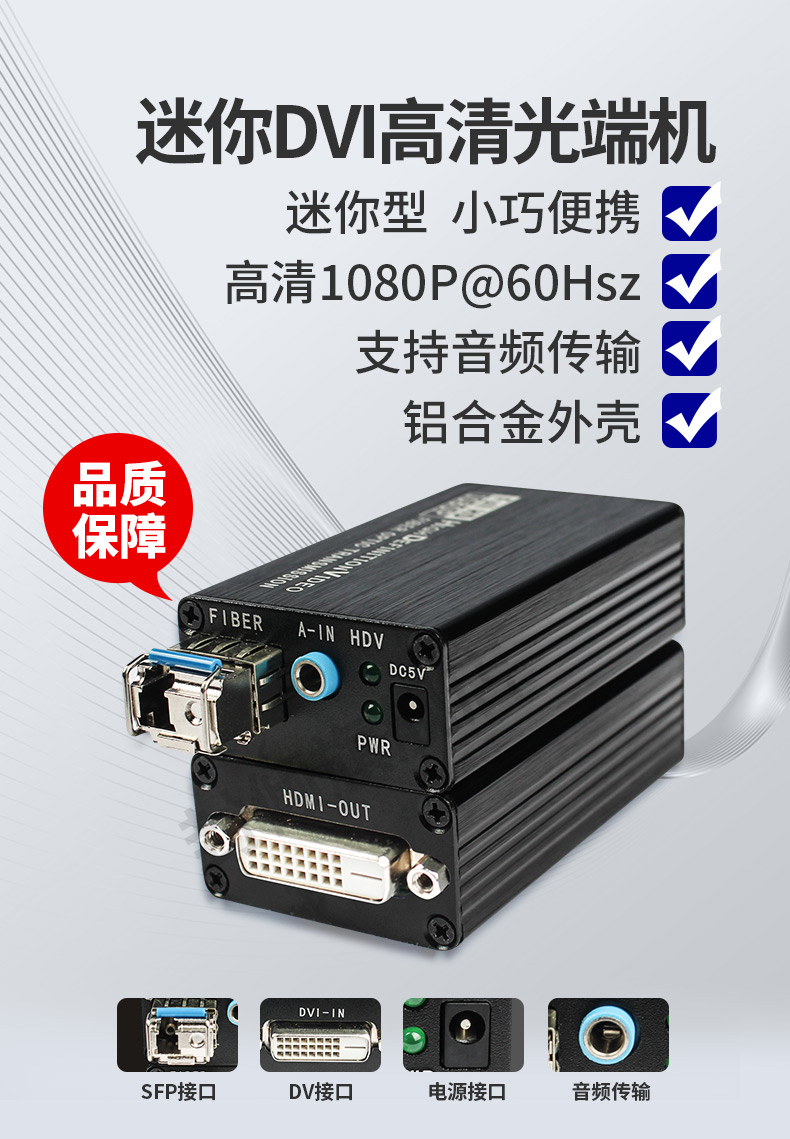 SPECIFICATIONS:

OperatingTemperatureRange

-5 to +35℃(+23 to +95℉)

OperatingHumidityRange

5 to 90%RH (No Condensation)

Video Input(Transmitter)

1xHDMI Type A, 19-pin, female

Video Output(Receiver)

1xHDMI Type A, 19-pin, female

Link(Transmitter/ Receiver)

1m~60Kmsingle / Multimode single / Duplex fiber optical cable

Module type required①

SFP Type, Single / Multi mode ,Single / Duplex fiber (optional)

Video Format

4K@60Hz YUV 4:2:0, 1080P@60Hz, 1080i, 720P, 576P, 480P

Audio Format

Support LPCM 7.1, Dolby True HD, DTS-HD Master Audio .

HDCP Input

HDCP 2.2, HDCP 1.4

HDCP Output

HDCP 1.4

Power consumption

Transmitter: 3watts(Maximum)

Receive: 3watts(Maximum)

Dimension (L×W×H)

Transmitter: 96*100*25mm

Receive: 96*100*25mm

Net Weight

475g(Pair)
.
Other Hdmi Product