4k / 2k DVI Fiber Optic Extender ,edid, 4096x2160p@30hz ,1 Core,2 Core,4 Core Single Mode/Multimode fiber ,LC
4k / 2k DVI Fiber Optic Extender ,edid, 4096x2160p@30hz ,1 Core,2 Core,4 Core Single Mode/Multimode fiber ,LC
Supports Single Mode up to 1500m, Multimode:500m

DVI-D Single Link (18+1) for resolutions up to 1920x1200@60HZ

Gold plated precision mating contacts, EMI protection, low attenuation

DVI-D (18+1) male to LC female, full metal housing

Zero frame delay delay and compression free transmission
4k / 2k DVI Fiber Optic Extender ,edid, 4096x2160p@30hz ,1 Core,2 Core,4 Core Single Mode/Multimode fiber ,LC
DVI-D Single Link (18+1) for resolutions up to 4096x2160p@30hz, 3840x1080P@60hz
Gold plated precision mating contacts, EMI protection, low attenuation
DVI-D (18+1) male to LC female, full metal housing
Supports Simplex Single Mode up to 2.000m (G.652D)
"Zero frame delay" delay and compression free transmission


DVI over LC Fiber Extender Set
This DVI Extender Set consists of a transmitter and receiver in a full metal housing. The set supports DVI-D single link connections and is thus suitable for transmissions with up to 6.75Gbps or resolutions up to 4096x2160p@30hz. In the transmitter, the incoming DVI connection is converted into an optical LC simplex single mode signal, then transmitted delay- and compression-free via LC optical fiber over up to 2,000 meters to the receiver, where it is converted back to DVI. Both components are equipped with gold-plated plug-in contacts and offer full protection against electromagnetic interference as well as low attenuation for perfect transmission quality. Both transmitter and receiver are powered via 5V power; two power supplies with power cables are included.

When distance, quality and bandwidth are essential
The DVI fiber optic extender set from PureLink is designed for optimal transmission of DVI-D single link signals over long distances. By converting the signal into an LC fiber optic signal that is free of electromagnetic influences / interference, transmission distances of up to 2,000 meters are possible, significantly more than with conventional DVI copper cables.
The transmitter accepts DVI single link inputs and converts them into a simplex single mode signal, which is transmitted to the receiver via LC fiber optic cable and converted back to DVI. The maximum resolution is 4096x2160p with 30Hz to DVI Single Link standard. EDID data for switching between display and source as well as HDCP encryption are also transmitted. The transmission happens without any signal delay (Zero frame delay).

The LC single mode fiber connection can be established using OS1 (9μm/125μm for max. 2,000 meters) conductors.
The DVI-D connectors on transmitter and receiver sides have gold-plated precision mating contacts and are integrated into a full metal housing that is galvanically isolated to prevent ground loop hum. These finishes make the connectors themselves impervious to corrosion, guaranteeing long-lasting data transmission.

The Extender Set also features Pixel Accurate Reclocking. This is a signal regeneration technology that frees the signal from interference, skew and jitter caused by long cable runs and EMC-incompatible devices. As a result, the image at the end of the cable looks exactly the same on the pixel as the original.
The fiber optic extender set is designed to connect DVI source devices, such as PCs with a DVI compatible display, that are located far apart. Both modules are shaped like a conventional DVI plug with screw cap and can be used like a normal DVI connection cable. Both transmitter and receiver have a Link LED as well as Power Status LED and are powered via 5V power supply; two power supplies with 5V power cables are included.


The AV industry continues to push for greater bandwidths, faster speeds, and lossless signal quality over ever-longer distances. Traditional copper cabling is reaching its limits at these long ranges and cannot perform the task with the required reliability. Our product was designed to meet this need on the part of the industry.
By combining various optical transmission standards with the latest cutting-edge technology, Our product ensures that existing AV infrastructures will continue to meet the high demands of users and customers in the future.
Thanks to the high fiber quality, Our products also feature tighter bend radii, enabling faster and easier installations than comparable products.

.
.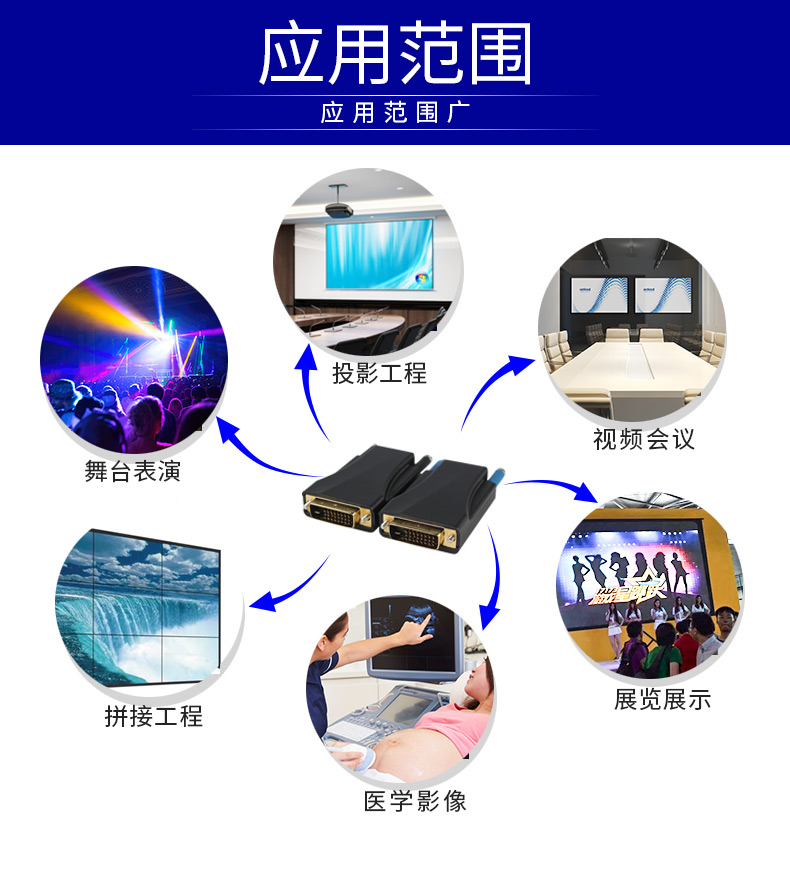 SPECIFICATIONS:

OperatingTemperatureRange

-5 to +35℃(+23 to +95℉)

OperatingHumidityRange

5 to 90%RH (No Condensation)

Video Input(Transmitter)

1xHDMI Type A, 19-pin, female

Video Output(Receiver)

1xHDMI Type A, 19-pin, female

Link(Transmitter/ Receiver)

1m~60Kmsingle / Multimode single / Duplex fiber optical cable

Module type required①

SFP Type, Single / Multi mode ,Single / Duplex fiber (optional)

Video Format

4K@60Hz YUV 4:2:0, 1080P@60Hz, 1080i, 720P, 576P, 480P

Audio Format

Support LPCM 7.1, Dolby True HD, DTS-HD Master Audio .

HDCP Input

HDCP 2.2, HDCP 1.4

HDCP Output

HDCP 1.4

Power consumption

Transmitter: 3watts(Maximum)

Receive: 3watts(Maximum)

Dimension (L×W×H)

Transmitter: 96*100*25mm

Receive: 96*100*25mm

Net Weight

475g(Pair)
.
Other Hdmi Product