DVI Fiber Optic Extender ,edid, 1080p@60hz ,4 Core Single Mode/Multimode fiber ,LC
DVI Fiber Optic Extender ,edid, 1080p@60hz ,4 Core Single Mode/Multimode fiber ,LC
Supports Single Mode up to 1500m, Multimode:500m

DVI-D Single Link (18+1) for resolutions up to 1920x1200@60HZ

Gold plated precision mating contacts, EMI protection, low attenuation

DVI-D (18+1) male to LC female, full metal housing

Zero frame delay delay and compression free transmission
DVI Fiber Optic Extender ,edid, 1080p@60hz ,4 Core Single Mode/Multimode fiber ,LC
Supports Single Mode up to 1500m, Multimode:500m

DVI-D Single Link (18+1) for resolutions up to 1920x1200@60HZ
Gold plated precision mating contacts, EMI protection, low attenuation
DVI-D (18+1) male to LC female, full metal housing

Zero frame delay delay and compression free transmission

This extender brings a DVI signal not only to the next room!
This fiber optic DVI extender of the Fiber extends the range of a DVI signal via LC single mode cable with detachable connectors up to 10 kilometers. The transmitted content is sent with a maximum resolution of 1920x1200 @60HZ. This makes it the first available solution with full HDCP support. Due to the integrated HDMI chipset, it also transmits a digital audio signal. The use of our first "Real Pass through EDID" feature simplifies both installation and cable management and guarantees fast communication between different devices.

Fiber Optic Products for Longer Cable Distances
This products are the ideal solution for transmitting video and audio signals over long distances using fiber optics. In doing so, they prevent various limitations that can occur with hybrid systems.

The latest technology
The system offers several advantages over the conventional solution and - depending on the product - is designed for DVI DisplayPort. All products in the series are 3D-capable and offer full support for HDCP as well as "Real Pass through EDID" in real time, which makes EDID learning unnecessary. Another special feature are the reclocking properties of the installed chipsets. Due to the jitter reducing circuits, they also work with sources that have a strong interference factor.


Fast and practical
The perfect fiber optic cable for this extender is called LC ,The FiberX FX-LC fiber optic cables are detachable with one hand. This means that transmitters or receivers can be replaced without having to re-route the cable. This makes them ideal for fixed installations and, thanks to their compact form, they are also perfect for locations with little free space. The cables have an extremely small diameter, which allows the installation of many fiber optic cables within one system. They are also shielded with Kevlar and PVC, so there is no need to worry about quality problems even over long distances. The small bending radius of about 4.5 cm allows installation even in tight and hard-to-reach places. In addition, the cables are free of halogens, fire-retardant and offer protection against moisture.

Please note
Fiber optic cables are very sensitive - the plug tip should not be touched if possible. A fast flashing LED indicates the initialization of the system. A slow flashing is also indicated when the power supply is missing or insufficient.
.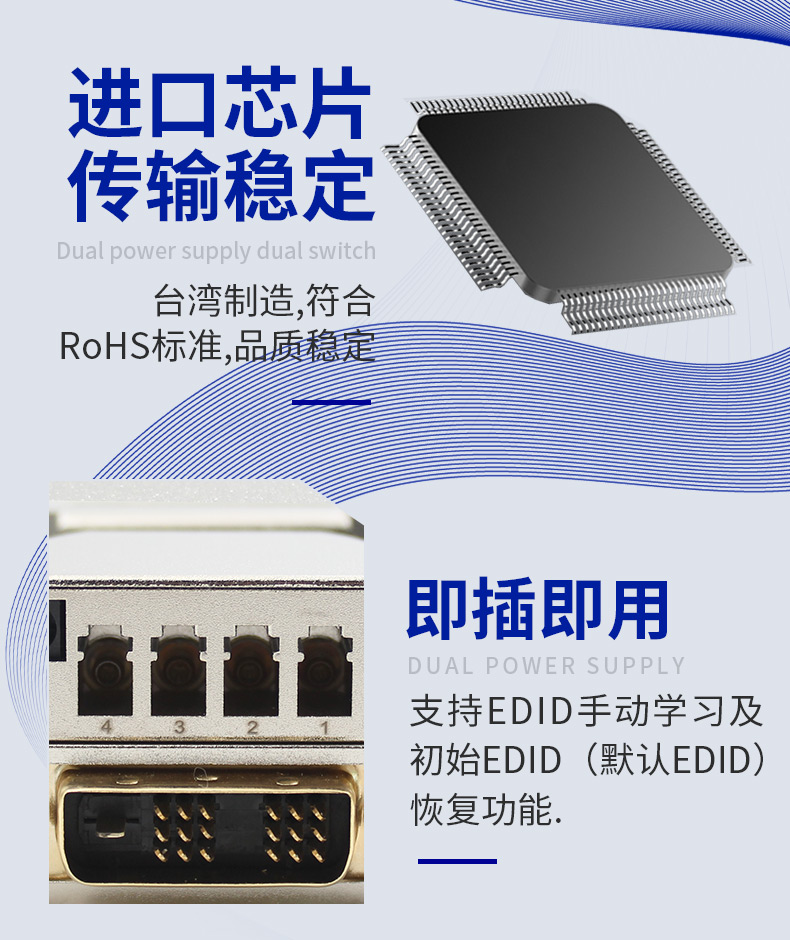 SPECIFICATIONS:

OperatingTemperatureRange

-5 to +35℃(+23 to +95℉)

OperatingHumidityRange

5 to 90%RH (No Condensation)

Video Input(Transmitter)

1xHDMI Type A, 19-pin, female

Video Output(Receiver)

1xHDMI Type A, 19-pin, female

Link(Transmitter/ Receiver)

1m~60Kmsingle / Multimode single / Duplex fiber optical cable

Module type required①

SFP Type, Single / Multi mode ,Single / Duplex fiber (optional)

Video Format

4K@60Hz YUV 4:2:0, 1080P@60Hz, 1080i, 720P, 576P, 480P

Audio Format

Support LPCM 7.1, Dolby True HD, DTS-HD Master Audio .

HDCP Input

HDCP 2.2, HDCP 1.4

HDCP Output

HDCP 1.4

Power consumption

Transmitter: 3watts(Maximum)

Receive: 3watts(Maximum)

Dimension (L×W×H)

Transmitter: 96*100*25mm

Receive: 96*100*25mm

Net Weight

475g(Pair)
.
Other Hdmi Product