2-16 channels DVI Fiber Optic Extender ,edid, 1920x1200p@60hz ,EDIT,KVM, ,Audio,bilateral rs232, Single fiber ,FC
2-16 channels DVI Fiber Optic Extender ,edid, 1920x1200p@60hz ,EDIT,KVM, ,Audio,bilateral rs232, Single fiber ,FC
2-16 channels DVI Fiber Optic Extender

DVI-D Single Link (18+1) for resolutions up to 1920x1200@60HZ

Gold plated precision mating contacts, EMI protection, low attenuation

DVI-D (18+1) male to LC female, full metal housing

Zero frame delay delay and compression free transmission
2-16 channels DVI Fiber Optic Extender ,edid, 1920x1200p@60hz ,EDIT,KVM, ,Audio,bilateral rs232, Single fiber ,FC
Description
Digital DVI-D KVM extender in various models and designs via fiber optic cable

- 2/4/8/16 channels DVI extender over fiber optic cable
- DVI-D input/output
- up to 1920x1200p@60hz
- fiber optic cable
- USB KVM
- Audio/serial
- transmission up to 80Km

Extension of DVI video / keyboard, video and mouse signals over one with only fiber up to 80KM distance.

Structure of the DVI KVM Extender System
The digital DVI KVM transmission system V-Trans I consists of a transmitter and a receiver unit. The transmitter is connected to the computer, the receiver to the keyboard, monitor and mouse at the remote workstation. A local console with monitor, keyboard and mouse can be connected to the transmitter for local operation at the computer. Transmission medium between transmitter and receiver is a optical fibers. The DVI-D video signal is transmitted fully digital together with keyboard and mouse as well as the optional audio/serial module.

Purely digital DVI KVM extension via fiber optics
The use of this technology offers unique advantages:

The transmission quality is independent of the transmission length at a monitor resolution of up to 1920 x 1200 pixels at a refresh rate of 60 Hz.
Optional transmission of DDC information from remote or locally connected monitor, or from a DDC table
HID USB (HID = Human Interface Device) for connecting touchscreens or graphics tablets
For the fiber optic models the following applies additionally


Transmitter and receiver are galvanically isolated, no "ground loops" can occur
There is no electromagnetic radiation on the transmission line, i.e. cable routing is permitted even in sensitive environments
The transmission is "tap-proof

Applications
Applications for the DVI KVM Extender are harsh industrial environments, sound and TV studios, banks, insurance companies and all applications where long distances between computer and peripherals have to be bridged. It is suitable as an optimal complement to all console switches, especially to all V-Switches
.

.
.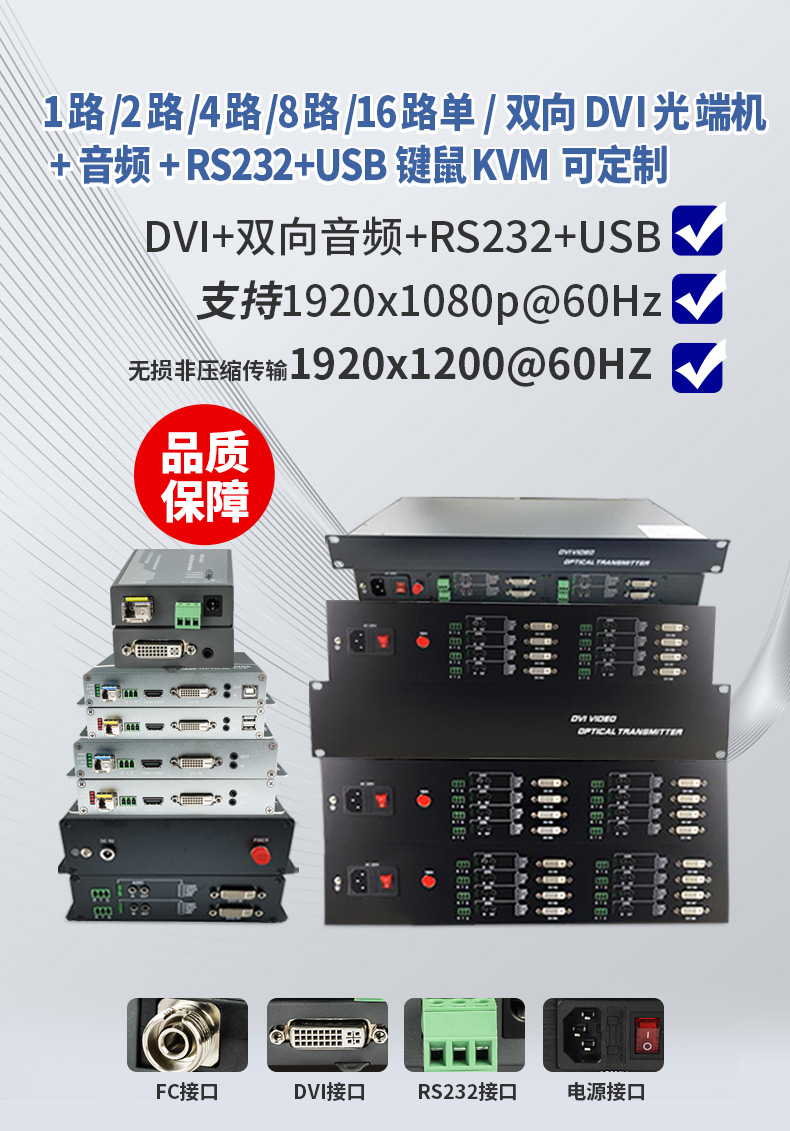 SPECIFICATIONS:

OperatingTemperatureRange

-5 to +35℃(+23 to +95℉)

OperatingHumidityRange

5 to 90%RH (No Condensation)

Video Input(Transmitter)

1xHDMI Type A, 19-pin, female

Video Output(Receiver)

1xHDMI Type A, 19-pin, female

Link(Transmitter/ Receiver)

1m~60Kmsingle / Multimode single / Duplex fiber optical cable

Module type required①

SFP Type, Single / Multi mode ,Single / Duplex fiber (optional)

Video Format

4K@60Hz YUV 4:2:0, 1080P@60Hz, 1080i, 720P, 576P, 480P

Audio Format

Support LPCM 7.1, Dolby True HD, DTS-HD Master Audio .

HDCP Input

HDCP 2.2, HDCP 1.4

HDCP Output

HDCP 1.4

Power consumption

Transmitter: 3watts(Maximum)

Receive: 3watts(Maximum)

Dimension (L×W×H)

Transmitter: 96*100*25mm

Receive: 96*100*25mm

Net Weight

475g(Pair)
.
Other Hdmi Product