DVI Fiber Optic Extender , 4096x2160p@30hz , KVM, 4 channels of USB2.0 ,Audio,bilateral rs232, LC
DVI Fiber Optic Extender , 4096x2160p@30hz , KVM, 4 channels of USB2.0 ,Audio,bilateral rs232, LC
DVI display up to 10km via fiber cable

DVI-D Single Link (18+1) for resolutions up to 1920x1200@60HZ

Gold plated precision mating contacts, EMI protection, low attenuation

DVI-D (18+1) male to LC female, full metal housing

Zero frame delay delay and compression free transmission
DVI Fiber Optic Extender , 4096x2160p@30hz , KVM, 4 channels of USB2.0 ,Audio,bilateral rs232, LC
DVI extender
Port a single link digital DVI display up to 10km via fiber cable
Also known as: DVI via fiber optic extender, DVI-D extender, digital DVI via sm or mm fiber optic,
extender via fiber optic, graphics extender modules, digital video extender via fiber optic.

Features and Applications
The DVI extender via fiber optic cable allows a single link digital DVI display to be carried up to 10km meters from a computer using a fiber optic cable. Each extender has a transmitter connected to a computer and a receiver connected to a monitor
Signal transmitted via LC fiber optic cable - no RF interference.
Four models available; each model supports a different resolution at a distance of 10000 meters.

Extenders support lower resolution monitors.
Smaller footprint - makes it easier to connect and set up.

Cables can be installed in conduit before proceeding with the extender installation
No software to install.
RGB and CLOCK signals are transmitted separately via fiber optic cable
The DVI extender via fiber optics is the ideal solution for many applications. Some examples:
Remote monitoring of the DVI display for medical, military, aerospace, industrial and traffic control applications.
Digital flat panel monitors (FPD), plasma technology monitors (PDP) and projectors for conference rooms and auditoriums.
Kiosks with digital FPDs.
Color LED illuminated information boards, as well as FPDs and PDPs for information display in stadiums..

.

.

.
.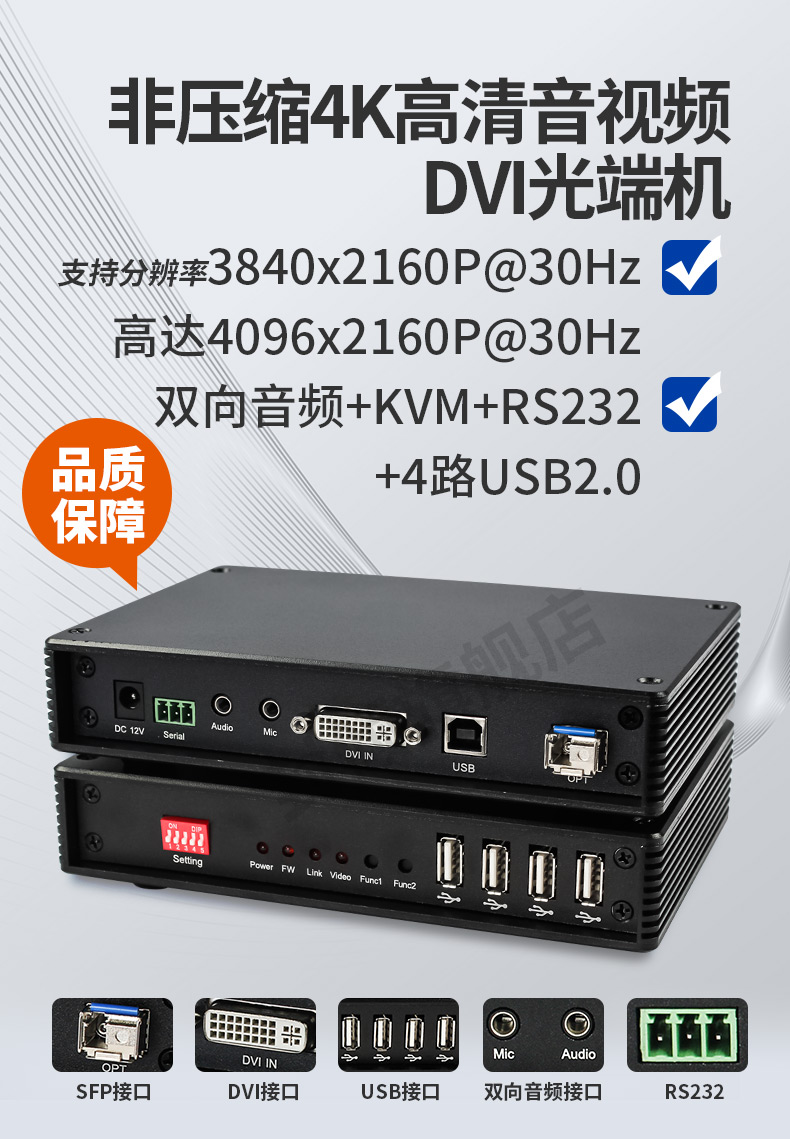 SPECIFICATIONS:

OperatingTemperatureRange

-5 to +35℃(+23 to +95℉)

OperatingHumidityRange

5 to 90%RH (No Condensation)

Video Input(Transmitter)

1xHDMI Type A, 19-pin, female

Video Output(Receiver)

1xHDMI Type A, 19-pin, female

Link(Transmitter/ Receiver)

1m~60Kmsingle / Multimode single / Duplex fiber optical cable

Module type required①

SFP Type, Single / Multi mode ,Single / Duplex fiber (optional)

Video Format

4K@60Hz YUV 4:2:0, 1080P@60Hz, 1080i, 720P, 576P, 480P

Audio Format

Support LPCM 7.1, Dolby True HD, DTS-HD Master Audio .

HDCP Input

HDCP 2.2, HDCP 1.4

HDCP Output

HDCP 1.4

Power consumption

Transmitter: 3watts(Maximum)

Receive: 3watts(Maximum)

Dimension (L×W×H)

Transmitter: 96*100*25mm

Receive: 96*100*25mm

Net Weight

475g(Pair)
.
Other Hdmi Product