4 channel HDMI/ 2 channel bidirectional HDMI 4K@30Hz Fiber Extender with 4-ch bidirectional audio,optional 4-ch RS232
4 channel /2 channel bidirectional HDMI Fiber Extender
4-ch HDMI,4-ch Audio, single fiber

single mode, LC, up to 20KM,)

Supports HDCP 2.2

4k @ 30Hz are supported

Supports EDID pass-through communications
4 channel HDMI 4K@30Hz Fiber Extender with 4-ch bidirectional audio,optional 4-ch RS232
2 channel bidirectional HDMI 4K@30Hz Fiber Extender with audio and RS232
1.Overview
The 4-channel HDMI Fiber Extender extends HDMI signals over long distances using single-mode fiber.
HDTV video resolutions of up to 4k @ 30Hz are supported. The HDMI Fiber Extender can also transmit audio and data.
It is widely used by video conferencing, multimedia, distance learning, video walls and other digital video transmission projects.


2.Features
4-ch 1.4 HDMI (4K@30Hz), with 4-ch bilateral audio,optional 4-ch RS232
10-bit digital video encoding and uncompressed transmission technology
0-20KM transmission distance optional
Supports EDID pass-through communications

3. Applications

Remote OB Van/Truck Video Feeds
Broadcast Studio Camera Feeds
Long-haul Signal Transport
TV station/video conference
Lecture Hall Projector Connectivity
Medical/Surgical Room Broadcast
Small corporate campus video links
Building to Building video conference calling

4. Ordering Information
HDMI Fiber Optic Extender

4-ch HDMI,4-ch Audio, single fiber, single mode, LC, up to 20KM, stand alone.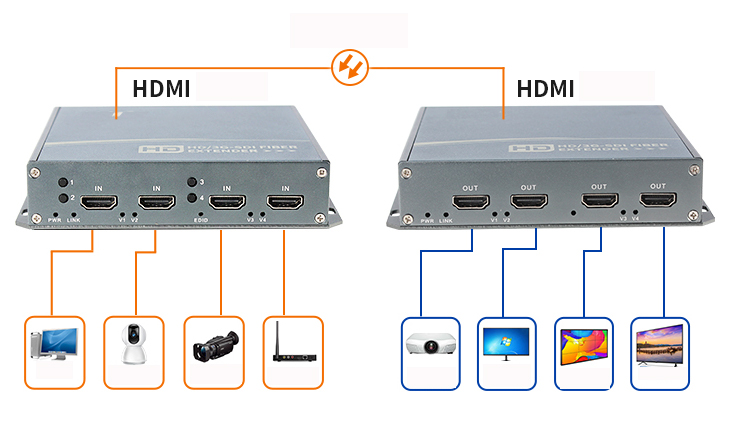 SPECIFICATIONS:

OperatingTemperatureRange

-5 to +35℃(+23 to +95℉)

OperatingHumidityRange

5 to 90%RH (No Condensation)

Video Input(Transmitter)

1xHDMI Type A, 19-pin, female

Video Output(Receiver)

1xHDMI Type A, 19-pin, female

Link(Transmitter/ Receiver)

1m~60Kmsingle / Multimode single / Duplex fiber optical cable

Module type required①

SFP Type, Single / Multi mode ,Single / Duplex fiber (optional)

Video Format

4K@60Hz YUV 4:2:0, 1080P@60Hz, 1080i, 720P, 576P, 480P

Audio Format

Support LPCM 7.1, Dolby True HD, DTS-HD Master Audio .

HDCP Input

HDCP 2.2, HDCP 1.4

HDCP Output

HDCP 1.4

Power consumption

Transmitter: 3watts(Maximum)

Receive: 3watts(Maximum)

Dimension (L×W×H)

Transmitter: 96*100*25mm

Receive: 96*100*25mm

Net Weight

475g(Pair)
.
Other Hdmi Extend Product
Other Hdmi Product