hdmi 1.4 4K@30hz fiber Extenderr with bidirectional audio/rs232 , single fiber lc
hdmi 1.4 4K@30hz fiber Extenderr with bidirectional audio
Supports HDMI 1.4 standard

HDCP compatible

Supports data rates up to 10.3GBit/s

Extends 4K Ultra HD HDMI signal up to 10km at 10.3Gbps

Supports all resolutions up to 4K Ultra HD (@ 30Hz
hdmi 1.4 4K@30hz fiber Extenderr with bidirectional audio/rs232 , single fiber lc.
4K Ultra HD HDMI Extender from Smart-AVI reliably transmits HDMI signals up to 4K over long distances without interruption or loss.
you can extend your HDMI signal over distances that are normally impossible to bridge with such a compact device.
It consists of a transmitter for Ultra HD video and a corresponding receiver. No additional hardware or software is required for full point-to-point HDMI signal extension.

Extend 4K Ultra HD HDMI signals up to 10km.
This HDMI extender transmits uncompressed HDMI signals up to 10km. In doing so, the extender supported all resolutions up to 4K Ultra HD (@ 30Hz), bidirectional audio and rs232. As with all HDMI connections, It also transmits the high-quality digital audio signal.

4K Ultra HD video content requires a high data bandwidth.
Fiber optic signal extenders are state of the art and the only way to extend 4K HDMI signals uncompressed.By connecting the HDMI extender's transmitter and receiver to your video source and screen or projector with standard HDMI cables, you can place the extender units where they are best located.

Gain flexibility and security
Increase the distance between the playback device of your 4K HD Inhlate and the screen/display up to 10km.
By extending the 4K HD video signal, you gain flexibility in where you place your playback and display devices. The spatial separation between the 4K playback device and the place where you can display the content proves to be of great advantage, especially in medical practices, recording studios, government agencies or banks.
In addition, fiber optic cables are safe from electromagnetic and radio frequency interference and thus always provide a stable and reliable connection.

Features of 4K HDMI Extender over Fiber Optic Cables:
Supports HDMI 1.4a standard
HDCP compatible
Supports 3D according to HDMI 1.4
Supports data rates up to 10.3GBit/s
Also supports DVI-D up to 1920 x 1200 via DVI to HDMI connection cable
Extends 4K Ultra HD HDMI signal up to 10km at 10.3Gbps
Supports all resolutions up to 4K Ultra HD (@ 30Hz)
Transmitter and receiver are connected via a fiber optic cable (1:1) of the desired length
Hot Pluggable:
Easy to connect, connect transmitter to signal source with HDMI cable, connect receiver to monitor or projector, connect to fiber and power on. Done!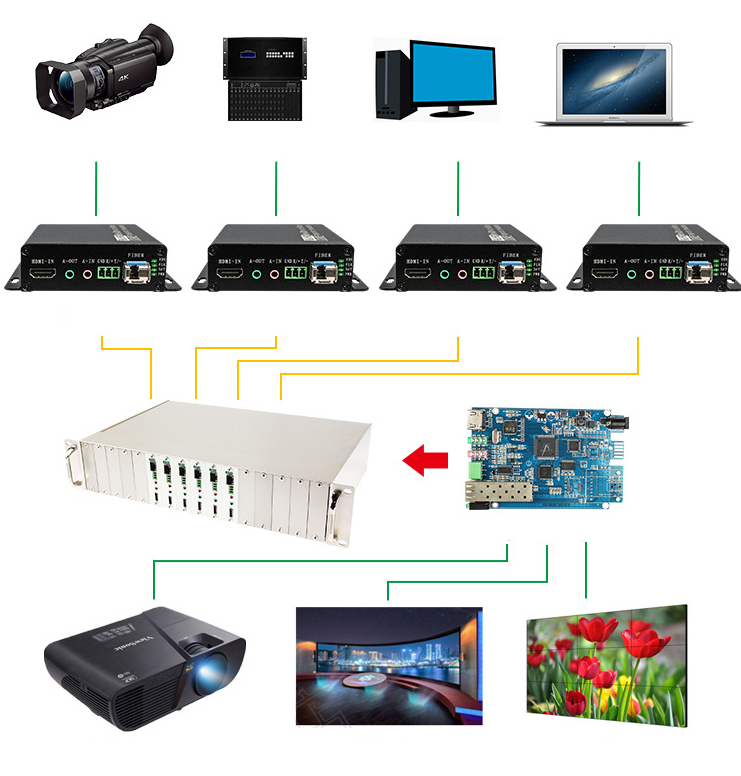 SPECIFICATIONS:

OperatingTemperatureRange

-5 to +35℃(+23 to +95℉)

OperatingHumidityRange

5 to 90%RH (No Condensation)

Video Input(Transmitter)

1xHDMI Type A, 19-pin, female

Video Output(Receiver)

1xHDMI Type A, 19-pin, female

Link(Transmitter/ Receiver)

1m~60Kmsingle / Multimode single / Duplex fiber optical cable

Module type required①

SFP Type, Single / Multi mode ,Single / Duplex fiber (optional)

Video Format

4K@60Hz YUV 4:2:0, 1080P@60Hz, 1080i, 720P, 576P, 480P

Audio Format

Support LPCM 7.1, Dolby True HD, DTS-HD Master Audio .

HDCP Input

HDCP 2.2, HDCP 1.4

HDCP Output

HDCP 1.4

Power consumption

Transmitter: 3watts(Maximum)

Receive: 3watts(Maximum)

Dimension (L×W×H)

Transmitter: 96*100*25mm

Receive: 96*100*25mm

Net Weight

475g(Pair)
.
Other Hdmi Extend Product
Other Hdmi Product