4k2k@60hz(4:4:4) 18G HDMIUncompressed Extender via MM Fiber Optics ,mpo ,300m
4k2k@60hz(4:4:4) 18G HDMIUncompressed Extender
RGB, YCbCr 4:4:4, YCbCr 4:2:2 and YCbCr 4:2:0

Bandwidth up to 600 MHz (18 Gbps)

Supports HDCP 2.2

Up to 48-bit color depth

via MM Fiber Optics ,mpo ,300m
4k2k@60hz(4:4:4) 18G HDMIUncompressed Extender via MM Fiber Optics ,mpo ,300m
4K60 HDMI 2.0 over Fiber Optic Extension
This Fiber Extender provides remote 4Kx2K UHD HDMI monitor) over a duplex MM fiber cable (up to 300meters).

Features
Signal transmission via duplex MM mpo fiber optic cable
Extends the signal paths of HDCP-encrypted video signals by up to 300 meters
Extends signal paths of unencrypted video signals up to 300 meters
Supports Ultra-HD 4Kx2K resolutions up to 3840x2160 and 4096x2160 @60Hz YUV 4:4:4 and HDTV resolutions up to 1080p @144Hz
Supported HDMI functionalities:
HDMI 2.0
RGB, YCbCr 4:4:4, YCbCr 4:2:2 and YCbCr 4:2:0
Dolby TrueHD, LPCM 7.1, DTS-HD Master Audio, ATMOS, and DTS:X
Up to 48-bit color depth
Bandwidth up to 600 MHz (18 Gbps)
3D
HDR
HDCP 2.2 compliant
Integrated mounting brackets for easy surface mounting or wall mounting.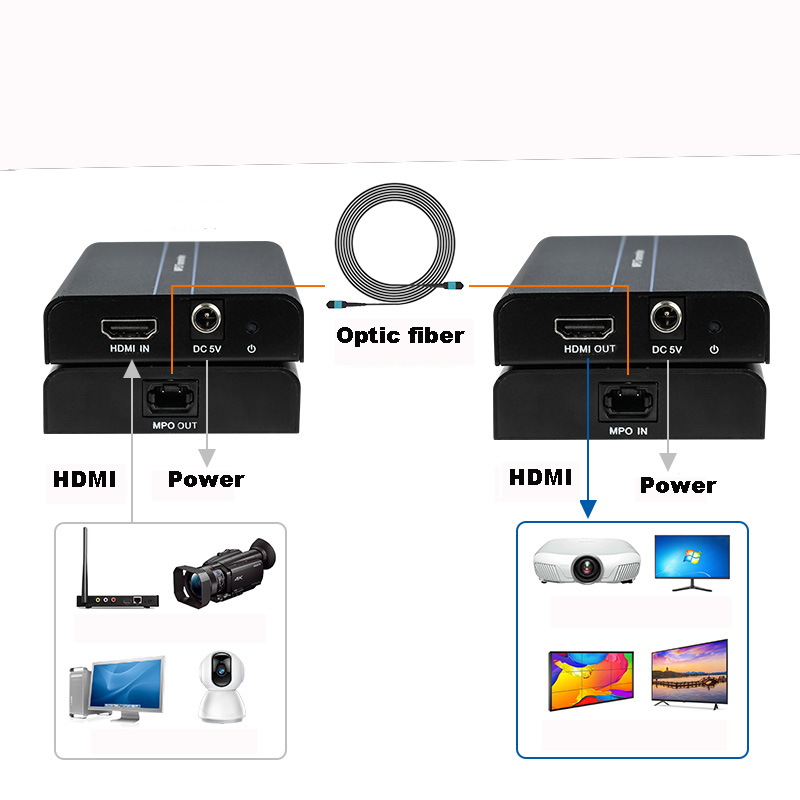 SPECIFICATIONS:

OperatingTemperatureRange

-5 to +35℃(+23 to +95℉)

OperatingHumidityRange

5 to 90%RH (No Condensation)

Video Input(Transmitter)

1xHDMI Type A, 19-pin, female

Video Output(Receiver)

1xHDMI Type A, 19-pin, female

Link(Transmitter/ Receiver)

1m~60Kmsingle / Multimode single / Duplex fiber optical cable

Module type required①

SFP Type, Single / Multi mode ,Single / Duplex fiber (optional)

Video Format

4K@60Hz YUV 4:2:0, 1080P@60Hz, 1080i, 720P, 576P, 480P

Audio Format

Support LPCM 7.1, Dolby True HD, DTS-HD Master Audio .

HDCP Input

HDCP 2.2, HDCP 1.4

HDCP Output

HDCP 1.4

Power consumption

Transmitter: 3watts(Maximum)

Receive: 3watts(Maximum)

Dimension (L×W×H)

Transmitter: 96*100*25mm

Receive: 96*100*25mm

Net Weight

475g(Pair)
.
Other Hdmi Extend Product
Other Hdmi Product