HDMI2.0 4K@60Hz Fiber Optic AOC 100m cable, 18G ,HDR, 4:4:4, No power required
HDMI2.0 4K@60Hz Fiber Optic AOC 100m cable
18G ,HDR, 4:4:4, No power required

HDMI 2.0 Active Optical Cable (AOC)

Support HDMI 2.0 / HDMI 4K (4Kx2K @ 60HZ)

Support Deep color, 3D

Support HDMI ARC port, HDCP 2.2
HDMI2.0 4K@60Hz Fiber Optic AOC 100m cable, 18G ,HDR, 4:4:4, No power required
4K HDMI Cable Connects Home Theater, Gaming and Digital Signage Components
This 4K HDMI cable securely connects an HDMI-enabled laptop, tablet, PC, Blu-ray player, game console or satellite/cable box to an HDTV, HD display, projector or home theater receiver. Because the cable uses optical fiber, it can transmit HDMI signals over longer distances without causing delays or loss. It also eliminates any EMI/RFI line noise that can interfere with your audio/video signal and ruin the performance of the connected device.
Enjoy the clarity of 4K HDMI video with multi-channel audio, HDR and 4:4:4 color
This 4K HDMI cable has a maximum rate of 18 Gbps and supports up to 4K Ultra HD video resolution at 60 Hz (3840 x 2160) to deliver crisp images and sound, as specified in HDMI 2.0. High Dynamic Range (HDR) delivers a wide range of vibrant colors and delivers richer contrast, brighter whites and deeper blacks on 4K displays. It also supports 4:4:4 chroma subsampling for top PC gaming or using HDTV as a PC monitor, as well as 3D, 48-bit deep color.

Advanced optical cable is easier to install than copper cable
Because the fiber optic cable is slimmer and more flexible than standard HDMI copper cable, the P568-15M-FBR is easy to install in corners and hard-to-reach spaces behind equipment. It draws power from the connected device, so it does not require an external power source to transmit HDMI signals across the longer distances characteristic of fiber optic cabling. Note: The cable must be installed in the correct orientation for proper operation, so check the "Source" and "Display" labels on the connector before installing.

Typical Applications
Watch 4K video content from a Blu-ray player, game console, laptop or tablet on an Ultra HD TV, monitor or projector
Connect a notebook or MacBook to an A/V box at a conference table for video presentations on a large screen
Send Ultra HD content to digital signage or point-of-sale displays
Connect security cameras and other A/V surveillance devices to a central monitor

HDMI 2.0 Active Optical Cable (AOC)
Hybrid cable design, combin of Optical Fiber and Copper Wire
Support HDMI 2.0 / HDMI 4K (4Kx2K @ 60HZ)
Support 4096 x 2160 @60Hz / 3840 x 2160 @60Hz
Bandwidth up to 18Gbps
Support Deep color, 3D
Support HDMI ARC port, HDCP 2.2
Support longer distance in 100 meter
Plug and play device
No addition software and power adaptor, power via HDMI device only
High quality connecotor: 19 Ping HDMI male, golden plated.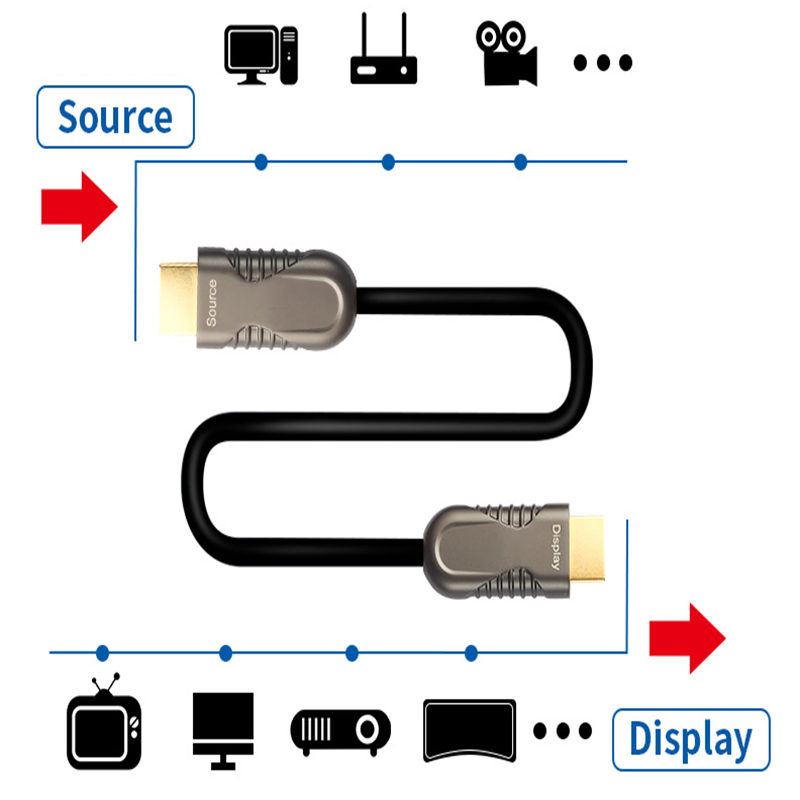 SPECIFICATIONS:

OperatingTemperatureRange

-5 to +35℃(+23 to +95℉)

OperatingHumidityRange

5 to 90%RH (No Condensation)

Video Input(Transmitter)

1xHDMI Type A, 19-pin, female

Video Output(Receiver)

1xHDMI Type A, 19-pin, female

Link(Transmitter/ Receiver)

1m~60Kmsingle / Multimode single / Duplex fiber optical cable

Module type required①

SFP Type, Single / Multi mode ,Single / Duplex fiber (optional)

Video Format

4K@60Hz YUV 4:2:0, 1080P@60Hz, 1080i, 720P, 576P, 480P

Audio Format

Support LPCM 7.1, Dolby True HD, DTS-HD Master Audio .

HDCP Input

HDCP 2.2, HDCP 1.4

HDCP Output

HDCP 1.4

Power consumption

Transmitter: 3watts(Maximum)

Receive: 3watts(Maximum)

Dimension (L×W×H)

Transmitter: 96*100*25mm

Receive: 96*100*25mm

Net Weight

475g(Pair)
.
Other Hdmi Extend Product
Other Hdmi Product