DVI Fiber Optic Extender ,edid, 1920x1200p@60hz ,KVM, Local Hdmi out ,Audio,bilateral rs232, Single fiber ,LC ,20-80KM
DVI Fiber Optic Extender ,edid, 1920x1200p@60hz ,KVM, Local Hdmi out ,Audio,bilateral rs232, Single fiber ,LC ,20-80KM
Local Hdmi out ,Audio,bilateral rs232, Single fiber ,LC ,20-80KM

DVI-D Single Link (18+1) for resolutions up to 1920x1200@60HZ

Gold plated precision mating contacts, EMI protection, low attenuation

DVI-D (18+1) male to LC female, full metal housing

Zero frame delay delay and compression free transmission
DVI Fiber Optic Extender ,edid, 1920x1200p@60hz ,KVM, Local Hdmi out ,Audio,bilateral rs232, Single fiber ,LC ,20-80KM
USB DVI KVM Console Extender with bilateral SerialRs232 and Audio over single Fiber (FOC) up to 80 km
Extend DVI-D video, USB, audio and serial signals up to 80 km over fiber ,transmiter with local hdmi loop out

DVI USB KVI KVM C Extender with Serial and Audio over Fiber Optic (Max 80km) allows you to control a server, computer or multiple computers (connected via KVM switch) over a multi-mode fiber optic link at distances of up to 2000m. When transmitting digital DVI video over a multi-mode fiber optic link, there is no loss of signal quality, so the video is crisp and vivid as if the monitor were connected directly to the PC. Supporting USB computer connections, the Console/KVM Extender provides even more convenience and is compatible with any USB KVM switch.

Applications
Secure remote control of physically secured, inaccessible servers
Control/monitor a remote PC from a demanding environment (factory, warehouse, mine, etc.)
Perform demanding video editing, CGI, and other CPU-intensive activities from a desktop without peripherals on a remote high-end blade server.

The StarTech.com Advantage
Ultimate connectivity by easily extending the range of all connections in one device (HD 1920x1200p@60hz DVI or HDMI, USB K/B and mouse, serial and audio)
Console extension with longest distance at 100% quality over digital fiber optics (20-80km) with no loss of quality or video degradation
Perfectly secure transmission over digital fiber optic cables makes it ideal for any situation where data integrity is important.

.
.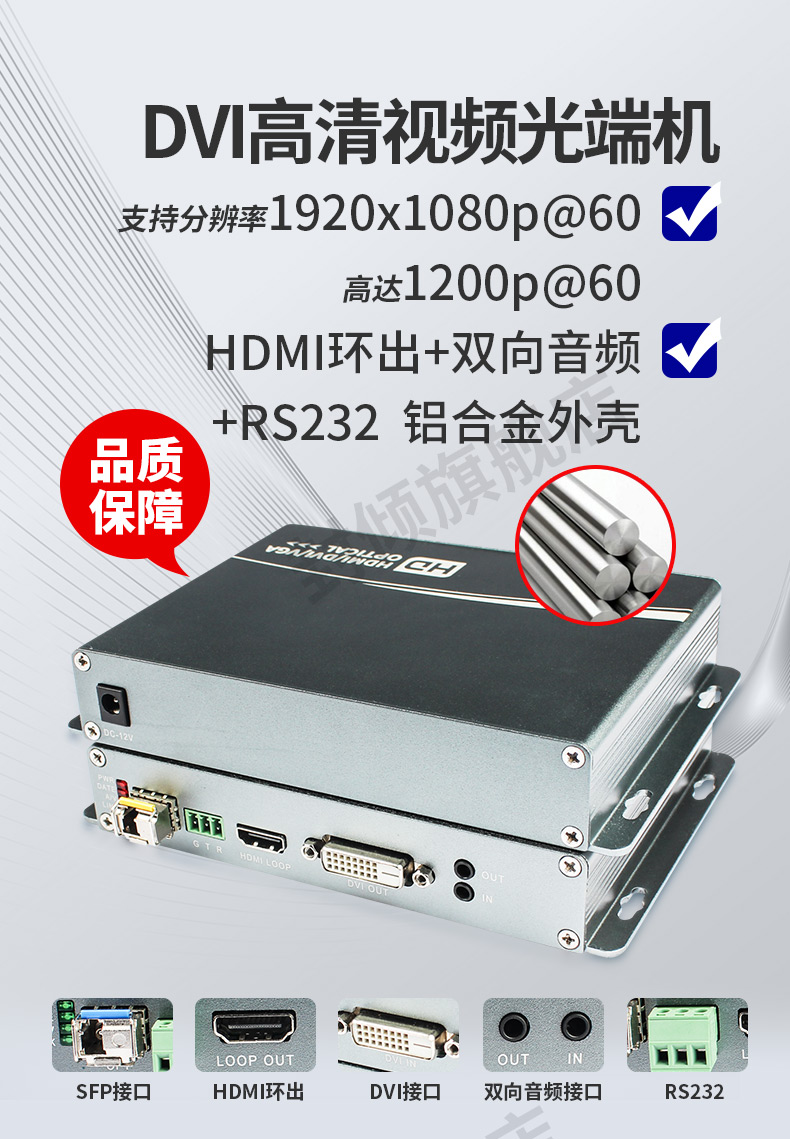 SPECIFICATIONS:

OperatingTemperatureRange

-5 to +35℃(+23 to +95℉)

OperatingHumidityRange

5 to 90%RH (No Condensation)

Video Input(Transmitter)

1xHDMI Type A, 19-pin, female

Video Output(Receiver)

1xHDMI Type A, 19-pin, female

Link(Transmitter/ Receiver)

1m~60Kmsingle / Multimode single / Duplex fiber optical cable

Module type required①

SFP Type, Single / Multi mode ,Single / Duplex fiber (optional)

Video Format

4K@60Hz YUV 4:2:0, 1080P@60Hz, 1080i, 720P, 576P, 480P

Audio Format

Support LPCM 7.1, Dolby True HD, DTS-HD Master Audio .

HDCP Input

HDCP 2.2, HDCP 1.4

HDCP Output

HDCP 1.4

Power consumption

Transmitter: 3watts(Maximum)

Receive: 3watts(Maximum)

Dimension (L×W×H)

Transmitter: 96*100*25mm

Receive: 96*100*25mm

Net Weight

475g(Pair)
.
Other Hdmi Product