60m -200m Cat cable DVI-D Single Link Extender
60m -200m Cat cable DVI-D Single Link Extender
Support 4096x2160P/60Hz resolution

DVI-D Single Link (18+1) for resolutions up to 1920x1200@60HZ

Gold plated precision mating contacts, EMI protection, low attenuation

DVI-D (18+1) male to LC female, full metal housing

Zero frame delay delay and compression free transmission
60m -200m Cat cable DVI-D Single Link Extender
Extends digital DVI signals over flexible Cat.6/6A RJ45 cables up to a maximum length of 200m, also suitable for installation in narrow cable ducts

Cheap DVI Extender CAT
DVI CAT extenders use inexpensive patch cables Cat.6 and higher
Inexpensive DVI extenders use simple network cables to extend the DVI signal. The average range of a DVI Cat Extender is between about 60 and 200m, below this limit DVI Super Long Distance (SLD) cables are usually sufficient. DVI Cat Extenders typically consist of two units: DVI Transmitter and DVI Receiver receive and output the signal respectively and are connected to each other with a LAN cable. The inexpensive Cat-based DVI extenders are usually used at home or in small offices.

This extender connects DVI devices via flexible Cat.6 or 6A cables with RJ45 connectors. Slim RJ45 cables can also be routed through cable ducts where DVI connectors will not fit through.
The maximum achievable distance depends on the resolution, the quality and strength of your output signal, the quality of your monitor's input stage, and the quality of the RJ45 interconnect cable. The following distances are typical:

Applications
Operate one or more servers from a remote location within the same building or campus
Remotely control secured, physically inaccessible servers
Can act as a thin client for power users controlling powerful rackmount servers as desktop computers..

.

.
.
.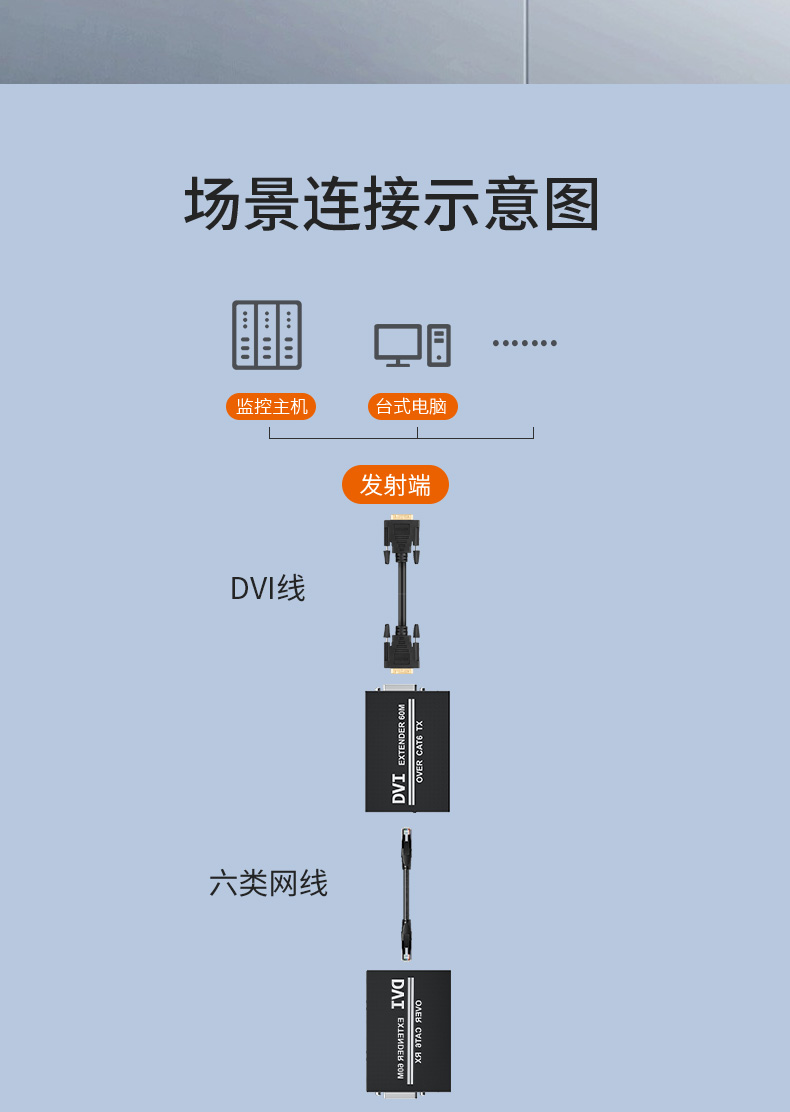 SPECIFICATIONS:

OperatingTemperatureRange

-5 to +35℃(+23 to +95℉)

OperatingHumidityRange

5 to 90%RH (No Condensation)

Video Input(Transmitter)

1xHDMI Type A, 19-pin, female

Video Output(Receiver)

1xHDMI Type A, 19-pin, female

Link(Transmitter/ Receiver)

1m~60Kmsingle / Multimode single / Duplex fiber optical cable

Module type required①

SFP Type, Single / Multi mode ,Single / Duplex fiber (optional)

Video Format

4K@60Hz YUV 4:2:0, 1080P@60Hz, 1080i, 720P, 576P, 480P

Audio Format

Support LPCM 7.1, Dolby True HD, DTS-HD Master Audio .

HDCP Input

HDCP 2.2, HDCP 1.4

HDCP Output

HDCP 1.4

Power consumption

Transmitter: 3watts(Maximum)

Receive: 3watts(Maximum)

Dimension (L×W×H)

Transmitter: 96*100*25mm

Receive: 96*100*25mm

Net Weight

475g(Pair)
.
Other Hdmi Product