Mini usb3.0 Fiber Optic Extender ,250M, LC
Mini usb3.0 Fiber Optic Extender ,250M, LC
Maximum extension distance: 250 m

USB 3.0 SuperSpeed support up to 5 Gbps

USB 3.0 Type A receiver

Locking USB and power ports secure connection

longer distances can be realized with some hosts and drivers
Mini usb3.0 Fiber Optic Extender ,250M, LC

Maximum extension distance: 250 m (SM or M fiber cable).
LC Duplex/single fiber connector, hardware design, no drivers required, compatible with all operating systems, Plug and Play compatible
USB 3.0 SuperSpeed support up to 5 Gbps, USB 3.0 Type A receiver
Not backwards compatible with USB 2.0 and USB 1.1

Designed specifically for professional AV applications, USB extenders allow USB peripherals to be deployed remotely from the host computer. Signals can be transmitted up to 600 m over twisted pair cable or up to 30 km over fiber optic cable. Extenders are sets of transmitters and receivers that connect via a single, standard CATx or fiber optic cable. These extenders are compatible with USB 3.2 as well as earlier standards, support data rates up to SuperSpeed 5 Gbps, and power connected USB peripherals. The USB extenders are available in convenient styles that can be combined in any way for easy integration



.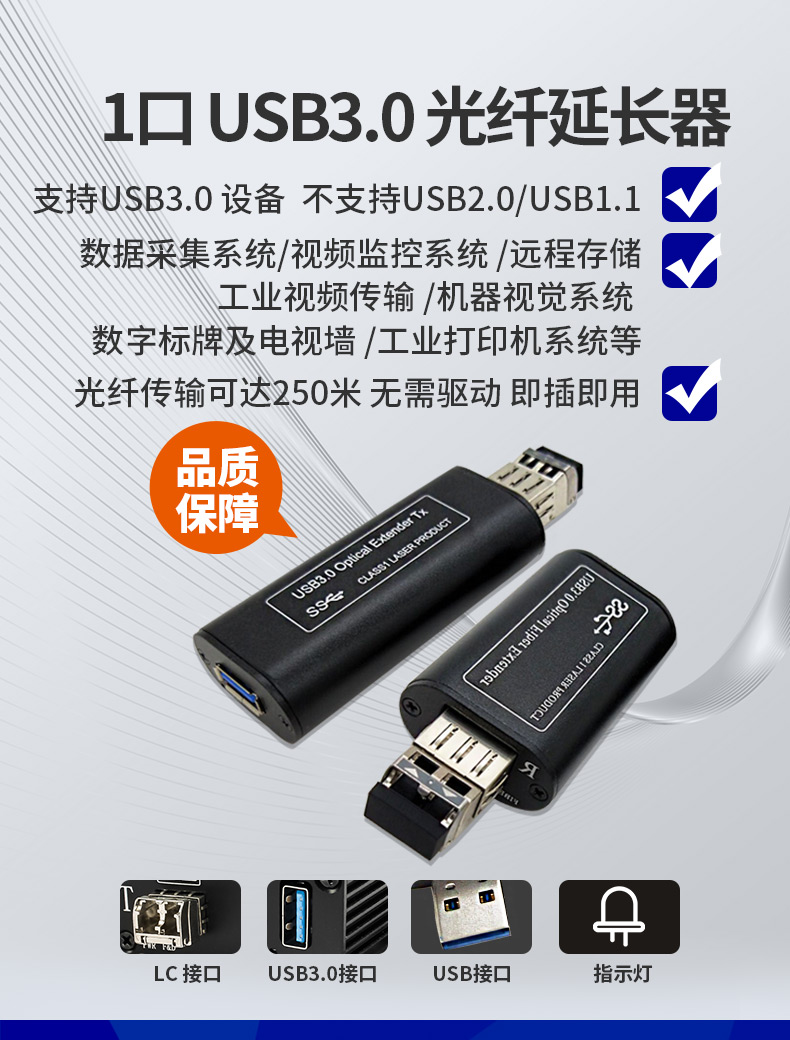 SPECIFICATIONS:

OperatingTemperatureRange

-5 to +35℃(+23 to +95℉)

OperatingHumidityRange

5 to 90%RH (No Condensation)

Video Input(Transmitter)

1xHDMI Type A, 19-pin, female

Video Output(Receiver)

1xHDMI Type A, 19-pin, female

Link(Transmitter/ Receiver)

1m~60Kmsingle / Multimode single / Duplex fiber optical cable

Module type required①

SFP Type, Single / Multi mode ,Single / Duplex fiber (optional)

Video Format

4K@60Hz YUV 4:2:0, 1080P@60Hz, 1080i, 720P, 576P, 480P

Audio Format

Support LPCM 7.1, Dolby True HD, DTS-HD Master Audio .

HDCP Input

HDCP 2.2, HDCP 1.4

HDCP Output

HDCP 1.4

Power consumption

Transmitter: 3watts(Maximum)

Receive: 3watts(Maximum)

Dimension (L×W×H)

Transmitter: 96*100*25mm

Receive: 96*100*25mm

Net Weight

475g(Pair)
.
Other Hdmi Product