usb3.0 Fiber Optic Extender with 4usb LC 250m
usb3.0 Fiber Optic Extender with 4usb LC 250m
Speed - up to 5 Gbps,speeds-10x faster than USB 2.0.

distance - 250 m maximum

Receiver delivers 900 mA of power to connected USB devices

Locking USB and power ports secure connection

longer distances can be realized with some hosts and drivers
usb3.0 Fiber Optic Extender with 4usb LC 250m
Extend SuperSpeed USB 3.0 signals up to 100 meters over fiber.

Ideal for connecting remote USB 3.0 surveillance and industrial cameras, external DVD drives and other broadband USB devices.
Extends USB 3.0 signals up to 100 meters over multimode fiber optic cable.
Transfers at 5-Gbps speeds-10x faster than USB 2.0.
Complete set with transmitter and 2-port receiver for two USB 3.0 devices.
Allows the use of secure and isolated fiber optics for transmission.
Compatible with AIA USB3 Vision (per standard release).
Receiver delivers 900 mA of power to connected USB devices.
Plug-and-play. No driver installation on the computer.
Locking USB and power ports secure connection.

Extend USB signals for two USB 3.0 devices up to 100 meters over secure, interference-resistant fiber optic cables.

Compatible with USB 3.0 or the "Superspeed USB" standard, the extender enables transfer speeds up to 5 Gbps, about ten times the USB 2.0 standard. This allows you to establish longer USB bus connections to newer USB 3.0 devices that require higher bandwidths and bidirectional, full-duplex asynchronous data transfer. In addition, the extender delivers more performance than USB 2.0.

With the higher data transfer rate and performance, these extenders are the ideal solution for connecting industrial machine vision cameras, especially those with high performance sensors. Also use the extender for post-production video editing or applications with USB 3.0 peripherals and external USB DVD drives in different rooms.

The extender provides reliable operation with all USB 3.0 devices, including USB hubs. The transmitter draws its power from the USB bus while the 2-port receiver is powered by the included AC adapter. Thus, the receiver has enough power to supply the two connected USB devices with 900mA each.

distance - 250 m maximum,
longer distances can be realized with some hosts and drivers
Speed - up to 5 Gbps
Connections Transmitter -
USB: (1) USB 3.0 type B female (lockable);
Connection: (2) LC fiber;
Receiver - :
USB: (2) USB 3.0 type A female (lockable);
Connection: (2) LC fiber optic
Indicators - Per device: (3) LEDs (power, link, host)
Power supply -
Transmitter: via USB bus;
Receiver: external power supply, 100-240 VAC, 50/60 Hz (included);es are very sensitive - the plug tip should not be touched if possible. A fast flashing LED indicates the initialization of the system. A slow flashing is also indicated when the power supply is missing or insufficient.
.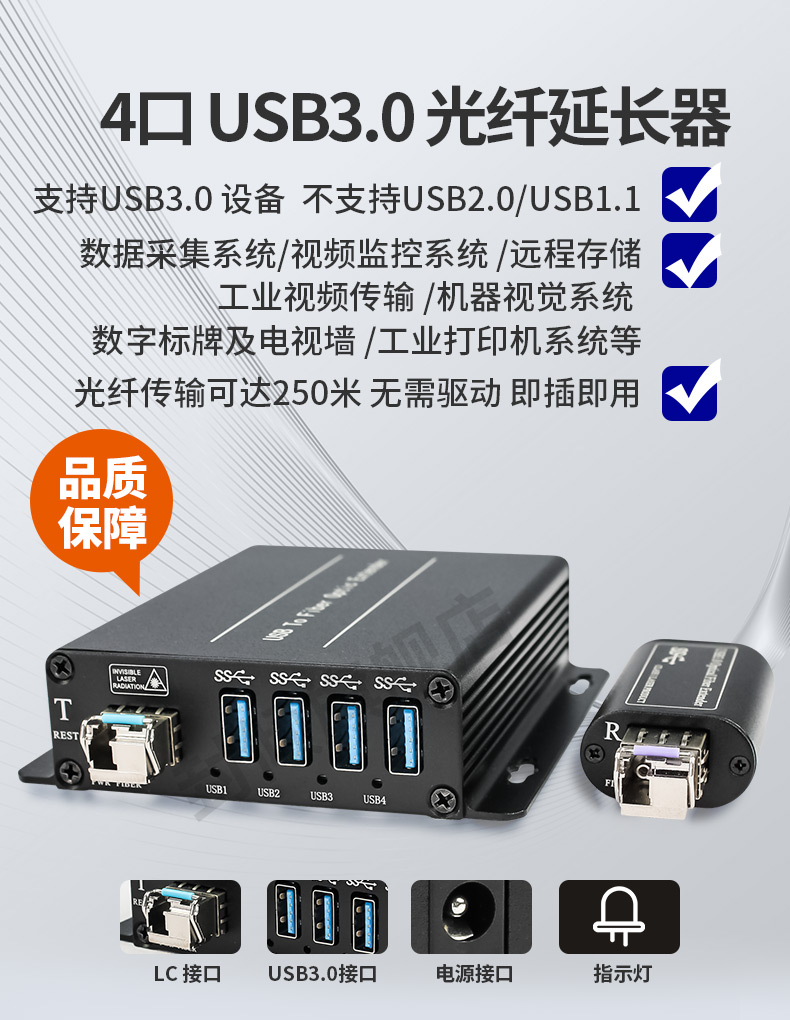 SPECIFICATIONS:

OperatingTemperatureRange

-5 to +35℃(+23 to +95℉)

OperatingHumidityRange

5 to 90%RH (No Condensation)

Video Input(Transmitter)

1xHDMI Type A, 19-pin, female

Video Output(Receiver)

1xHDMI Type A, 19-pin, female

Link(Transmitter/ Receiver)

1m~60Kmsingle / Multimode single / Duplex fiber optical cable

Module type required①

SFP Type, Single / Multi mode ,Single / Duplex fiber (optional)

Video Format

4K@60Hz YUV 4:2:0, 1080P@60Hz, 1080i, 720P, 576P, 480P

Audio Format

Support LPCM 7.1, Dolby True HD, DTS-HD Master Audio .

HDCP Input

HDCP 2.2, HDCP 1.4

HDCP Output

HDCP 1.4

Power consumption

Transmitter: 3watts(Maximum)

Receive: 3watts(Maximum)

Dimension (L×W×H)

Transmitter: 96*100*25mm

Receive: 96*100*25mm

Net Weight

475g(Pair)
.
Other Hdmi Product