4K hdmi extender over Cat5/6 cable with bilateral IR and local loop out
4K hdmi extender over Cat5/6 cable with bilateral IR and local loop out
With bilateral IR and local loop out

Inputs: HDMI, 3.5mm jack for IR signals

CAT5E/6 OUT: Network cable output port

HDMI OUT: HDMI output port

Up to 200m HDMI1.4 extension for home theaters
4K hdmi extender over Cat5/6 cable with bilateral IR and local loop out
4K@30Hz HDMI over Cat5/6 Extender with IR and loop out
This affordable HDMI over Cat5/6 extender set consists of a HDMI over Cat5/6 transmitter unit nd a HDMI over Cat5/6 receiver unit and supports the transmission of HDTV resolutions up to FullHD/ 1080p60 (1920x1080 @60Hz) over distances up to 100m via a CAT6 cable.


With this HDMI extender over Cat5/6 cabl, it is possible - with point-to-point connections - to transmit high-resolution HD video signals over distances up to 100m via Cat5/6 cable The HDMI over Cat cabl Extender Set works HDCP compliant, so that also copy protected content can be transmitted via Cat5/6 cable.

HDMI Cat5/6 Extender with IR Pass-Back
The HDMI over Cat5/6 extender system supports the transmission of IR signals from the receiver unit to the transmitter unit, allowing the HDMI source to be controlled from a remote location using the infrared remote control of the source device.

Applications of the HDMI over Cat5/6

Thanks to the advanced HDMI over Cat5/6 technology, a wide variety of configurations (point-to-point ) can be realized. In particular, HDMI over IP distribution (one-to-many) makes this system ideal for digital signage applications, video conferencing systems, and in seminar and classroom environments.

Digital Signage Advertisement,
in control rooms and control consoles,
in the entertainment area,
in learning environments such as classrooms and seminar rooms,
in exhibition halls and
in the monitoring of security-relevant areas, etc.



.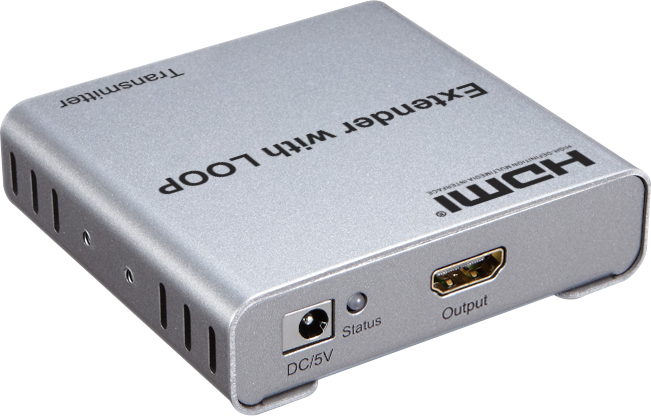 SPECIFICATIONS:

OperatingTemperatureRange

-5 to +35℃(+23 to +95℉)

OperatingHumidityRange

5 to 90%RH (No Condensation)

Video Input(Transmitter)

1xHDMI Type A, 19-pin, female

Video Output(Receiver)

1xHDMI Type A, 19-pin, female

Link(Transmitter/ Receiver)

1m~60Kmsingle / Multimode single / Duplex fiber optical cable

Module type required①

SFP Type, Single / Multi mode ,Single / Duplex fiber (optional)

Video Format

4K@60Hz YUV 4:2:0, 1080P@60Hz, 1080i, 720P, 576P, 480P

Audio Format

Support LPCM 7.1, Dolby True HD, DTS-HD Master Audio .

HDCP Input

HDCP 2.2, HDCP 1.4

HDCP Output

HDCP 1.4

Power consumption

Transmitter: 3watts(Maximum)

Receive: 3watts(Maximum)

Dimension (L×W×H)

Transmitter: 96*100*25mm

Receive: 96*100*25mm

Net Weight

475g(Pair)
.
Other Hdmi Product