4K HDMI1.3 over cat5/6 cable and IP Extender Set with IR
4K HDMI1.3 over cat5/6 cable and IP Extender Set with IR
4K/30HZ up to 150m, 1080p up to 100m via CAT cable

Inputs: HDMI, 3.5mm jack for IR signals

CAT5E/6 OUT: Network cable output port

HDMI OUT: HDMI output port

Up to 200m HDMI1.4 extension for home theaters
4K HDMI1.3 over cat5/6 cable and IP Extender Set with IR
Extends HDMI signals up to 120m via Cat5/6 cable or IP networks

This low-cost HDMI-over Cat5/6 cable or Gigabit-IP extender set consists of a local transmitter and an receiver and extends the transmission distances of digital video and audio signals over 1000Base-T Gigabit IP networks - or over CAT5e/6 cables (point-to-point connection) up to 120m (393ft).

The HDMI transmitter connects directly to the source with an HDMI cable and supports both direct signal transmission via CAT cable and multicast HDMI signal transmission to one or more receivers over Gigabit Ethernet networks.

This HDMI extender set includes a HDMI receiver which is connected to the source (TV, monitor/display, projector etc.) via HDMI cable. The receiver can be connected either directly via a CAT cable up to 120m long or via a Gigabit IP network to the transmitter.

HDMI Multicast over IP Ethernet Networks

Thanks to the HDMI-over-IP extender's multicast support, you can install multiple (additional) HDMI-over-IP receivers ST-IPHD-R-POELC (sold separately) in so-called point-to-many connections and thus distribute HDMI signals over IP.

Features of the HDMI-over-IP extender set at a glance
Supports HDTV resolutions up to 1080p.
Ideal solution for digital signage applications.
Both the transmitter and receiver can be powered via PoE from the network switch. Of course, both units have an additional power connector for use on non-PoE network switches.
Real-time HDMI-over-IP Broadcast - HDMI video and audio signals are broadcast to multiple display locations - You can use both managed and unmaneged network switches for real-time HDMI-over-IP broadcasting.
Transmits an HDMI signal over a CAT5e/6 cable.
Full remote control of the HDMI source via infrared (IR control) with the remote control of the source (source remote control) from the sink (eg HDTV) possible.
Plug-and-play installation: the HDMI-over-IP receiver(s) are automatically found by the transmitter in the same subnet.
Easily expandable HDMI-over-IP system: Add more HDMI-over-IP receivers as easily as if they were "simple" monitors.
Supports up to 253 HDMI-IP receivers in one HDMI-over-IP installation with one transmitter.
Inexpensive and flexible CAT5e/6/7 cables replace costly and bulky video cables
Supports 10/100/1000 Ethernet connection






.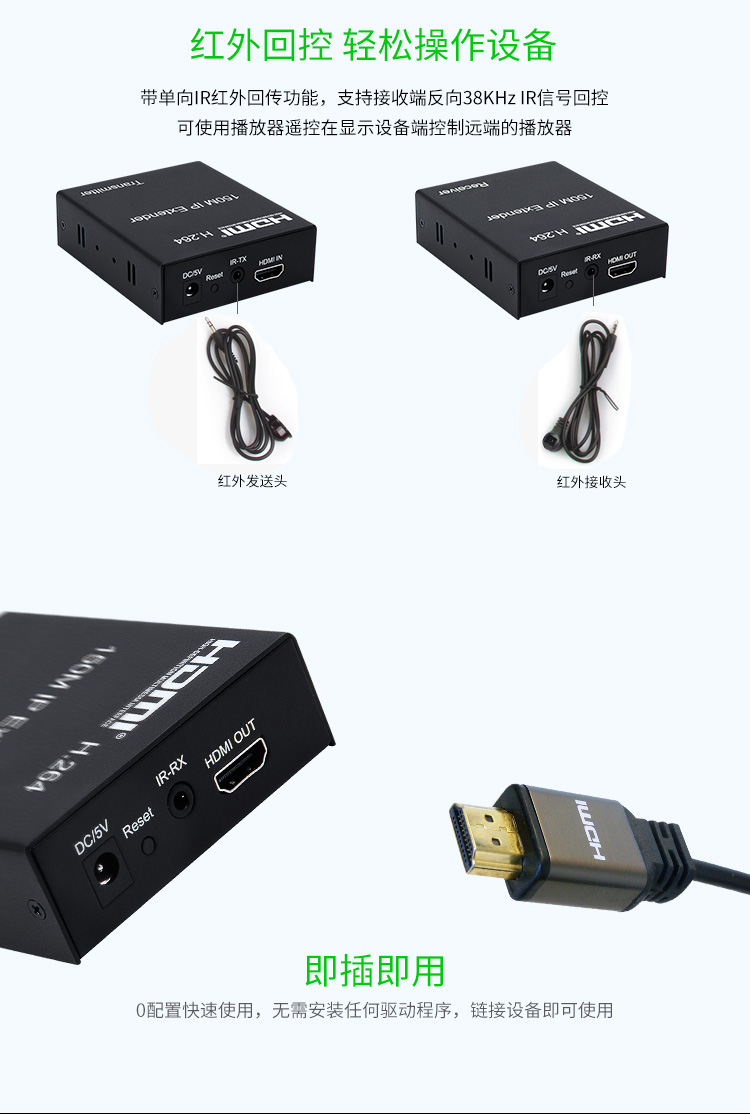 SPECIFICATIONS:

OperatingTemperatureRange

-5 to +35℃(+23 to +95℉)

OperatingHumidityRange

5 to 90%RH (No Condensation)

Video Input(Transmitter)

1xHDMI Type A, 19-pin, female

Video Output(Receiver)

1xHDMI Type A, 19-pin, female

Link(Transmitter/ Receiver)

1m~60Kmsingle / Multimode single / Duplex fiber optical cable

Module type required①

SFP Type, Single / Multi mode ,Single / Duplex fiber (optional)

Video Format

4K@60Hz YUV 4:2:0, 1080P@60Hz, 1080i, 720P, 576P, 480P

Audio Format

Support LPCM 7.1, Dolby True HD, DTS-HD Master Audio .

HDCP Input

HDCP 2.2, HDCP 1.4

HDCP Output

HDCP 1.4

Power consumption

Transmitter: 3watts(Maximum)

Receive: 3watts(Maximum)

Dimension (L×W×H)

Transmitter: 96*100*25mm

Receive: 96*100*25mm

Net Weight

475g(Pair)
.
Other Hdmi Product