4K HDMI Cat5/6 Extender with PoC/ unidirectional IR
4K HDMI Cat5/6 Extender with PoC/ unidirectional IR
HDMI-HDBT Extender Advanced PoC Supply

Inputs: HDMI, 3.5mm jack for IR signals

CAT5E/6 OUT: Network cable output port

HDMI OUT: HDMI output port

Up to 200m HDMI1.4 extension for home theaters
4K HDMI Cat5/6 Extender with PoC/ unidirectional IR
4K HDMI HDBT Extender Set with bidirectional PoC- 1200m
with unidirectional IR control


this 4K HDMI HDBaseT Extender Set with unidirectional PoC - 120m
The ultra-slim 4K catT Extender Set consists of a transmitter and a receiver. This cat hdmi extender impresses with its compact dimensions and uses HDBaseT? technology to transmit (ultra-)high resolution 4K signals over a CAT5e/CAT6 cable .
In addition, This HDMI cat5/6 extender supports CEC, bidirectional transmission of unidirectional IR and unidirectional PoC.



HDMI-HDBT Extender Advanced PoC Supply
The transmitter transmits HDMI, IR and
and RS232 signals over a Cat-5E/6
cable via HDBaseT standard,
Range up to 70 m at 1080p resp.
120 m at 4K2K@30Hz, incl.
bidirectional PoC (Power over Cable) functionality
Power supply locally or by reciever
Supports HDMI 1.4, HDCP, EDID, 3D & 4K2K@30Hz
Inputs: HDMI, 3.5mm jack for IR signals,
Outputs: RJ45, 3.5 mm jack for IR signals, (all jack)

Translated with www.DeepL.com/Translator (free version).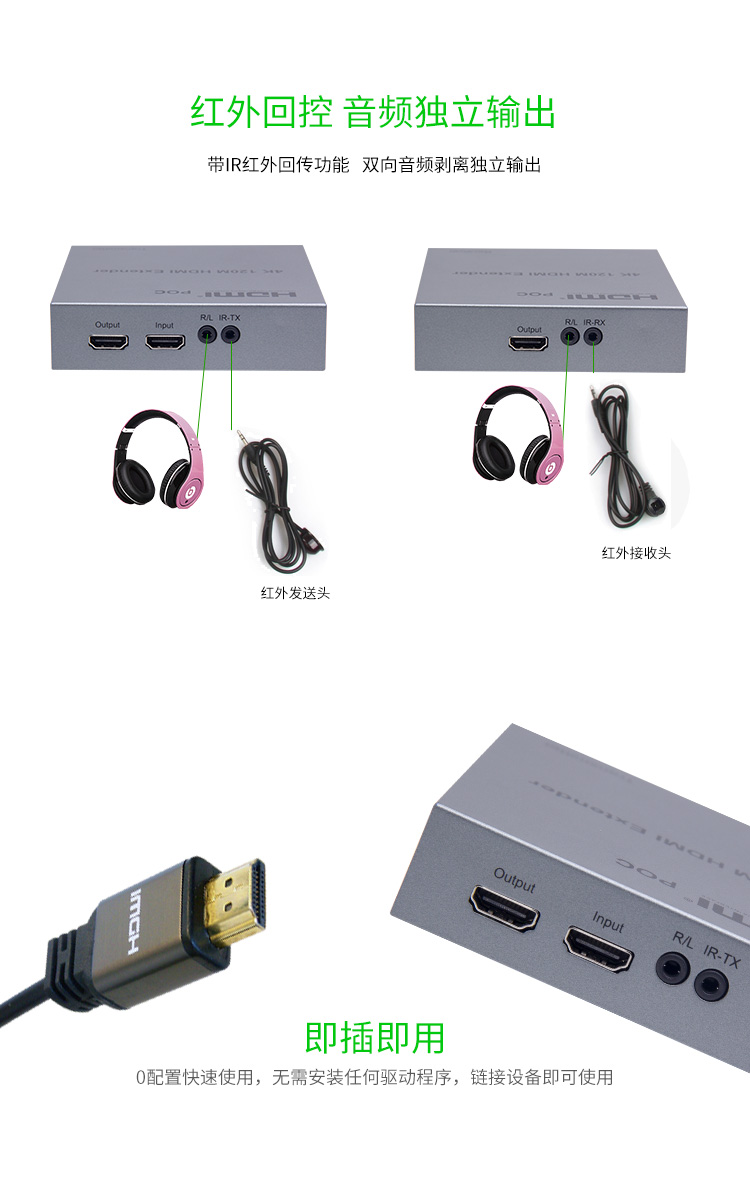 SPECIFICATIONS:

OperatingTemperatureRange

-5 to +35℃(+23 to +95℉)

OperatingHumidityRange

5 to 90%RH (No Condensation)

Video Input(Transmitter)

1xHDMI Type A, 19-pin, female

Video Output(Receiver)

1xHDMI Type A, 19-pin, female

Link(Transmitter/ Receiver)

1m~60Kmsingle / Multimode single / Duplex fiber optical cable

Module type required①

SFP Type, Single / Multi mode ,Single / Duplex fiber (optional)

Video Format

4K@60Hz YUV 4:2:0, 1080P@60Hz, 1080i, 720P, 576P, 480P

Audio Format

Support LPCM 7.1, Dolby True HD, DTS-HD Master Audio .

HDCP Input

HDCP 2.2, HDCP 1.4

HDCP Output

HDCP 1.4

Power consumption

Transmitter: 3watts(Maximum)

Receive: 3watts(Maximum)

Dimension (L×W×H)

Transmitter: 96*100*25mm

Receive: 96*100*25mm

Net Weight

475g(Pair)
.
Other Hdmi Product