HDMI 4K over Cat 5 / Cat 6 KVM /usb extender , Transmission distance 150-200m
HDMI 4K over Cat 5 / Cat 6 KVM /usb extender , Transmission distance 150-200m
Supports HDMI 1.4 up to 4Kx2K@30Hz

Integrated scaler and intelligent EDID management

HDMI loop output at the transmitter

Features of the 10G 4K HDMI 1.4

Up to 200m HDMI1.4 extension for home theaters
HDMI 4K over Cat 5 / Cat 6 KVM /usb extender , Transmission distance 150-200m
4K HDMI extender with unidirectional IR Transmitter andusb KVM extend
Supports HDMI 1.4 up to 4Kx2K@30Hz ,Transmission range up to 200m

Integrated scaler and intelligent EDID management
HDMI Loop-Out: HDMI Loop output at the transmitter - parallel output of the source signal

4K@30Hz 10G HDMI1.4 Extender Set over CAT5 / CAT6 - up to2 00m.
It L is a cost-effective point-to-point 18G HDMI extender for 4K30 HDMI and IR signals with HDMI loop output on the transmitter.
This 4K@ 30Hz HDMI2.0 extender kit consists of a receiver and transmitter with HDMI loop output and supports 4K/ UHD video at 30Hz with 4:4:4 chroma sampling and HDR 10, as well as HDMI data rates of up to 18Gbps and is HDCP 2.2 compliant.

Up to 200m HDMI1.4 extension for home theaters
This 4K30 HDMI Extender Set transmits HDMI1.4 (audio and 4K30 video signals with HDR10) and IR control signals (bi-directional) with resolutions up to 4Kx2K @30Hz up to 200m a over a single CAT cable.

4K60 HDMI Extender Set Downscaling
In addition, It supports video downscaling so that incoming 4K signals can be automatically downscaled to 1080p, increasing compatibility with 1080p displays.

This versatile KVM console extender can be connected to a single system,, allowing you to connect a keyboard, mouse, printer or other peripherals. Since the extender uses Cat 5e (or better) network cable,
you have the option to use existing infrastructure wiring, which helps avoid the hassle and expense of running bulky video cables.

Features of the 10G 4K HDMI 1.4 extender with downscaling at the receiver at a glance
Supports HDMI 1.4 up to 4Kx2K@30Hz 4:4:4 with HDR 10
HDMI loop output at the transmitter
HDCP2.2 compliant
Extends 4K HDMI signals up to 200m and 1080p HDMI signals up to 80m over a single CAT cable
High bandwidth: up to 10 Gbit/s
Latency-free transmission and lossless compression
Bi-directional IR pass-through
Built-in scaler: incoming 4K signals can be automatically downscaled to 1080p for 1080p displays
Compact design, easy to install and simple to use .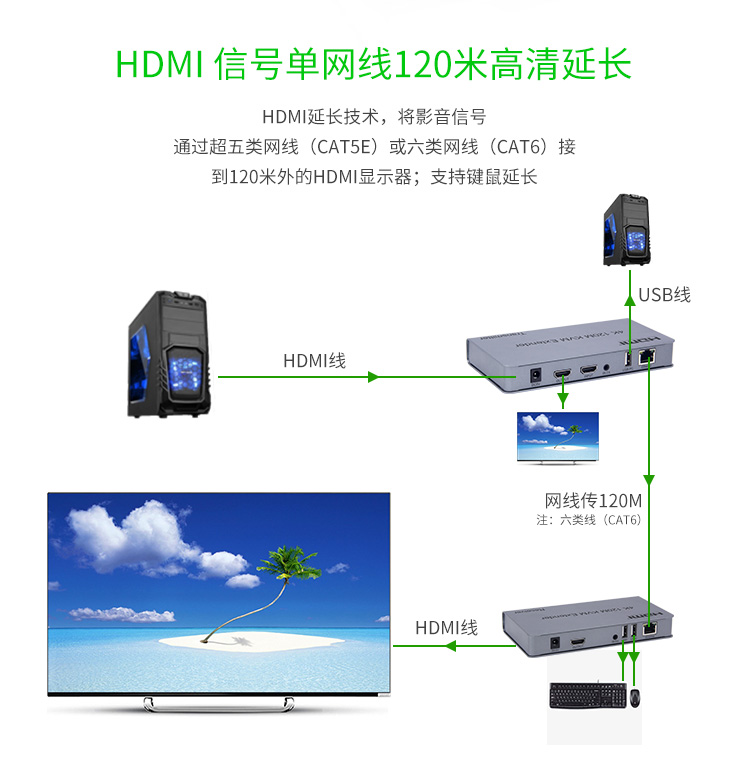 SPECIFICATIONS:

OperatingTemperatureRange

-5 to +35℃(+23 to +95℉)

OperatingHumidityRange

5 to 90%RH (No Condensation)

Video Input(Transmitter)

1xHDMI Type A, 19-pin, female

Video Output(Receiver)

1xHDMI Type A, 19-pin, female

Link(Transmitter/ Receiver)

1m~60Kmsingle / Multimode single / Duplex fiber optical cable

Module type required①

SFP Type, Single / Multi mode ,Single / Duplex fiber (optional)

Video Format

4K@60Hz YUV 4:2:0, 1080P@60Hz, 1080i, 720P, 576P, 480P

Audio Format

Support LPCM 7.1, Dolby True HD, DTS-HD Master Audio .

HDCP Input

HDCP 2.2, HDCP 1.4

HDCP Output

HDCP 1.4

Power consumption

Transmitter: 3watts(Maximum)

Receive: 3watts(Maximum)

Dimension (L×W×H)

Transmitter: 96*100*25mm

Receive: 96*100*25mm

Net Weight

475g(Pair)
.
Other Hdmi Product