1 SDI input, 2 SDI outputs SPLITTER with signal amplification and extension
1 SDI input, 2 SDI outputs SPLITTER with signal amplification and extension
SD/ HD/ 3G SDI extender over fiber optic/ fiber optic cable

Supports HDTV resolutions up to 1080p bie 60Hz (Full HD)

Fiber optic transmission : 300 m (MM)

10km single mode fiber (SM)

HDMI output: 1 x HDMI type A
1 SDI input, 2 SDI outputs SPLITTER with signal amplification and extension
1 SDI input, 2 SDI outputs SPLITTER with signal amplification and extension

SDI splitter SDI one signal input 2 SDI signal outputs, signal amplification and extension

1 SDI input, 2 SDI outputs ◆ With SDI clock synchronization and signal amplification function ◆ Power/input/output status indicator ◆ 6-18V round DC power input ◆ Die-casting aluminum housing, strong and pressure resistant

Support up to 3Gb/s SDI, which can be widely used in broadcast-grade video production and transmission.

Input and Output
supports.
1× 3G/HD/SD-SDI input
2× 3G/HD/SD-SDI output (Reclocked)

SDI signal amplification
Support SDI signal de-jitter and SDI clock synchronization, support cascade to extend transmission distance.

Status Indicator
Power / Input recognition / Output lock

There are 3 LED indicators to check whether power is connected and whether input/output signals are available.

Power supply method
Power is supplied through a round DC jack, and an AC-DC power adapter is included as standard, or the DC cable can be connected to a 6-18V battery for power supply.

Die-cast housing, strong and durable
The S-4604 is made of one-piece aluminum alloy die-casting process, which is durable and can effectively protect the BNC connection cable.

Mounting
It is equipped with 1/4" threaded holes on the bottom for attaching to the camera. The package comes standard with a fixed mounting plate for mounting on the wall and binding the BNC/HDMI cable.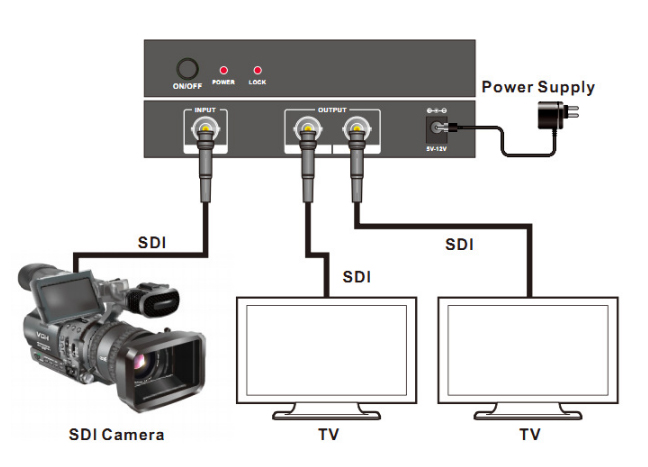 SPECIFICATIONS:

OperatingTemperatureRange

-5 to +35℃(+23 to +95℉)

OperatingHumidityRange

5 to 90%RH (No Condensation)

Video Input(Transmitter)

1xHDMI Type A, 19-pin, female

Video Output(Receiver)

1xHDMI Type A, 19-pin, female

Link(Transmitter/ Receiver)

1m~60Kmsingle / Multimode single / Duplex fiber optical cable

Module type required①

SFP Type, Single / Multi mode ,Single / Duplex fiber (optional)

Video Format

4K@60Hz YUV 4:2:0, 1080P@60Hz, 1080i, 720P, 576P, 480P

Audio Format

Support LPCM 7.1, Dolby True HD, DTS-HD Master Audio .

HDCP Input

HDCP 2.2, HDCP 1.4

HDCP Output

HDCP 1.4

Power consumption

Transmitter: 3watts(Maximum)

Receive: 3watts(Maximum)

Dimension (L×W×H)

Transmitter: 96*100*25mm

Receive: 96*100*25mm

Net Weight

475g(Pair)
.
Other signal Extend Product
Other Hdmi Product