Armored 8K DisplayPort 1.4 AOC Fiber Optic Cable - 100m
Armored 8K DisplayPort 1.4 AOC Fiber Optic Cable - 100m.
Supports DisplayPort 1.4 signals up to at least 7680x4320 with DPCP

no quality loss due to compression artifacts

EXTEND AV SIGNALS VIA COPPER / FIBER OPTIC HYBRID

Hybrid cable - fiber for A/V; copper for power & data,

Gold-plated precision mating contacts
Armored 8K DisplayPort 1.4 AOC Fiber Optic Cable - 100m
Bandwidth: 32.4 Gbps (8.1 Gbps per channel)
Supports HBR3, HDCP1.4/ HDCP2.2 & EDID
Steel armored hybrid cable - fiber for A/V, copper for power & data, ? 5.8mm
Supplied with waterproof connector protection


Armored 8K DP 1.4 AOC fiber optic cable - 100m
Armored DP 1.4 AOC connection cable: DP 1.4 plug type A to DP 1.4 plug type A

This 100 meter Amored DisplayPort 1.4 cable is optimal for 8K AV transmission in event and staging applications
The armored DisplayPort 1.4 Hybrid Active Optical Fiber Cable from
This professional 8K DP cable with Hybrid Optical Fiber technology and armored steel reinforcement under outer jacket is designed to transmit data rates up to 32.4Gbps (8.1Gbps per channel). As such, this staging-ready cable supports high-resolution 8K formats at 60Hz, 4:4:4 color subsampling, and HDR, and is the solution for connecting devices with DisplayPort 1.4 interfaces in harsh environments.

8K @60Hz AV transmission via copper/fiber hybrid cable.
Our Armored 8K High Speed DP 1.4 AOC Cable UTES24E040999AOC-ARM supports a combined bandwidth of up to 32.4Gbps, yet is lightweight and flexible. The cable offers a tight bend radius with durable mechanics and features an ultra-rugged steel spiral under the TPU cable jacket. Thanks to the advanced optical system, this resilient DP 1.4 hybrid cable provides full 8K DisplayPort signal integrity in harsh environments despite the cable length of 100m.

Here's how the active 8K DisplayPort 1.4 fiber optic connection cable works.
The 100-meter armored DisplayPort 1.4 hybrid optical cable features an integrated transmitter and receiver. The transmitter (transmitter integrated into the DP connector) connects to the DP jack of the (8K) DisplayPort source and converts the audio/video signal to transmit it over the fiber optic cables. The receiver decodes the received data and outputs it as a DispalyPort signal to the connected (8K) display.
This robust DP1.4 optical fiber cable supports plug-and-play and bidirectional EDID transmission, HDCP and link training, among other features.

Armored 8K60 DisplayPort 1.4 fiber connection cable with HBR3, HDCP2.2, EDID & 32.4 Gbps data transfer rate
This 100m Armored active optical 8K DP1.4 hybrid cable supports HBR3 (High Bit Rate 3), HDCP2.2 (High-Bandwidth Digital Content Protection v2.2), link training and provides bi-directional communication for EDID information. The design of this 8K 60Hz DispalyPort 1.4 fiber extender cable with four 10 GHz optical fibers (850 nm each), eight copper wires and a robust steel spiral under the TPU cable jacket supports compression- and latency-free transmission of 8K resolution at 60 Hz (UHD-II) as well as a color depth of 48 bits, a small bending radius and a high bandwidth of 8.1 Gbit/s per channel, which corresponds to a data transmission rate of up to 32.4 Gbit/s in total.
No external power supply required!

8K60 Amored DP1.4 AOC for outdoor use
This rugged active optical DP1.4 hybrid cable is the perfect solution for transmitting video and audio signals with full bandwidth over long distances and under very harsh and demanding conditions such as those found on construction sites, in industrial environments or at open air concerts.
The resilient 8K DisplayPort1.4 AOC hybrid cable is made of copper and fiber optic inner conductors, enabling full and uncompressed transmission of 8K@60Hz at 32.4Gbps.
Underneath the TPU outer jacket, this Armored DP 1.4 AOC hybrid cable is reinforced with a steel spiral that protects it from outdoor elements over the entire cable length!
The waterproof connector protection on both sides completes the overall package of this rugged 8K60 DP AOC hybrid cable for professional applications and installations.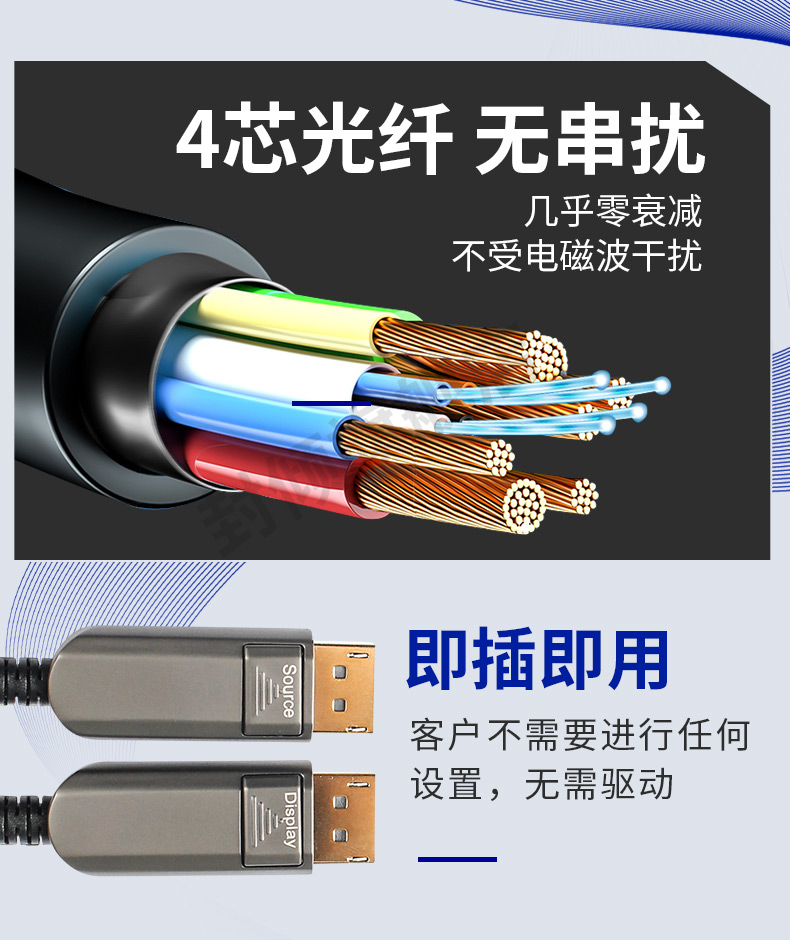 SPECIFICATIONS:

OperatingTemperatureRange

-5 to +35℃(+23 to +95℉)

OperatingHumidityRange

5 to 90%RH (No Condensation)

Video Input(Transmitter)

1xHDMI Type A, 19-pin, female

Video Output(Receiver)

1xHDMI Type A, 19-pin, female

Link(Transmitter/ Receiver)

1m~60Kmsingle / Multimode single / Duplex fiber optical cable

Module type required①

SFP Type, Single / Multi mode ,Single / Duplex fiber (optional)

Video Format

4K@60Hz YUV 4:2:0, 1080P@60Hz, 1080i, 720P, 576P, 480P

Audio Format

Support LPCM 7.1, Dolby True HD, DTS-HD Master Audio .

HDCP Input

HDCP 2.2, HDCP 1.4

HDCP Output

HDCP 1.4

Power consumption

Transmitter: 3watts(Maximum)

Receive: 3watts(Maximum)

Dimension (L×W×H)

Transmitter: 96*100*25mm

Receive: 96*100*25mm

Net Weight

475g(Pair)
.
Other signal Extend Product
Other Hdmi Product