DisplayPort 1.2 extender up to 21.6 Gbps over optical fiber
DisplayPort 1.2 extender up to 21.6 Gbps over optical fiber
supports true 4K UHD resolution (3840x2160 or 4096x2160 at 60Hz)

no quality loss due to compression artifacts

EXTEND AV SIGNALS VIA COPPER / FIBER OPTIC HYBRID

Hybrid cable - fiber for A/V; copper for power & data,

Gold-plated precision mating contacts
DisplayPort 1.2 extender up to 21.6 Gbps over optical fiber
DisplayPort 1.2 fiber optic extender (transmitter and receiver kit) that provides uncompressed DisplayPort signal extension to a range of 100 m over a single SC multimode fiber.

This extender supports true 4K UHD resolution (3840x2160 or 4096x2160 at 60Hz) and up to 21.6 Gbps video bandwidth.
Its compact design makes it ideal for adapting to various installation environments or live events.

Compatible withDisplayPort 1.2 standards.
Up to 200m (655 ft.) over one SC multimode fiber (OM3).
Uncompressed video up to 21.6Gbps.
Support formats up to 4K@60Hz 10-bit 4:4:4.
Compatible with DPCD(DisplayPort Configuration Data).
Compatible with HDCP 2.2.
Compatible with EDID standards for carrying HDR signals.
Compact design.
Status LED for easy troubleshooting.
Plug-and-play operation (no software required).
Supports up to 8 embedded audio channels.
No additional latency.
External 5V DC power adaptors provided.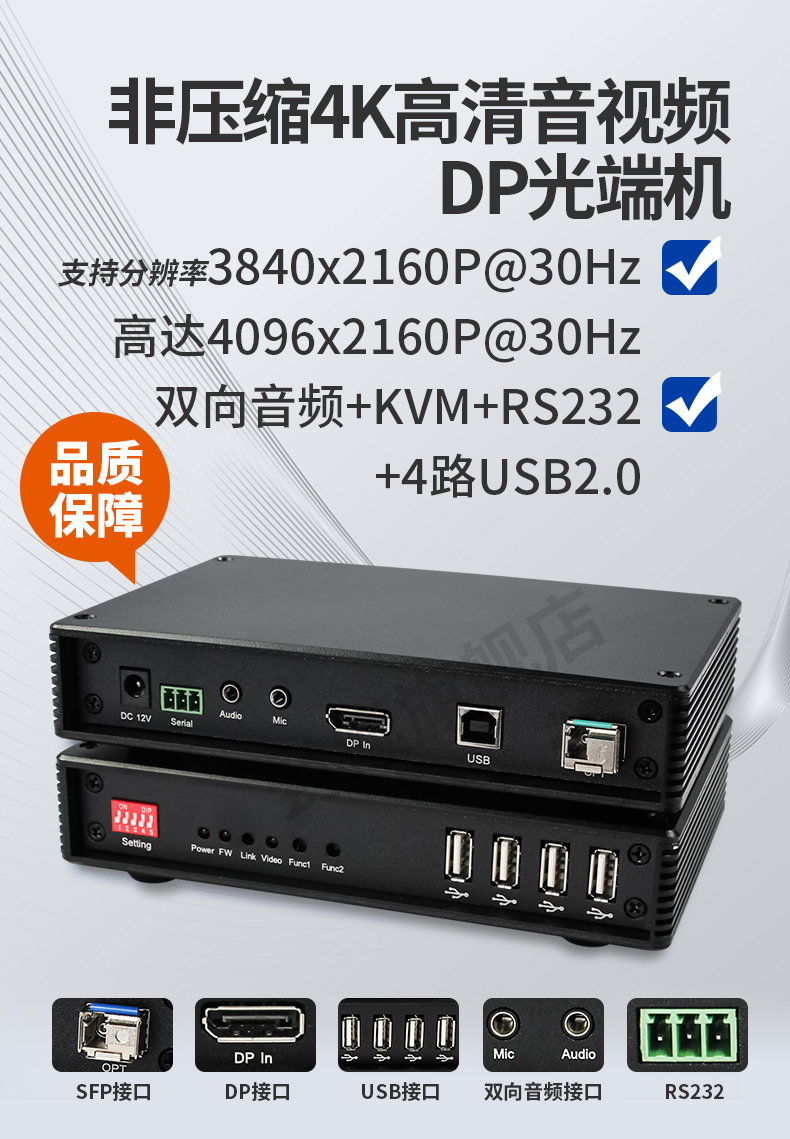 SPECIFICATIONS:

OperatingTemperatureRange

-5 to +35℃(+23 to +95℉)

OperatingHumidityRange

5 to 90%RH (No Condensation)

Video Input(Transmitter)

1xHDMI Type A, 19-pin, female

Video Output(Receiver)

1xHDMI Type A, 19-pin, female

Link(Transmitter/ Receiver)

1m~60Kmsingle / Multimode single / Duplex fiber optical cable

Module type required①

SFP Type, Single / Multi mode ,Single / Duplex fiber (optional)

Video Format

4K@60Hz YUV 4:2:0, 1080P@60Hz, 1080i, 720P, 576P, 480P

Audio Format

Support LPCM 7.1, Dolby True HD, DTS-HD Master Audio .

HDCP Input

HDCP 2.2, HDCP 1.4

HDCP Output

HDCP 1.4

Power consumption

Transmitter: 3watts(Maximum)

Receive: 3watts(Maximum)

Dimension (L×W×H)

Transmitter: 96*100*25mm

Receive: 96*100*25mm

Net Weight

475g(Pair)
.
Other signal Extend Product
Other Hdmi Product