usb3.0/usb2.0/usb1.1 pci-e Fiber Optic Extender
usb3.0/usb2.0/usb1.1 pci-e Fiber Optic Extender
No new driver installation is required.

True plug-and-play capabilities

Ideal for a wide range of USB devices.

Locking USB and power ports secure connection

longer distances can be realized with some hosts and drivers
usb3.0/usb2.0/usb1.1 pci-e Fiber Optic Extender

Add four USB 3.0 ports (three external and one internal) to your computer
Here's a cost-effective way to add USB 3.0 connectivity to your computer. With three external ports and one internal port on this 4-port USB 3.0 PCI-E card, the term "flexible connectivity" takes on its full meaning.

Never run out of USB 3.0 ports again
With three external USB 3.0 ports, you can connect more devices to your computer. The card makes it easy to access commonly used peripherals like a tablet and an external hard drive. Its internal USB port, meanwhile, lets you plug a device like a USB flash drive into the computer case itself, providing a more secure and convenient solution
With data transfer speeds of up to 5 Gbps, USB 3.0 ensures fast access to your files. Plus, this card is backward compatible with USB 2.0 and 1.x devices, eliminating the expense and hassle of upgrading.
Get up and running in no time
Setup is a breeze with native operating system support. The USB 3.0 card installs automatically in Windows 8.1, 8 and 7.
The dual profile format of this USB 3.0 PCI Express card allows it to be installed in almost any computer. Equipped with a standard height bracket, it also includes a small footprint bracket for installation in compact or half-height systems.

UASP support for more efficient data transfers
This High Efficiency USB 3.0 card supports UASP, which can increase read speeds by up to 70% and write speeds by up to 40% over traditional USB 3.0 when paired with a .
The PEXUSB3S42 is backed by StarTech.com's 2-year warranty and free lifetime technical support.

- Enhance your computer's connectivity by adding four USB 3.0 ports (3 external, 1 internal)
- Easy installation with native operating system support in Windows 7, 8 or 8.1 and Linux Kernel 2.6.31 and later
- Fits standard or compact computers, including space-saving stand
.



.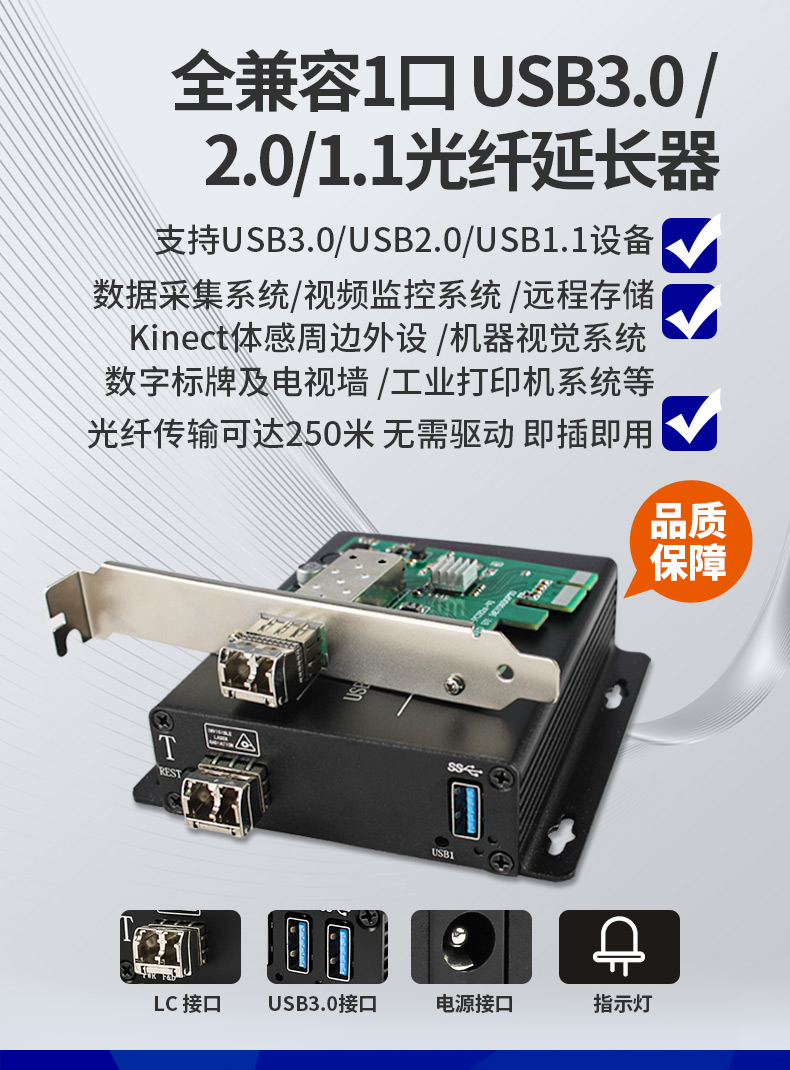 SPECIFICATIONS:

OperatingTemperatureRange

-5 to +35℃(+23 to +95℉)

OperatingHumidityRange

5 to 90%RH (No Condensation)

Video Input(Transmitter)

1xHDMI Type A, 19-pin, female

Video Output(Receiver)

1xHDMI Type A, 19-pin, female

Link(Transmitter/ Receiver)

1m~60Kmsingle / Multimode single / Duplex fiber optical cable

Module type required①

SFP Type, Single / Multi mode ,Single / Duplex fiber (optional)

Video Format

4K@60Hz YUV 4:2:0, 1080P@60Hz, 1080i, 720P, 576P, 480P

Audio Format

Support LPCM 7.1, Dolby True HD, DTS-HD Master Audio .

HDCP Input

HDCP 2.2, HDCP 1.4

HDCP Output

HDCP 1.4

Power consumption

Transmitter: 3watts(Maximum)

Receive: 3watts(Maximum)

Dimension (L×W×H)

Transmitter: 96*100*25mm

Receive: 96*100*25mm

Net Weight

475g(Pair)
.
Other signal Extend Product
Other Hdmi Product