usb3.0/usb2.0/usb1.1 Fiber Optic Extender
usb3.0/usb2.0/usb1.1 Fiber Optic Extender
No new driver installation is required.

True plug-and-play capabilities

Ideal for a wide range of USB devices.

Locking USB and power ports secure connection

longer distances can be realized with some hosts and drivers
usb3.0/usb2.0/usb1.1 Fiber Optic Extender

This series consists of USB fiber optic extenders that transmit USB data signals from peripheral devices to a host computer over fiber optic cables. They are compatible with usb3.0/usb2.0/usb1.1 standards and support data rates up to 5 Gbps. The kit includes a transmitter, receiver, 10 m of Plenum-certified multimode fiber optic cable, power supplies and mounting brackets for easy and secure mounting of the transmitter and receiver in furniture, behind a display or under a table. The transmitter has a USB-C host port and can be powered by the host computer. The receiver has a dual-port USB hub for connecting to peripherals. The UCS 900 Series supports signal transmission for USB cameras, conferencing systems, and peripherals such as mass storage devices, keyboards, and mice in professional AV environments.
Other supported USB peripherals include auxiliary information insertion devices, interactive displays, cameras, headsets and speakers, and other USB devices. The UCS 900 Series is ideal for a variety of environments that require the transmission of sb3.0/usb2.0/usb1.1 versions at data rates up to 5 Gbps, including huddle and presentation areas, courtrooms, conference rooms, boardrooms, classrooms and lecture halls.

Features
Transmits signals from USB peripherals up to 250 m over fiber optic cables
Supports USB signals up to SuperSpeed USB 5 Gbps - Supports newer USB 3.0 devices, such as USB cameras and other peripherals, as well as older USB 2.0 and 1.1 devices.
The transmitter can be powered by the host device or the included power adapter - No power adapter is required for the transmitter, so fewer devices need to be installed and installation is faster.
The receiver has an integrated hub with two ports and 5 V, 1.5 A on each port - Allows simultaneous connection to multiple peripherals, such as USB cameras, mass storage devices, computer keyboards and mice.

Patented mounting kits included for easy installation - For quick and secure mounting to rack rails, tables, mounting trays and desks.
Real-time status LED indicators for troubleshooting and monitoring - Provides visual confirmation of port activity between an active host and any connected peripheral.
.



.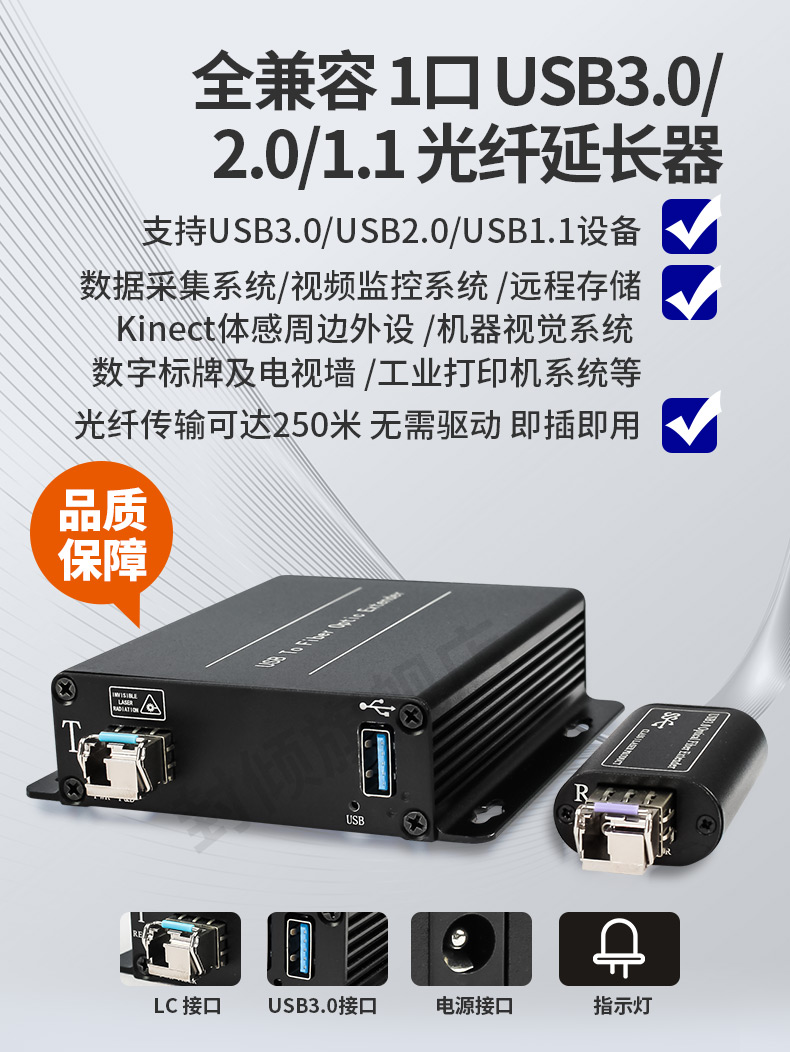 SPECIFICATIONS:

OperatingTemperatureRange

-5 to +35℃(+23 to +95℉)

OperatingHumidityRange

5 to 90%RH (No Condensation)

Video Input(Transmitter)

1xHDMI Type A, 19-pin, female

Video Output(Receiver)

1xHDMI Type A, 19-pin, female

Link(Transmitter/ Receiver)

1m~60Kmsingle / Multimode single / Duplex fiber optical cable

Module type required①

SFP Type, Single / Multi mode ,Single / Duplex fiber (optional)

Video Format

4K@60Hz YUV 4:2:0, 1080P@60Hz, 1080i, 720P, 576P, 480P

Audio Format

Support LPCM 7.1, Dolby True HD, DTS-HD Master Audio .

HDCP Input

HDCP 2.2, HDCP 1.4

HDCP Output

HDCP 1.4

Power consumption

Transmitter: 3watts(Maximum)

Receive: 3watts(Maximum)

Dimension (L×W×H)

Transmitter: 96*100*25mm

Receive: 96*100*25mm

Net Weight

475g(Pair)
.
Other signal Extend Product
Other Hdmi Product