usb2.0 Cat or Fiber Extender ,cat cable 100m . fiber LC 5km
usb2.0 Cat or Fiber Extender ,cat cable 100m . fiber LC 5km
No new driver installation is required.

True plug-and-play capabilities

Ideal for a wide range of USB devices.

Locking USB and power ports secure connection

longer distances can be realized with some hosts and drivers
usb2.0 Cat or Fiber Extender ,cat cable 100m . fiber LC 5km

It is a transparent USB 2.0 extender with 480Mbps transfer speed, compatible with all USB 2.0 devices, but also down to USB 1.1 and up to USB 3.0 (with 480Mbps). Transmitter and receiver, 4 port USB hub on receiver, max. 100m per 1x CAT5/6/ or single fiber LC 5km

Description
Thisr USB 2.0 extender set, consisting of transmitter and receiver, comes with power supply and USB connection cable, so that it can be used directly. The receiver has a high-quality 4-port USB hub. Each USB port on the hub is simultaneously supplied with up to 600mA.
The ICRON USB Ranger works driverless (external hardware at the interface) and extends USB 2.0 transparently and up to 100m far with full width of 480Mbps - over a CAT5e or optic fiber cable.

More data
Set = transmitter and receiver, power supply, USB connection cable.
USB 2.0 transparent with 480Mbps
USB 1.1 backward compatible with 12Mbps
4-Port USB Hub with 600mA power supply for all four ports simultaneously per port.

Distance: Max. 100m, laying cable and no transitions, patch fields and other transitions, as well as patch cables reduce distance and/or transmission bandwidth.
Plug power supply 230VAC with 24V DC and 1A included.

Operating range 0°C to 50°C at approx. 20-80% humidity



.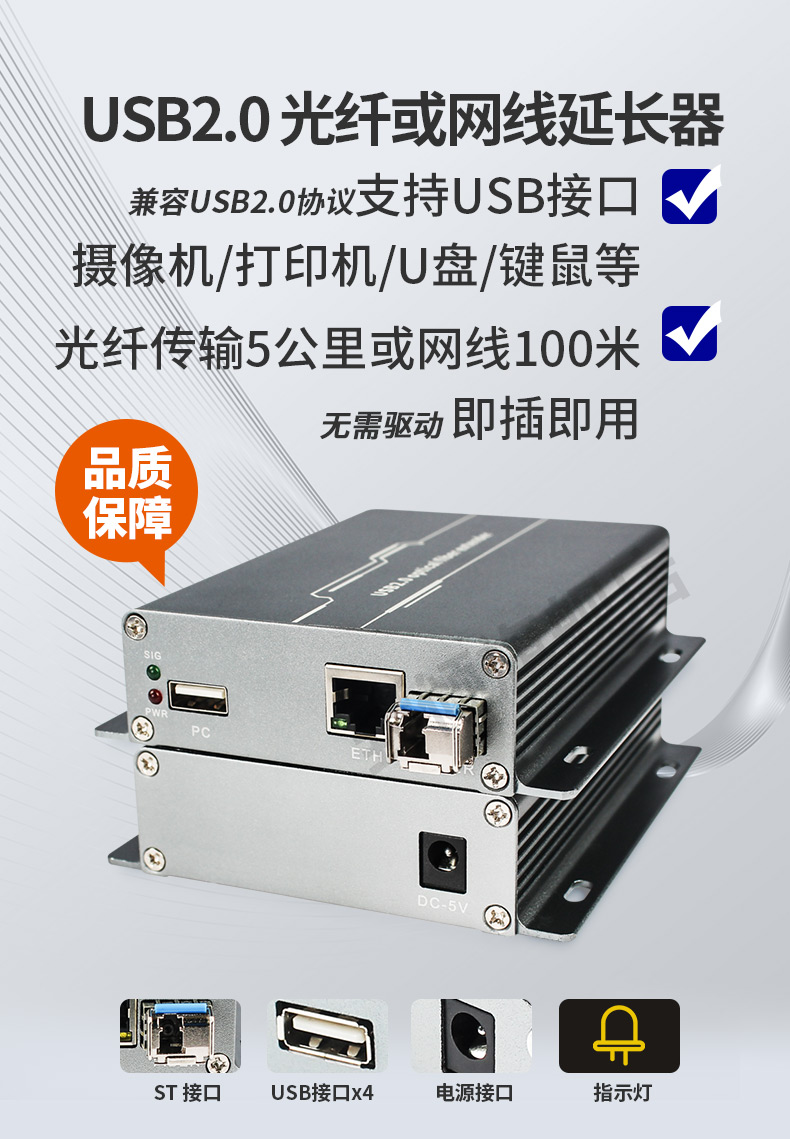 SPECIFICATIONS:

OperatingTemperatureRange

-5 to +35℃(+23 to +95℉)

OperatingHumidityRange

5 to 90%RH (No Condensation)

Video Input(Transmitter)

1xHDMI Type A, 19-pin, female

Video Output(Receiver)

1xHDMI Type A, 19-pin, female

Link(Transmitter/ Receiver)

1m~60Kmsingle / Multimode single / Duplex fiber optical cable

Module type required①

SFP Type, Single / Multi mode ,Single / Duplex fiber (optional)

Video Format

4K@60Hz YUV 4:2:0, 1080P@60Hz, 1080i, 720P, 576P, 480P

Audio Format

Support LPCM 7.1, Dolby True HD, DTS-HD Master Audio .

HDCP Input

HDCP 2.2, HDCP 1.4

HDCP Output

HDCP 1.4

Power consumption

Transmitter: 3watts(Maximum)

Receive: 3watts(Maximum)

Dimension (L×W×H)

Transmitter: 96*100*25mm

Receive: 96*100*25mm

Net Weight

475g(Pair)
.
Other signal Extend Product
Other Hdmi Product