2 port USB2.0 Fiber Extender ,SC/FC sm single fiber ,20km
2 port USB2.0 Fiber Extender ,SC/FC sm single fiber ,20km
No new driver installation is required.

True plug-and-play capabilities

Ideal for a wide range of USB devices.

Locking USB and power ports secure connection

longer distances can be realized with some hosts and drivers
2 port USB2.0 Fiber Extender ,SC/FC sm single fiber ,20km

The USB2 extender allows to remote 2 USB2 devices with a 480 Mbit/s throughput up to 20 km on 2 strands of 9.5/125 single mode optical fiber, SC/FC type connectors.

The local module is powered via the PC's USB port while the remote module is powered via a supplied power supply.

imensions 3.94" x 2.99" x 1.02" (100 mm x 76 mm x 26 mm)
- Operating temperature range 0°C to 50°C
- Total system shipping weight 2.0 lbs. (0.9 kilograms)
- Regulatory testing FCC (Class B), IC (Class B), CE (Class B)
- ESD Rating EMC EN-61000-4-2:2001 8kV Contact, 16kV Air

Features
Product type : Offset
Connection technology : Single mode optical fiber
Receiver side device type (User) : USB2.0 High speed 480Mbps
Available USB port on receiver side : 4 USB-A Female ports
USB 2.0 : Yes
Manufacturer: Icron
Remote power supply : Transmitter and Receiver side, Transmitter side, Receiver side
Maximum distance of deport : Up to 20000m
.



.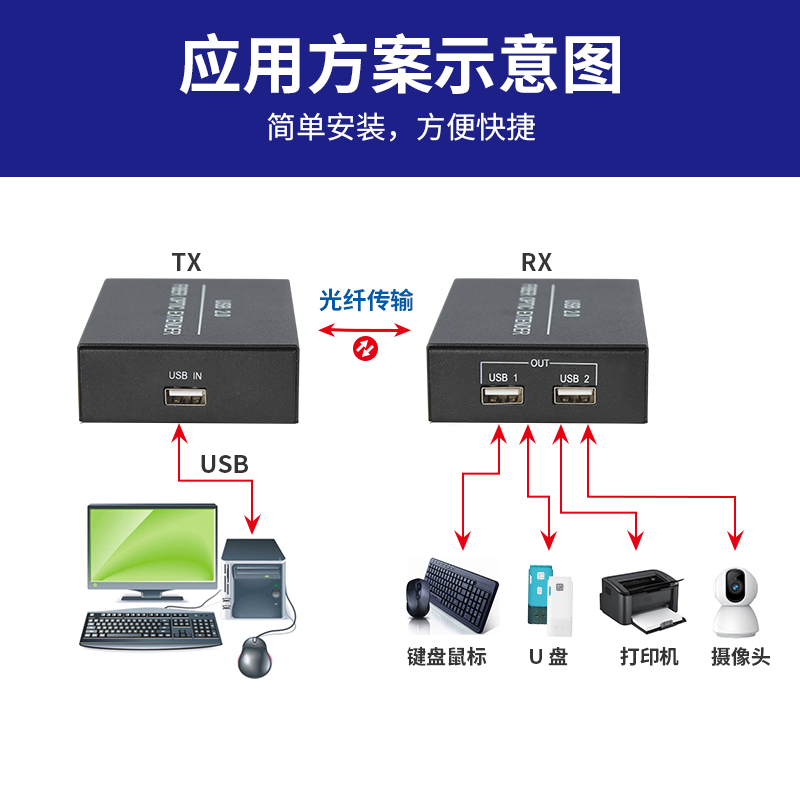 SPECIFICATIONS:

OperatingTemperatureRange

-5 to +35℃(+23 to +95℉)

OperatingHumidityRange

5 to 90%RH (No Condensation)

Video Input(Transmitter)

1xHDMI Type A, 19-pin, female

Video Output(Receiver)

1xHDMI Type A, 19-pin, female

Link(Transmitter/ Receiver)

1m~60Kmsingle / Multimode single / Duplex fiber optical cable

Module type required①

SFP Type, Single / Multi mode ,Single / Duplex fiber (optional)

Video Format

4K@60Hz YUV 4:2:0, 1080P@60Hz, 1080i, 720P, 576P, 480P

Audio Format

Support LPCM 7.1, Dolby True HD, DTS-HD Master Audio .

HDCP Input

HDCP 2.2, HDCP 1.4

HDCP Output

HDCP 1.4

Power consumption

Transmitter: 3watts(Maximum)

Receive: 3watts(Maximum)

Dimension (L×W×H)

Transmitter: 96*100*25mm

Receive: 96*100*25mm

Net Weight

475g(Pair)
.
Other signal Extend Product
Other Hdmi Product