HD3G SDI Fiber Extender with bilateral audio and rs232, Loop out LC single fiber
HD3G SDI Fiber Extender with bilateral audio and rs232, Loop out LC single fiber
HD3G SDI Fiber Extender with bilateral audio and rs232,

Loop out LC single fiber

Fiber optic transmission : 300 m (MM)

10km single mode fiber (SM)

HDMI output: 1 x HDMI type A
HD3G SDI Fiber Extender with bilateral audio and rs232, Loop out LC single fiberernet, bilateral rs232 , FC single fiber
This range of video extenders is available with a choice of SFP fiber adapters to extend SDI camera sources or any other SDI source in up to 4K resolution over distances of up to 300m on OM3 fiber and up to 40km on single mode fiber.

The receiver has four BNC connectors on the front for SDI outputs and then a BNC for sync input. The rear has a slot for an SFP+ module and a screw terminal for the RS232 interface. The top of the unit has a mini-USB socket for firmware update and monitoring as well as LEDs for each SDI, 'Sync' and 'Pwr' connection. One side has the coaxial power supply socket

The transmitter and receiver of this version are each supplied with a 10G SFP+ transmitter/receiver with LC connectors for use with OM3 multimode fiber, for a range of 300m, or OM4, for a range of 400m.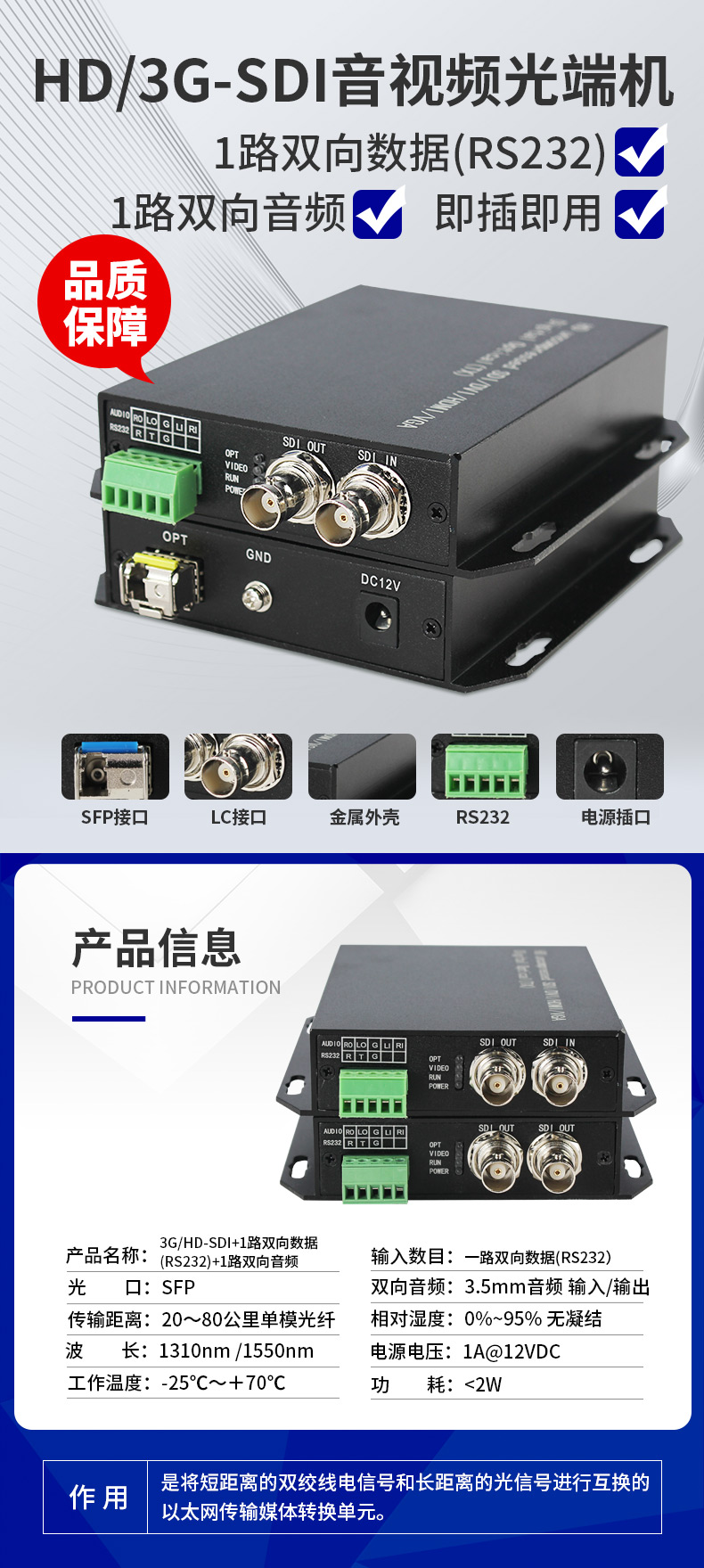 SPECIFICATIONS:

OperatingTemperatureRange

-5 to +35℃(+23 to +95℉)

OperatingHumidityRange

5 to 90%RH (No Condensation)

Video Input(Transmitter)

1xHDMI Type A, 19-pin, female

Video Output(Receiver)

1xHDMI Type A, 19-pin, female

Link(Transmitter/ Receiver)

1m~60Kmsingle / Multimode single / Duplex fiber optical cable

Module type required①

SFP Type, Single / Multi mode ,Single / Duplex fiber (optional)

Video Format

4K@60Hz YUV 4:2:0, 1080P@60Hz, 1080i, 720P, 576P, 480P

Audio Format

Support LPCM 7.1, Dolby True HD, DTS-HD Master Audio .

HDCP Input

HDCP 2.2, HDCP 1.4

HDCP Output

HDCP 1.4

Power consumption

Transmitter: 3watts(Maximum)

Receive: 3watts(Maximum)

Dimension (L×W×H)

Transmitter: 96*100*25mm

Receive: 96*100*25mm

Net Weight

475g(Pair)
.
Other signal Extend Product
Other Hdmi Product