8×1 HDMI 4K@60Hz Switch
8×1 HDMI 4K@60Hz Switch l
8 HDMI signal sources to 1 HDMI display

supports HDCP2.2 HDMI input and output signals

comprehensive EDID management - Multiple built-in EDID settings

Switching memory function&2 switching methods

HDMI extension for home theaters
8×1 HDMI 4K@60Hz Switch

8 in 1 out with with hassle-free auto switching
This 8 port HDMI switcher is the perfect solution for sharing 1 HDMI screen or projector with 8 HDMI source devices. It ensures effortless operation with automatic switching that detects and selects the last connected device. The switch also supports manual operation, including IR remote control and front panel push buttons.

Crystal clear video&Smart EDID management
Can output vivid picture quality with support for up to 4K@60Hz 4:4:4. It is HDCP 2.2 compliant. With EDID management, it automatically detects and analyzes the EDID of all connected HDMI displays. Then the HDMI source player outputs the best resolution to ensure all HDMI displays can show images.

Hot plug detection&19 inch rack mountable
This HDMI switch has hot plug detection. You can connect or disconnect devices to the HDMI switch at any time without turning off devices.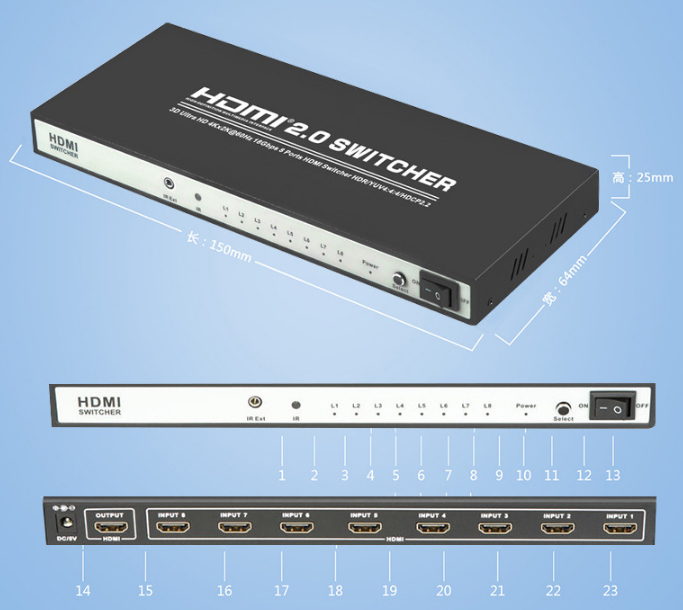 SPECIFICATIONS:

OperatingTemperatureRange

-5 to +35℃(+23 to +95℉)

OperatingHumidityRange

5 to 90%RH (No Condensation)

Video Input(Transmitter)

1xHDMI Type A, 19-pin, female

Video Output(Receiver)

1xHDMI Type A, 19-pin, female

Link(Transmitter/ Receiver)

1m~60Kmsingle / Multimode single / Duplex fiber optical cable

Module type required①

SFP Type, Single / Multi mode ,Single / Duplex fiber (optional)

Video Format

4K@60Hz YUV 4:2:0, 1080P@60Hz, 1080i, 720P, 576P, 480P

Audio Format

Support LPCM 7.1, Dolby True HD, DTS-HD Master Audio .

HDCP Input

HDCP 2.2, HDCP 1.4

HDCP Output

HDCP 1.4

Power consumption

Transmitter: 3watts(Maximum)

Receive: 3watts(Maximum)

Dimension (L×W×H)

Transmitter: 96*100*25mm

Receive: 96*100*25mm

Net Weight

475g(Pair)
.
Other Hdmi Product