2x1 KVM HDMI2.0 4K60Hz Switc
2x1 KVM HDMI2.0 4K60Hz Switc
2HDMI signal sources to 1 HDMI display

supports HDCP2.2 HDMI input and output signals

comprehensive EDID management - Multiple built-in EDID settings

Switching memory function&2 switching methods

HDMI extension for home theaters
2x1 KVM HDMI2.0 4K60Hz Switc

2x1 KVM HDMI Switch 4K Switch 3840x2160 @60Hz 4:4:4 with 2 x 5ft KVM Cables Supports USB 2.0 Devices Control Up to 2 Computers/Servers/DVR (Black)

Description
Dual function: you can connect two HDMI sources to one display with HDMI output, or connect one HDMI source to switch between displays (although it will only be visible on one screen)

Features
1. Supports 2 inputs and1 output, 1 input and2 outputs
2. Maximum current consumption: 15mA.
3. Full compliance with the HDMI specification v1.0,v1.1,v1.2,v1.3,v1.4,v2.0
4. Main control: manual electronic selec

2 PORT KVM SWITCH HDMI: Share your monitor, keyboard and mouse between your home desktop and work laptop: saved you a lot of money and headaches, not having to buy multiple monitors and keyboards (not to mention the space needed for all the extra hardware)
EASY TO TURN ON IN MULTIPLE MODE: - 1. Front panel buttons, 2. IR remote control, 3. Keyboard shortcut keys, 4. Mouse gesture quick switch, 5. Automatic switching in a specified time interval (adjustable)
Ultra HD HDMI2.0 HDCP 2.2: - Support 4K @ 60Hz 4: 4 widescreen monitors, KVM with quick switching and with EDID emulators to keep PC windows not resized when switching computers
EXTRA USB 2.0 and AUDIO PORT: - Able to share a USB HUB, printer, headset/microphone, storage, webcam and USB backup drive etc. Between PCs, capture audio from HDMI, this saved you from having to run additional audio cables to each PC
MULTIPLE OPERATION SYSTEM: - Support Unix / Windows / Debian / Ubuntu / Fedora / Mac OS X / Raspbian / Ubuntu for Raspberry Pi and other Linux based systemst.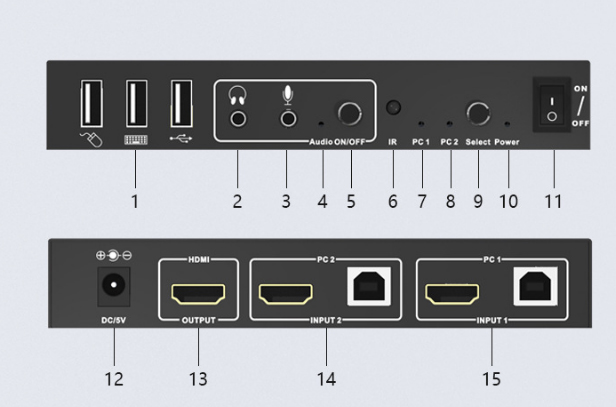 SPECIFICATIONS:

OperatingTemperatureRange

-5 to +35℃(+23 to +95℉)

OperatingHumidityRange

5 to 90%RH (No Condensation)

Video Input(Transmitter)

1xHDMI Type A, 19-pin, female

Video Output(Receiver)

1xHDMI Type A, 19-pin, female

Link(Transmitter/ Receiver)

1m~60Kmsingle / Multimode single / Duplex fiber optical cable

Module type required①

SFP Type, Single / Multi mode ,Single / Duplex fiber (optional)

Video Format

4K@60Hz YUV 4:2:0, 1080P@60Hz, 1080i, 720P, 576P, 480P

Audio Format

Support LPCM 7.1, Dolby True HD, DTS-HD Master Audio .

HDCP Input

HDCP 2.2, HDCP 1.4

HDCP Output

HDCP 1.4

Power consumption

Transmitter: 3watts(Maximum)

Receive: 3watts(Maximum)

Dimension (L×W×H)

Transmitter: 96*100*25mm

Receive: 96*100*25mm

Net Weight

475g(Pair)
.
Other Hdmi Product