4x1 4K@30hz hdmi1.4 switch
4x1 4K@30hz hdmi1.4 switch
4 HDMI signal sources to 1 HDMI display

supports HDCP2.2 HDMI input and output signals

comprehensive EDID management - Multiple built-in EDID settings

Switching memory function&2 switching methods

HDMI extension for home theaters
4x1 4K@30hz hdmi1.4 switch

4x1 4K@30hz hdmi switch selector 4 ports Supports 3D 1080P Ultra HD 4K Full HD arc with remote control

4 IN 1 OUT HDMI Switch】 4 Port HDMI Switch and Audio Extractor SPDIF / RCA stereo outputs with Ultra HD 4K ARC EDID setting allow you to connect five HDMI inputs to one HDMI output
HDMI audio extractor converter switch allows you to extract and convert digital signal from HDMI input to 5.1 channel digital surround on Toslink S / PDIF optical output or 2.0 channel analog stereo on L / R 2RCA output.
Supports 4K x 2K at 30HZ, Full 3D 1080P, HD Audio, HDCP1.4. No more distorted audio and video transmissions.
with computer, Xbox360 / Xbox one, Huawei Box, PS3 / PS4 / PS5, IPTV / STB, Amazon Fire TV, laptop, Apple TV, ROKU, VDC / DVD players, Chromecast Blue-ray player, LG G6 and other HDMI compatible devices.
With IR technique, you can remotely control the device and change the signal source. The distance of the remote control is less than 10 feet.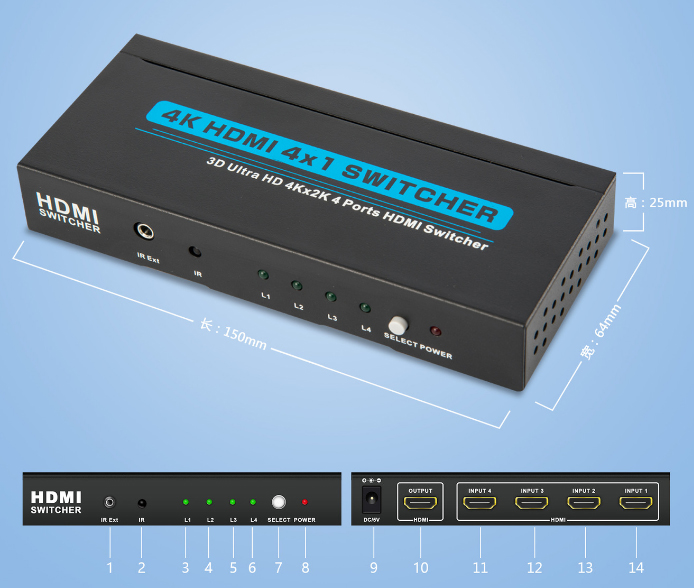 SPECIFICATIONS:

OperatingTemperatureRange

-5 to +35℃(+23 to +95℉)

OperatingHumidityRange

5 to 90%RH (No Condensation)

Video Input(Transmitter)

1xHDMI Type A, 19-pin, female

Video Output(Receiver)

1xHDMI Type A, 19-pin, female

Link(Transmitter/ Receiver)

1m~60Kmsingle / Multimode single / Duplex fiber optical cable

Module type required①

SFP Type, Single / Multi mode ,Single / Duplex fiber (optional)

Video Format

4K@60Hz YUV 4:2:0, 1080P@60Hz, 1080i, 720P, 576P, 480P

Audio Format

Support LPCM 7.1, Dolby True HD, DTS-HD Master Audio .

HDCP Input

HDCP 2.2, HDCP 1.4

HDCP Output

HDCP 1.4

Power consumption

Transmitter: 3watts(Maximum)

Receive: 3watts(Maximum)

Dimension (L×W×H)

Transmitter: 96*100*25mm

Receive: 96*100*25mm

Net Weight

475g(Pair)
.
Other Hdmi Product