5×1 4K@60Hz HDMI Switch with IR Remote Control
5×1 4K@60Hz HDMI Switch with IR Remote Control
5 HDMI signal sources to 1 HDMI display

supports HDCP2.2 HDMI input and output signals

comprehensive EDID management - Multiple built-in EDID settings

Switching memory function&2 switching methods

HDMI extension for home theaters
5×1 4K@60Hz HDMI Switch with IR Remote Control

5×1 HDMI selector switch can connect 5 HDMI signal sources to 1 HDMI display, making all HDMI devices work at the same time. No software or drivers required. It can be switched with remote control and device buttons.

This HDMI Switcher supports HDMI resolutions up to 4Kx2K @ 60Hz, backward compatible with 4Kx2K @ 30Hz, 1080p 3D @ 60Hz, 1080i, 720p; HDMI passthrough switch supports HDCP 2.2 and HDCP 1.4; Supports 6.0 Gbit/s TMDS / 600 MHz per channel. (To view 4K @ 60Hz resolution, you must use an HDMI 2.0 cable and connect a TV or display that provides the HDMI 2.0 connector. HDMI 1.4 only provides 4K @ 30Hz).

Original audio is reproduced perfectly. Extracting audio from the HDMI source and outputting it through the optical and L / R interfaces (5.1-channel digital surround audio on the optical output and 2.0-channel analog stereo on the R / L output) support the ARC (Audio Return Channel) function. You can extract audio from your TV to your soundbar system, which supports DTS Digital, DTS-HD, Dolby True-HD, Dobly Digital and LPCM formats.

This HDMI Switcher is suitable for most devices with standard HDMI interface and works with all built-in HDMI devices. Input source can be connected PS3, PS4, PS4 Pro, computer / laptop, notebook, Xbox 360, Xbox One, Nintendo Switch / Wii, Blu-ray player, DVD player, Roku stick / Fire stick, ROKU; The output can be connected to Apple TV, Samsung TV, Ultra 4K (UHD) TV, HDTV, monitor, display or large screen projector.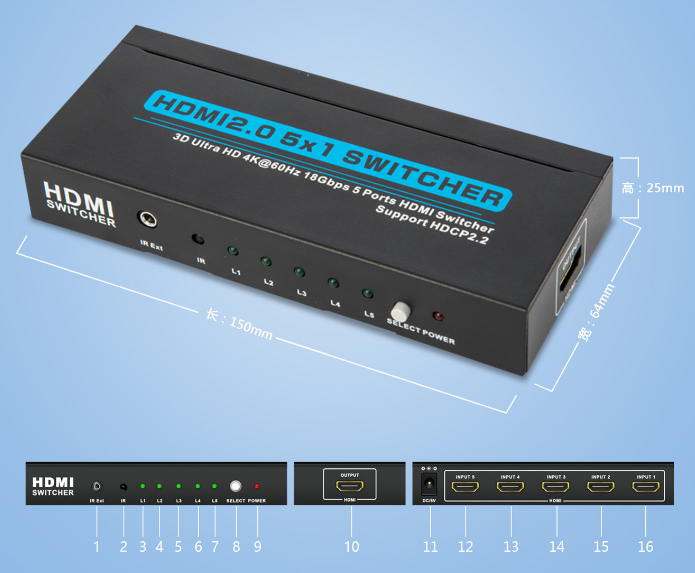 SPECIFICATIONS:

OperatingTemperatureRange

-5 to +35℃(+23 to +95℉)

OperatingHumidityRange

5 to 90%RH (No Condensation)

Video Input(Transmitter)

1xHDMI Type A, 19-pin, female

Video Output(Receiver)

1xHDMI Type A, 19-pin, female

Link(Transmitter/ Receiver)

1m~60Kmsingle / Multimode single / Duplex fiber optical cable

Module type required①

SFP Type, Single / Multi mode ,Single / Duplex fiber (optional)

Video Format

4K@60Hz YUV 4:2:0, 1080P@60Hz, 1080i, 720P, 576P, 480P

Audio Format

Support LPCM 7.1, Dolby True HD, DTS-HD Master Audio .

HDCP Input

HDCP 2.2, HDCP 1.4

HDCP Output

HDCP 1.4

Power consumption

Transmitter: 3watts(Maximum)

Receive: 3watts(Maximum)

Dimension (L×W×H)

Transmitter: 96*100*25mm

Receive: 96*100*25mm

Net Weight

475g(Pair)
.
Other Hdmi Product