8x8 HDMI 2.0 4K@60Hz Matrix with rs232 and IR remote control
8x8 HDMI 2.0 4K@60Hz Matrix with rs232 and IR remote control
Switches between 8 HDMI sources and 8HDMI displays

Supports resolutions up to 4K 60Hz and HDR signals

Extract audio from HDMI signal to optical port or 3.5mm audio output

EDID management system to monitor

HDCP 2.2 support
8x8 HDMI 2.0 4K@60Hz Matrix with rs232 and IR remote control
- Switches between 8 HDMI source devices and 8 HDMI displays as a matrix
- Create single (up to 4x2) or multiple (2x2) video walls
- Seamless switching between devices in less than 0.1ms

- Control output scaling to ensure optimal or consistent resolution is displayed

8x8 HDMI 18G Matrix with Video Wall Scaling is the professional solution for distributing content from multiple source devices to multiple HDMI displays, or for creating eye-catching video wall configurations.

Supporting resolutions up to 4K@60Hz, content can be delivered with excellent clarity, which is ideal for ensuring a high-quality video experience in sports bars, retail stores or multiple consecutive locations in large facilities. Resolutions can be easily scaled and controlled by the user to ensure optimal or consistent resolution.

In addition to providing professional 8x8 matrix switching capability, this unit can create customizable single or dual video wall displays in a variety of configurations. This provides the user with a range of flexible display options for their installation and allows the unit to be used in a variety of specialized environments, including transportation centers, point-of-sale and hospitality. The analog audio ports also allow for 2-channel audio extraction, to add immersive stereo sound to the content on the screen.

The matrix also allows for instant and seamless switching between source devices and displays, a crucial feature for real-time use in operations center scenarios such as traffic monitoring, stock market or security configurations. Controlled by independent IR as well as push button switching, this matrix ensures that the user requires minimal effort when setting up their installation, while RS-232 control also allows integration into larger control systems.

Professional EDID management ensures maximum compatibility with source devices and displays.


.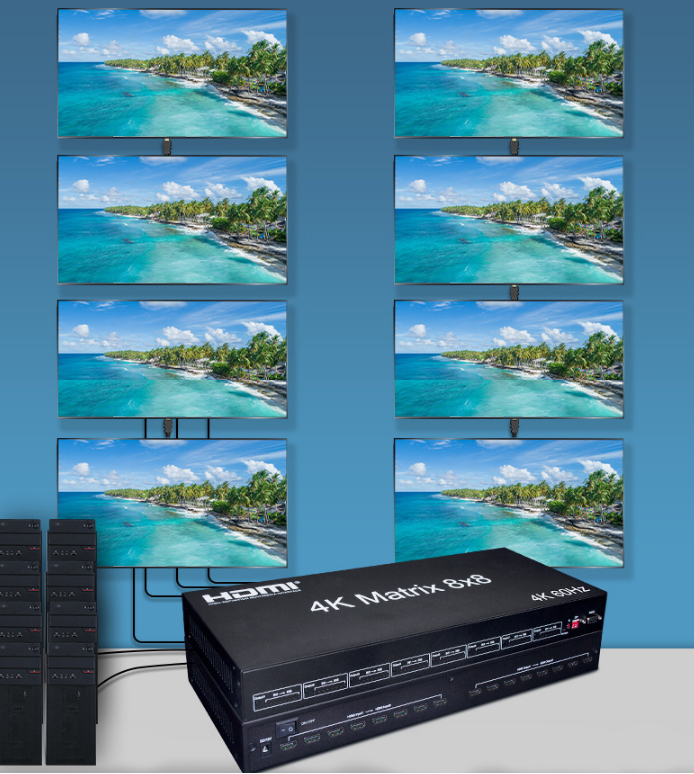 SPECIFICATIONS:

OperatingTemperatureRange

-5 to +35℃(+23 to +95℉)

OperatingHumidityRange

5 to 90%RH (No Condensation)

Video Input(Transmitter)

1xHDMI Type A, 19-pin, female

Video Output(Receiver)

1xHDMI Type A, 19-pin, female

Link(Transmitter/ Receiver)

1m~60Kmsingle / Multimode single / Duplex fiber optical cable

Module type required①

SFP Type, Single / Multi mode ,Single / Duplex fiber (optional)

Video Format

4K@60Hz YUV 4:2:0, 1080P@60Hz, 1080i, 720P, 576P, 480P

Audio Format

Support LPCM 7.1, Dolby True HD, DTS-HD Master Audio .

HDCP Input

HDCP 2.2, HDCP 1.4

HDCP Output

HDCP 1.4

Power consumption

Transmitter: 3watts(Maximum)

Receive: 3watts(Maximum)

Dimension (L×W×H)

Transmitter: 96*100*25mm

Receive: 96*100*25mm

Net Weight

475g(Pair)
.
Other Hdmi Product