4K2K@60Hz HDMI2.0 Matrix with 2 inputs 4 outputs (4x2) and IR remote control
4K2K@60Hz HDMI2.0 Matrix with 2 inputs 4 outputs (4x2) and IR remote control
Switches between 2 HDMI sources and 4HDMI displays

Supports resolutions up to 4K 60Hz and HDR signals

Extract audio from HDMI signal to optical port or 3.5mm audio output

EDID management system to monitor

HDCP 2.2 support
4K2K@60Hz HDMI2.0 Matrix with 2 inputs 4 outputs (4x2) and IR remote control
Select 1or 2 from 2 HDMI source and then distribute to 4 HDMI displays
HDTV, 3D HDTV compatible
Configurable Audio channel setting ideal for 5.1 / 7.1 Home Theater AV Receiver
Support the resolution up to Full HD 1080p / 2048 x 1152
Matrix mode supports 2-Bus function which can display 2 sources simultaneously
Multi-functions for EDID setting, like EDID Copy and EDID Pre-setting, ensuring accurate output display

2X4 HDMI Video Matrix with IR. It allows to distribute two HDMI video sources to four different HDMI displays. Built-in unique EDID multi-function setting design ensures the optimized output display.

HDMI Matrix Highlights 2 Inputs 4 HDMI Outputs:- Simplifies audio-video distribution. Each source device is connected to a numbered input on the switcher. The preferred source device can then be selected by remote control or by a button on the device, which is then routed to the single HDMI output on the switcher which is then connected to the display.- Switching of sources/monitors is done by the buttons on the front panel or by remote control.
A remote control is provided with each unit to make it easy to select the desired combination. A button is also located on the main unit to allow selection of the source device by manually pressing this built-in button.

It is the best solution to Home Multi-media Center, Class Room, Church, or Meeting Room. Besides, there is no need for software or interface card installation. Just connect the cables, power up the system and you are ready to have duplicated video images for multiple monitors with excellent clarity.

HDMI matrix switches are ideal for sports bars, home theaters, retail spaces, restaurants, commercial applications like stadiums, and more. Display content from your source devices on multiple TVs with ease!

.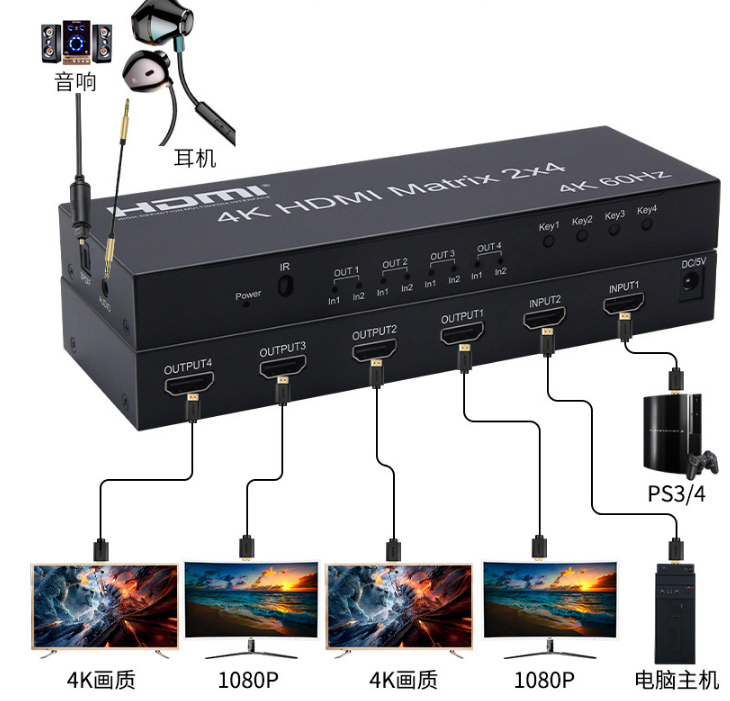 SPECIFICATIONS:

OperatingTemperatureRange

-5 to +35℃(+23 to +95℉)

OperatingHumidityRange

5 to 90%RH (No Condensation)

Video Input(Transmitter)

1xHDMI Type A, 19-pin, female

Video Output(Receiver)

1xHDMI Type A, 19-pin, female

Link(Transmitter/ Receiver)

1m~60Kmsingle / Multimode single / Duplex fiber optical cable

Module type required①

SFP Type, Single / Multi mode ,Single / Duplex fiber (optional)

Video Format

4K@60Hz YUV 4:2:0, 1080P@60Hz, 1080i, 720P, 576P, 480P

Audio Format

Support LPCM 7.1, Dolby True HD, DTS-HD Master Audio .

HDCP Input

HDCP 2.2, HDCP 1.4

HDCP Output

HDCP 1.4

Power consumption

Transmitter: 3watts(Maximum)

Receive: 3watts(Maximum)

Dimension (L×W×H)

Transmitter: 96*100*25mm

Receive: 96*100*25mm

Net Weight

475g(Pair)
.
Other Hdmi Product