2x2 HDMI1.4 4K@30Hz Matrix with IR remote control
2x2 HDMI1.4 4K@30Hz Matrix with IR remote control
Switches between 2 HDMI sources and 2HDMI displays

Supports resolutions up to 4K 30Hz and HDR signals

Extract audio from HDMI signal to optical port or 3.5mm audio output

EDID management system to monitor

HDCP 2.2 support
2x2 HDMI1.4 4K@30Hz Matrix with IR remote control
2x2 HDMI1.4 Matrix - 4K HDMI Switch and Splitter with Fast Switching
Automatically switch between two 4K video sources on two displays with fast switching technology

Impressive picture quality with support for 4K@30hz
Easy operation with automatic, priority and manual switching between HDMI sources
Access two HDMI source devices on two independent HDMI displays, with 2x2 matrix switching

Save yourself hassle and time by automatically switching between HDMI audio/video sources. This HDMI 2x2 matrix switcher, with support for Ultra HD 4K, offers the ultimate viewing experience. It allows you to connect two HDMI sources to two HDMI displays with exceptional 4K resolution, while seamlessly switching between your video sources.

Impressive picture quality with 4K support
The Matrix Switcher supports Ultra HD 4K picture quality on two monitors while switching between content from HDMI source devices including Blu-ray? or DVD players, computer systems, video game consoles, digital cable-satellite boxes and A/V receivers.

4K support provides a higher level of visibility and image clarity, with four times the resolution of 1080p, or 8.29 million pixels versus 2.07 million pixels. It provides a more engaging visual experience for audiences in a wide range of venues such as conference centers and rooms, and educational and commercial environments. With its exceptional image quality, 4K resolution is also ideal for bringing your digital displays to life.

Fast and versatile switching options
Enjoy worry-free operation with four different switching modes:

Matrix Switching - This feature allows you to route either HDMI source (input 1 or input 2) to either display (output 1 and/or output 2) and independently switch between two video sources.

Fast auto-switching: ensures switching between HDMI sources in a short time. The switcher provides effortless operation with state-of-the-art auto detection. It detects the last connected HDMI source and automatically switches both outputs to that device. It also ensures that there will be no interruption in digital signage applications if a source signal accidentally loses power or fails.

Priority Switching: Identifies the first priority port for HDMI sources, which will be the output for both displays.

Manual switching: Allows you to manually select your HDMI source with easy-to-use front panel buttons.
An IR remote control is included in the package, allowing you to select the desired input source remotely. The RS-232 serial control interface ensures easy remote operation with serial control devices.

Hassle-free configuration through plug-and-play installation
The matrix switcher is easy to install. EDID emulation also saves you time during setup, so that all your display settings, such as refresh rate and native resolution, are transmitted between your display and your video source devices. The built-in EDID copy function maximizes compatibility with your 4K display for convenient plug-and-play setup and the sharpest picture quality.



.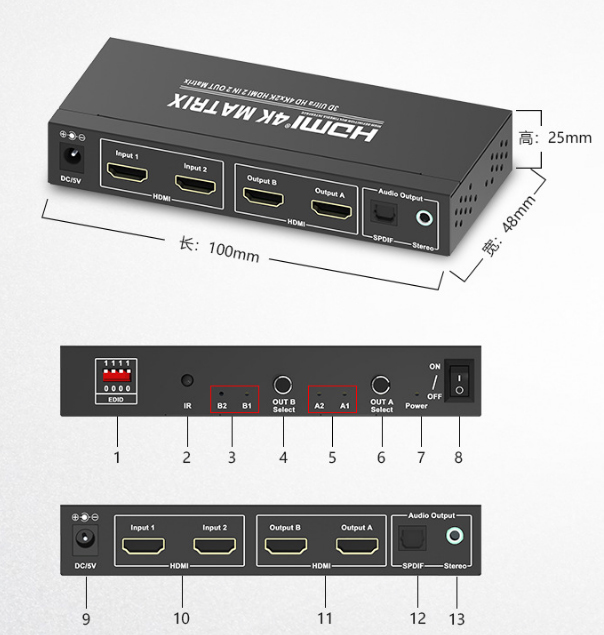 SPECIFICATIONS:

OperatingTemperatureRange

-5 to +35℃(+23 to +95℉)

OperatingHumidityRange

5 to 90%RH (No Condensation)

Video Input(Transmitter)

1xHDMI Type A, 19-pin, female

Video Output(Receiver)

1xHDMI Type A, 19-pin, female

Link(Transmitter/ Receiver)

1m~60Kmsingle / Multimode single / Duplex fiber optical cable

Module type required①

SFP Type, Single / Multi mode ,Single / Duplex fiber (optional)

Video Format

4K@60Hz YUV 4:2:0, 1080P@60Hz, 1080i, 720P, 576P, 480P

Audio Format

Support LPCM 7.1, Dolby True HD, DTS-HD Master Audio .

HDCP Input

HDCP 2.2, HDCP 1.4

HDCP Output

HDCP 1.4

Power consumption

Transmitter: 3watts(Maximum)

Receive: 3watts(Maximum)

Dimension (L×W×H)

Transmitter: 96*100*25mm

Receive: 96*100*25mm

Net Weight

475g(Pair)
.
Other Hdmi Product