4x2 HDMI 1.4 4K@30Hz Matrix
4x2 HDMI 1.4 4K@30Hz Matrix
Switches between 4 HDMI sources and 2HDMI displays

Supports resolutions up to 4K 30Hz and HDR signals

Extract audio from HDMI signal to optical port or 3.5mm audio output

EDID management system to monitor

HDCP 2.2 support
4x2 HDMI 1.4 4K@30Hz Matrix
HDMI 1.4 Matrix, 4 Inputs 2 Outputs Support Full HD 1080P 3D 4K 2K EDID Control Amplifier, 4 x 2 Switch Splitter Matrix Splitter for PS3 PS4 TV Box DVD Player

A MATRIX SWITCHER WITH 4 HDMI INPUTS AND 2 OUTPUTS

With this NEDIS 4x4 HDMI matrix switcher, you can connect 4 sources such as a game console or a multimedia player to this matrix switcher and to 2 screens. The matrix switch allows you to use 4 source devices on 2 independent displays.

Key Features:
4K2K and 3D (3840 x 2160) support
4x HDMI input and 2 HDMI outputs
Display with clear indication of the active device/screen
Remote control included for easy and convenient operation
Digital video signal amplification
EDID function to set a fixed resolution for all connected TVs
Easy installation: Plug and play
Flexible solution: free switching of connected source devices and displays


.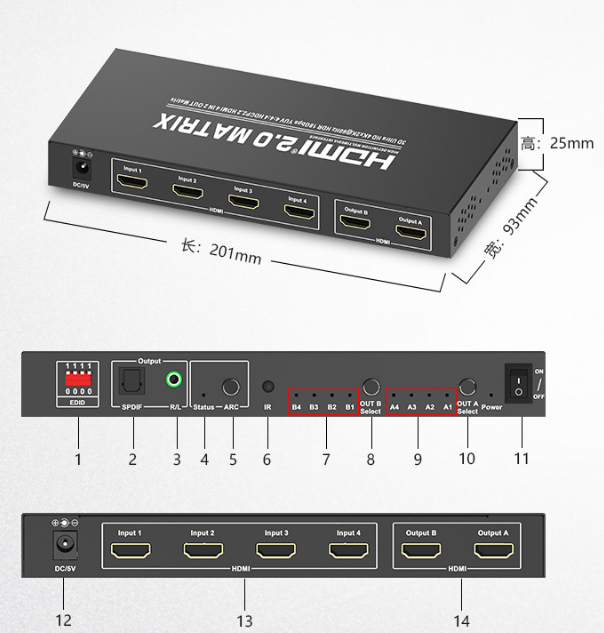 SPECIFICATIONS:

OperatingTemperatureRange

-5 to +35℃(+23 to +95℉)

OperatingHumidityRange

5 to 90%RH (No Condensation)

Video Input(Transmitter)

1xHDMI Type A, 19-pin, female

Video Output(Receiver)

1xHDMI Type A, 19-pin, female

Link(Transmitter/ Receiver)

1m~60Kmsingle / Multimode single / Duplex fiber optical cable

Module type required①

SFP Type, Single / Multi mode ,Single / Duplex fiber (optional)

Video Format

4K@60Hz YUV 4:2:0, 1080P@60Hz, 1080i, 720P, 576P, 480P

Audio Format

Support LPCM 7.1, Dolby True HD, DTS-HD Master Audio .

HDCP Input

HDCP 2.2, HDCP 1.4

HDCP Output

HDCP 1.4

Power consumption

Transmitter: 3watts(Maximum)

Receive: 3watts(Maximum)

Dimension (L×W×H)

Transmitter: 96*100*25mm

Receive: 96*100*25mm

Net Weight

475g(Pair)
.
Other Hdmi Product