4x4 HDMI 2.0 video matrix with audio and rs232 control
4x4 HDMI 2.0 video matrix with audio and rs232 control
Switches between 4 HDMI sources and 4HDMI displays

Supports resolutions up to 4K 60Hz and HDR signals

Extract audio from HDMI signal to optical port or 3.5mm audio output

EDID management system to monitor

HDCP 2.2 support
4x4 HDMI 2.0 video matrix with audio and rs232 control
Share four separate HDMI A/V signals between four different displays and switch between them in a matrix configuration
Enjoy outstanding picture quality with support for Ultra HD resolutions up to 4K at 60 Hz
Install the HDMI switcher as a standalone device or rack-mount it
Support for EDID data management improves compatibility with your video source and display
Provides remote management capability with RS232

This 4x4 HDMI matrix switcher allows you to share four HDMI video sources between four independent displays or projectors, and switch to the active source on each display device.
True 4K resolution at 60 Hz
The HDMI switcher delivers a high level of audio and video performance, with superior contrast and crisp, clear images. With support for resolutions up to 4K at 60 Hz (4:4:4 pixel format, 8-bit color depth) and HDR, the Matrix Switch is ideal for conventions or trade shows, restaurants and classrooms, as well as hospital and medical applications.
In addition, the 4K 60Hz HDMI switcher is backward compatible with previous versions of HDMI, making it easy to use with your existing devices and displays.
The HDMI switch allows you to toggle each input, which means that different A/V sources can be displayed on each screen or one source can be displayed on all screens.
Applications
Output and switch between four A/V sources on four independent displays
Create a versatile 4K digital display
Switch between sources and displays during training sessions

.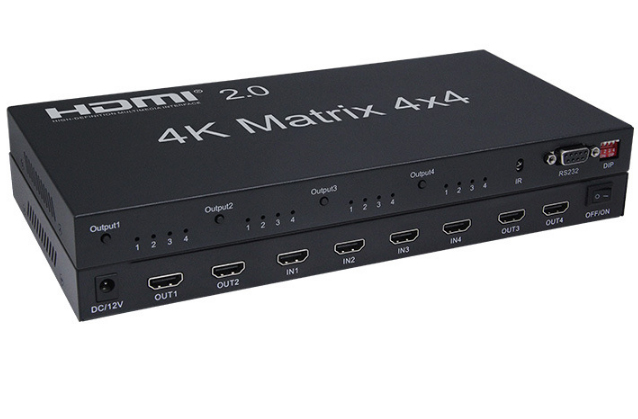 SPECIFICATIONS:

OperatingTemperatureRange

-5 to +35℃(+23 to +95℉)

OperatingHumidityRange

5 to 90%RH (No Condensation)

Video Input(Transmitter)

1xHDMI Type A, 19-pin, female

Video Output(Receiver)

1xHDMI Type A, 19-pin, female

Link(Transmitter/ Receiver)

1m~60Kmsingle / Multimode single / Duplex fiber optical cable

Module type required①

SFP Type, Single / Multi mode ,Single / Duplex fiber (optional)

Video Format

4K@60Hz YUV 4:2:0, 1080P@60Hz, 1080i, 720P, 576P, 480P

Audio Format

Support LPCM 7.1, Dolby True HD, DTS-HD Master Audio .

HDCP Input

HDCP 2.2, HDCP 1.4

HDCP Output

HDCP 1.4

Power consumption

Transmitter: 3watts(Maximum)

Receive: 3watts(Maximum)

Dimension (L×W×H)

Transmitter: 96*100*25mm

Receive: 96*100*25mm

Net Weight

475g(Pair)
.
Other Hdmi Product