4x4 HDMI 1.4 4K@30Hz Matrix
4x4 HDMI 1.4 4K@30Hz Matrix
Switches between 4 HDMI sources and 4 HDMI displays

Supports resolutions up to 4K 30Hz and HDR signals

Extract audio from HDMI signal to optical port or 3.5mm audio output

EDID management system to monitor

HDCP 2.2 support
4x4 HDMI 1.4 4K@30Hz Matrix
4x4 HDM1.4 Matrix 4K@30Hz | 4 in 4 Out HDMI Matrix Switcher HDCP 1.4 Video Switcher Supports IR remote control, RS-232 .

A perfect solution to route one of 4 HDMI video sources to one of 4 HDMI screens. Allows 4 HDMI source devices to be connected to 4 HDMI screens simultaneously, while independently controlling the output in each possible array. Features a front LCD screen that displays the connection status in real time. Common scenarios are: Classrooms, auditoriums, department stores, commercial and residential AV systems, etc.
Superior video quality and intelligent EDID management
Supports superior video quality up to 3840x2160@30Hz (including 1080p 3D video), providing high performance video. It is HDCP 2.2 compliant. With EDID emulators on each input port, it automatically detects and analyzes the EDID of all connected HDMI displays. With EDID management, the HDMI source player outputs the best possible resolution to ensure compatibility of all HDMI displays.

Multiple control methods and a variety of audio formats are supported
Supports multiple control methods for system management, including front panel buttons, IR remote control, and RS-232 control. It also supports a variety of audio formats: PCM, Dolby AC3, DTS5.1, DTS7.1 and DSD audio format. No audio delays or dropouts during use.
Switch off memory function&Mighty memory support for preset and call switcher mode



.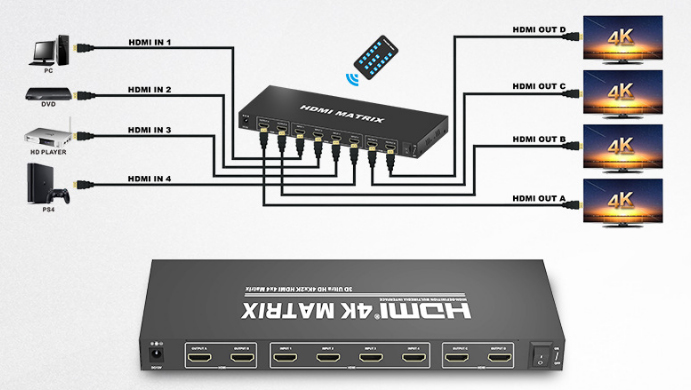 SPECIFICATIONS:

OperatingTemperatureRange

-5 to +35℃(+23 to +95℉)

OperatingHumidityRange

5 to 90%RH (No Condensation)

Video Input(Transmitter)

1xHDMI Type A, 19-pin, female

Video Output(Receiver)

1xHDMI Type A, 19-pin, female

Link(Transmitter/ Receiver)

1m~60Kmsingle / Multimode single / Duplex fiber optical cable

Module type required①

SFP Type, Single / Multi mode ,Single / Duplex fiber (optional)

Video Format

4K@60Hz YUV 4:2:0, 1080P@60Hz, 1080i, 720P, 576P, 480P

Audio Format

Support LPCM 7.1, Dolby True HD, DTS-HD Master Audio .

HDCP Input

HDCP 2.2, HDCP 1.4

HDCP Output

HDCP 1.4

Power consumption

Transmitter: 3watts(Maximum)

Receive: 3watts(Maximum)

Dimension (L×W×H)

Transmitter: 96*100*25mm

Receive: 96*100*25mm

Net Weight

475g(Pair)
.
Other Hdmi Product