6x2 HDMI 1.4 4K@30Hz Matrix
6x2 HDMI 1.4 4K@30Hz Matrix
Switches between 6 HDMI sources and 2 HDMI displays

Supports resolutions up to 4K 30Hz and HDR signals

Extract audio from HDMI signal to optical port or 3.5mm audio output

EDID management system to monitor

HDCP 2.2 support
6x2 HDMI 1.4 4K@30Hz Matrix
4k HDMI Matrix 6x2 HDMI Matrix Switch Audio Extractor 3.5mm Stereo Audio/Arc/

HDMI Matrix Switch has 6 input devices and 2 output devices. According to your needs, you can display six different serial numbers on screen 1 or 2. Using our HDMI Matrix Switch does not feel constrained.
This switch hdmi matrix switcher supports 3D, 4K30hz, 1080p, Ultra HD, HDCP 1.4 4K. HDRL input and HDMI output all support video resolution up to 4K*2K. Suitable for most devices with standard HDMI interface. Input: computer, XBox 360, XBox One, PS3 / PS4, Blu-Ray DVD player, etc. Output: HD-Ready or Full HD TVs, monitors, projectors etc.

Supports ARC function, the switch hdmi matrix switch can extract audio signal from any HDMI source to multi-channel optical audio (SPDIF), which supports LPCM2.0CH audio format, Dolby TrueHD, Dolby Atmos, DTS-HD Master Audio and HDMI High Bit Rate(HBR) Audio Pass Through, as well as 3.5mm analog stereo. You can connect it to Speaker and then enjoy the beautiful music,or connect to Headphone without disturbing others.

Switch hdmi switch matrix 4K is equipped with an additional PIP (Picture in Picture) function, so that there are 6 simultaneous screens during a video conference. This means that you can display six images on the same screen. Although they are of different sizes, this PIP feature pushes your meetings and speeds up the switching between these displays. LED signals can help you recognize more clearly which device is working.




.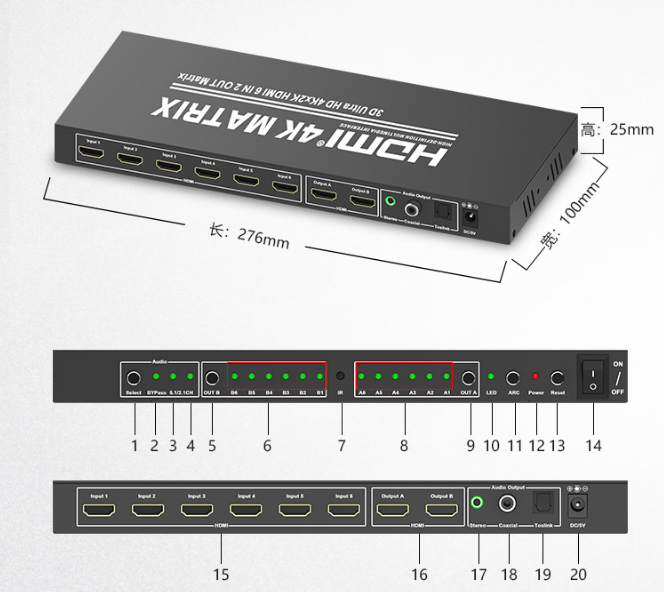 SPECIFICATIONS:

OperatingTemperatureRange

-5 to +35℃(+23 to +95℉)

OperatingHumidityRange

5 to 90%RH (No Condensation)

Video Input(Transmitter)

1xHDMI Type A, 19-pin, female

Video Output(Receiver)

1xHDMI Type A, 19-pin, female

Link(Transmitter/ Receiver)

1m~60Kmsingle / Multimode single / Duplex fiber optical cable

Module type required①

SFP Type, Single / Multi mode ,Single / Duplex fiber (optional)

Video Format

4K@60Hz YUV 4:2:0, 1080P@60Hz, 1080i, 720P, 576P, 480P

Audio Format

Support LPCM 7.1, Dolby True HD, DTS-HD Master Audio .

HDCP Input

HDCP 2.2, HDCP 1.4

HDCP Output

HDCP 1.4

Power consumption

Transmitter: 3watts(Maximum)

Receive: 3watts(Maximum)

Dimension (L×W×H)

Transmitter: 96*100*25mm

Receive: 96*100*25mm

Net Weight

475g(Pair)
.
Other Hdmi Product