8-32-channel telephone + 4-channel 100M network PCM telephone optical transceiver
2/4/8 channel telephone optical transceiver
supports caller ID and reverse polarity billing function

Support the mutual release function of each site

The voice port supports O-port and S-port interface

S-port is connected with the user's telephone
8-32-channel telephone + 4-channel 100M network PCM telephone optical transceiver
Rackmount 8-32-channel telephone + 4-channel 100M network PCM telephone optical transceiver adopts large-scale integrated circuit with independent intellectual property rights, applies time-division multiplexing technology, and transmits Ethernet signal and telephone signal on a pair of optical fiber after mixing and coding. It realizes 10/100M Ethernet service, telephone service and mixed transmission, and the transmission channel is an optical transmission channel. The machine adopts 1U rack-mountable equipment design with high integration, small volume, low power consumption, reliable work and easy installation and use.

II: Main functions and features

1:Provides 1-channel optical interface
2:Provide 8-32 channels of telephone
3: Provide 4 10/100M Ethernet interfaces, 4-way Ethernet port support logical isolation
4: telephone interface with overvoltage and lightning protection module.
5: power supply for: 1U rack-mountable equipment for: built-in 220V or 48V power supply
6: single-fiber or dual-fiber transmission, normal shipping for single-fiber.
7: optical transmission distance of 20KM, *** far can transmit 120KM
8: 1U rack-mountable equipment or desktop equipment


Technical specifications
1: Optical interface
Wavelength: 1310nm (standard model) or 1550nm
Transmit power: ≥ -12dBm
Receiving sensitivity: ≤ -30dBm (BER ≤ 10-11)
Interface mode: FC (standard models) or SC, etc.
Transmission mode: double fiber or single fiber

2: Ethernet interface
Physical interface: RJ45
Network protocol: IEEE 802.3i; IEEE 802.3u; IEEE 802.3x
Support line speed 10Base-T/100Base-T, full duplex/half duplex adaptive
Transmission mode: full-duplex/half-duplex
Forwarding mode: store-and-forward, all ports support wire-speed forwarding

3: Voice interface and signaling
Switching side
Off-hook impedance: < 500Ω
Hang-up impedance: > 10KΩ
User side
Loop impedance: ≤ 2000Ω (including the phone)
Idle circuit voltage: ≤ 50V
Loop current: 25mA
Picking threshold: 8mA
Polarity reversal time delay: < 50ms
Dialing: pulse dialing single pulse distortion < 5ms
In-band audio dialing total distortion to meet the voice interface characteristics
Picking time delay: < 100ms

Ringing stream.
Remote (FXS) ringing generator
Frequency: 25 Hz±3 Hz
Amplitude: 75V±5Vrms
Bell flow time delay: < 50ms
Total output power : ≤ 10W (in chassis)
Local end (FXO) bell current detection
Amplitude range: ***min 38Vrms
Voice Interface
Impedance: 600Ω or three-element compound impedance
Audio range: 300-3400 Hz
Coding law: CCITT recommendation G.711 A law

4: Power consumption
Power consumption of the whole machine: <15W

5:Working environment
Working temperature: -20~70℃
Relative humidity: ≤95% (at 25℃)
Atmospheric pressure: 70~106Kpa
.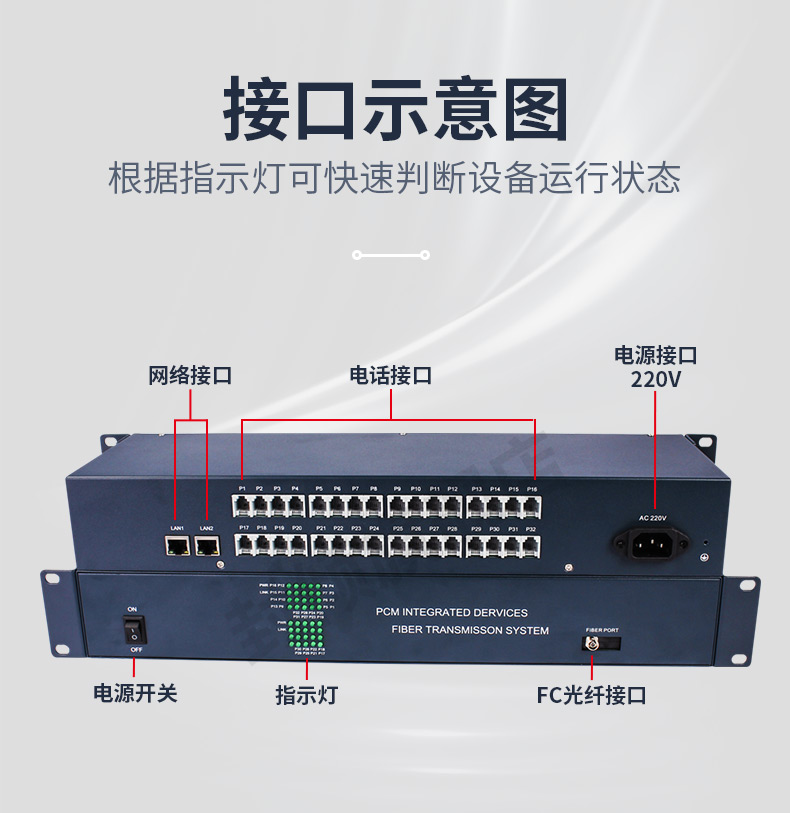 SPECIFICATIONS:

OperatingTemperatureRange

-5 to +35℃(+23 to +95℉)

OperatingHumidityRange

5 to 90%RH (No Condensation)

Video Input(Transmitter)

1xHDMI Type A, 19-pin, female

Video Output(Receiver)

1xHDMI Type A, 19-pin, female

Link(Transmitter/ Receiver)

1m~60Kmsingle / Multimode single / Duplex fiber optical cable

Module type required①

SFP Type, Single / Multi mode ,Single / Duplex fiber (optional)

Video Format

4K@60Hz YUV 4:2:0, 1080P@60Hz, 1080i, 720P, 576P, 480P

Audio Format

Support LPCM 7.1, Dolby True HD, DTS-HD Master Audio .

HDCP Input

HDCP 2.2, HDCP 1.4

HDCP Output

HDCP 1.4

Power consumption

Transmitter: 3watts(Maximum)

Receive: 3watts(Maximum)

Dimension (L×W×H)

Transmitter: 96*100*25mm

Receive: 96*100*25mm

Net Weight

475g(Pair)
.
Other Hdmi Product