2/4/8 channel telephone optical transceiver
2/4/8 channel telephone optical transceiver
supports caller ID and reverse polarity billing function

Support the mutual release function of each site

The voice port supports O-port and S-port interface

S-port is connected with the user's telephone
2/4/8 channel telephone optical transceiver
2/4/8 channel telephone optical transceiver is a long-distance transmission telephone optical transmission equipment with optical fiber. The equipment is designed with super large scale integrated circuit, concise appearance, easy to install and debug, maintenance-free, stable performance, etc. It is suitable for use with major communication carriers, government and enterprises and institutions.

8-way telephone optical transceiver transmits directly through fiber optic cable, which can provide 8-way telephone + 1~2-way physically isolated Ethernet port (line speed 100M) + 1 way bidirectional RS485/232 data (optional), networking mode is point to point, supporting FXO/FXS common telephone, 2/4W audio, magnet telephone, etc., solving the telephone transmission problem of edge customers.

8-way telephone optical transceiver uses a powerful special digital multiplexer chip, which integrates almost all digital logic functions in the device, thus significantly improving the performance and reducing the cost of the product. The equipment has excellent performance, stable and reliable work, low power consumption, high integration, small size, easy to install and maintain.

Product features.

1、Based on independent intellectual property rights of integrated circuits
2、Provides 8-way voice access, supports caller ID and reverse polarity billing function
3、Support the mutual release function of each site
4、The voice port supports O-port and S-port interface, O-port is docked with the program-controlled switch, S-port is connected with the user's telephone

Technical parameters.

◆ FXS
◇Ringing voltage: 75V
◇Ringing frequency: 25HZ
◆ FXO
◇2-wire input impedance: 600Ω (off)
◇Return loss: 40 db
◇Ringing detection voltage: 35V

◆ Parameter
◇Ring detection frequency: 17HZ-60HZ
◇2-wire input impedance: 600Ω(off-line)
◇Return loss: 40 db
◆ Working conditions
◇Input voltage: AC220V; AC 110V; DC -48V; DC +24V
◇Power consumption: ≤5W
.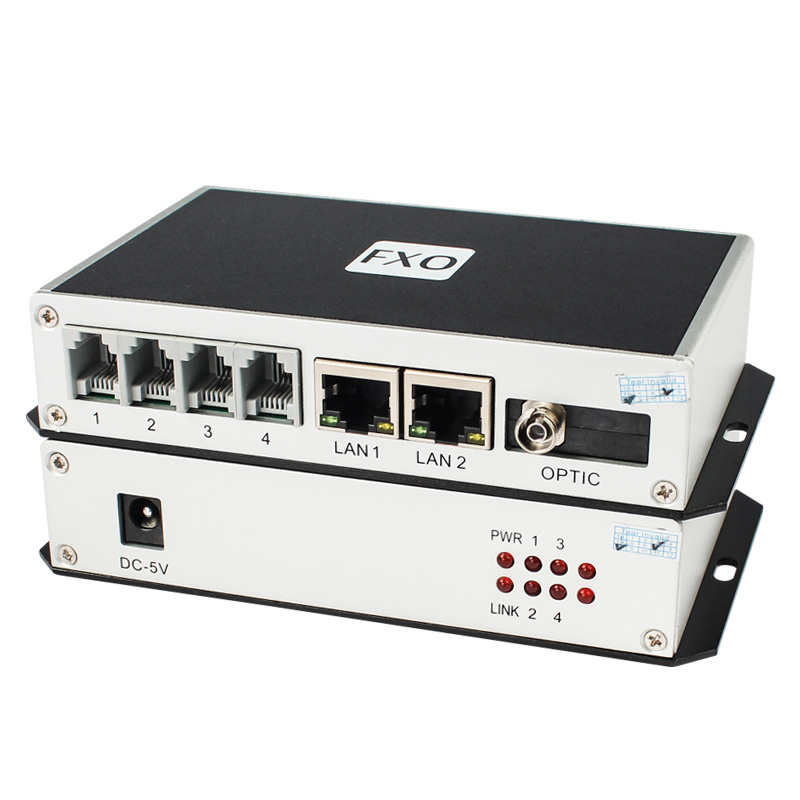 SPECIFICATIONS:

OperatingTemperatureRange

-5 to +35℃(+23 to +95℉)

OperatingHumidityRange

5 to 90%RH (No Condensation)

Video Input(Transmitter)

1xHDMI Type A, 19-pin, female

Video Output(Receiver)

1xHDMI Type A, 19-pin, female

Link(Transmitter/ Receiver)

1m~60Kmsingle / Multimode single / Duplex fiber optical cable

Module type required①

SFP Type, Single / Multi mode ,Single / Duplex fiber (optional)

Video Format

4K@60Hz YUV 4:2:0, 1080P@60Hz, 1080i, 720P, 576P, 480P

Audio Format

Support LPCM 7.1, Dolby True HD, DTS-HD Master Audio .

HDCP Input

HDCP 2.2, HDCP 1.4

HDCP Output

HDCP 1.4

Power consumption

Transmitter: 3watts(Maximum)

Receive: 3watts(Maximum)

Dimension (L×W×H)

Transmitter: 96*100*25mm

Receive: 96*100*25mm

Net Weight

475g(Pair)
.
Other Hdmi Product