1*4 HDMI Splitter with 60m extender via cat cable
1*4 HDMI Splitter with 60m extender via cat cable
transmission length of up to 60m

supports HDCP2.2 HDMI input and output signals

comprehensive EDID management - Multiple built-in EDID settings

Switching memory function&2 switching methods

HDMI extension for home theaters
1*4 HDMI Splitter with 60m extender via cat cable
1 x in an 1 x out + 4 x 30m CAT out HDMI 1080p HDMI distributor incl. 4 x HDMI receivers
This extends and distributes the HDMI signal to one local and four remote HDMI monitors or TV's via only one cat5/6 cable each. The four included receivers . The system is expandable by cascading to another to connect one HDMI source to more than 4 monitors. It is suitable for any place where multiple display is required, such as bar, diner, store, church, conference room, school, CCTV, surveillance and so on.

Features:
Extends HDMI signal to 4 remote HDMI monitors or TV's via one CAT cable each.
HDMI loop output for a local monitor.
Supports resolutions up to 1080p at 60 Hz.
HDMI 1.4 compliance.
Supports AC3, DTS, Dobly TrueHD, DTS-HD over HDMI.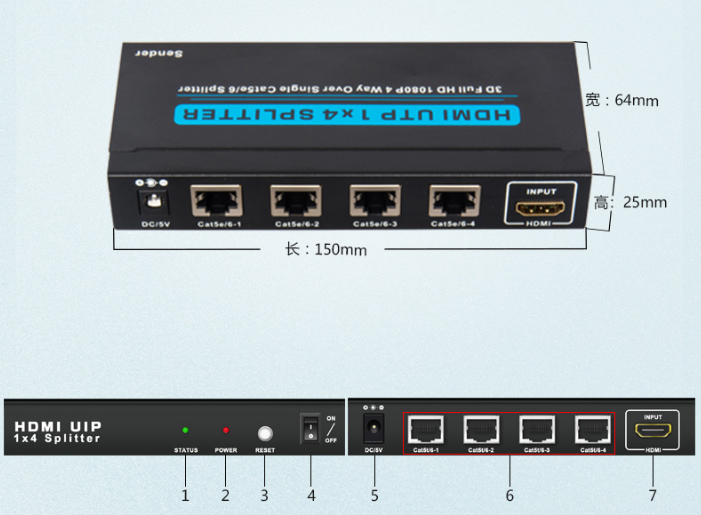 SPECIFICATIONS:

OperatingTemperatureRange

-5 to +35℃(+23 to +95℉)

OperatingHumidityRange

5 to 90%RH (No Condensation)

Video Input(Transmitter)

1xHDMI Type A, 19-pin, female

Video Output(Receiver)

1xHDMI Type A, 19-pin, female

Link(Transmitter/ Receiver)

1m~60Kmsingle / Multimode single / Duplex fiber optical cable

Module type required①

SFP Type, Single / Multi mode ,Single / Duplex fiber (optional)

Video Format

4K@60Hz YUV 4:2:0, 1080P@60Hz, 1080i, 720P, 576P, 480P

Audio Format

Support LPCM 7.1, Dolby True HD, DTS-HD Master Audio .

HDCP Input

HDCP 2.2, HDCP 1.4

HDCP Output

HDCP 1.4

Power consumption

Transmitter: 3watts(Maximum)

Receive: 3watts(Maximum)

Dimension (L×W×H)

Transmitter: 96*100*25mm

Receive: 96*100*25mm

Net Weight

475g(Pair)
.
Other Hdmi Product