2x2 HDMI1.4 splitter/switches , 2 input to 2 outputs, 4K2K@30Hz
2x2 HDMI1.4 splitter/switches , 2 input to 2 outputs, 4K2K@30Hz
2 input to 2 outputs, 4K2K@30Hz

supports HDCP2.2 HDMI input and output signals

comprehensive EDID management - Multiple built-in EDID settings

2 input to 2 outputs, 4K2K@30Hz

HDMI extension for home theaters
2x2 HDMI1.4 splitter/switches , 2 input to 2 outputs, 4K2K@30Hz
This video splitter allows you witch, split, and amplify your HDMI? signal with this Switch/Splitter combo product. Split your HDMI signal to two HDTVs or projectors
Switch between two input source devices and send the signal simultaneously to two displays.

Input: 2x HDMI
Output: 2x HDMI jack
Plug and Play, no extra software needed
Maximum resolution 1920x1080 or 3840x2160 in extension mode
Max: 1920x1080 can be displayed on up to 4 monitors when the item works as a splitter, i.e. the same image is on each screen. With 4 monitors the splitter can display 3840x2160 resolution in expandview mode (real 1920x1080 per monitor), or even 7680x1080 with 4 monitors side by side.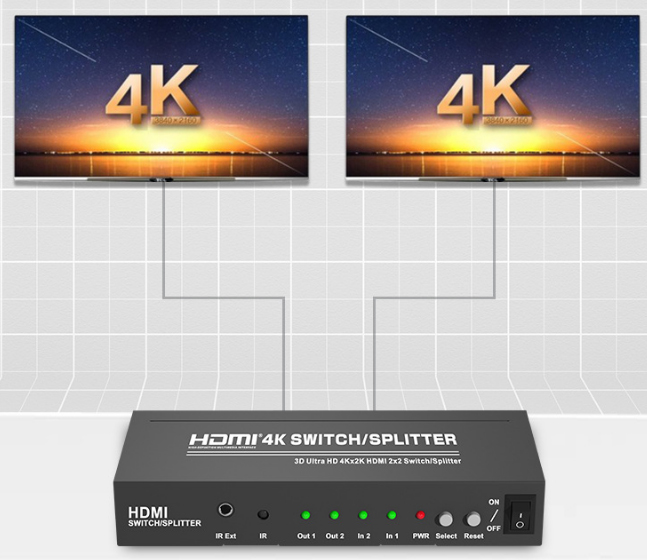 SPECIFICATIONS:

OperatingTemperatureRange

-5 to +35℃(+23 to +95℉)

OperatingHumidityRange

5 to 90%RH (No Condensation)

Video Input(Transmitter)

1xHDMI Type A, 19-pin, female

Video Output(Receiver)

1xHDMI Type A, 19-pin, female

Link(Transmitter/ Receiver)

1m~60Kmsingle / Multimode single / Duplex fiber optical cable

Module type required①

SFP Type, Single / Multi mode ,Single / Duplex fiber (optional)

Video Format

4K@60Hz YUV 4:2:0, 1080P@60Hz, 1080i, 720P, 576P, 480P

Audio Format

Support LPCM 7.1, Dolby True HD, DTS-HD Master Audio .

HDCP Input

HDCP 2.2, HDCP 1.4

HDCP Output

HDCP 1.4

Power consumption

Transmitter: 3watts(Maximum)

Receive: 3watts(Maximum)

Dimension (L×W×H)

Transmitter: 96*100*25mm

Receive: 96*100*25mm

Net Weight

475g(Pair)
.
Other Hdmi Product