2x4 HDMI1.4 Splitter Switch 2 In 4 Out 4K@30Hz, HDCP 1.4
2x4 HDMI1.4 Splitter Switch 2 In 4 Out 4K@30Hz, HDCP 1.4
Switching memory function&2 switching methods

supports HDCP2.2 HDMI input and output signals

comprehensive EDID management - Multiple built-in EDID settings

Switching memory function&2 switching methods

HDMI extension for home theaters
2x4 HDMI1.4 Splitter Switch 2 In 4 Out 4K@30Hz, HDCP 1.4
This device allows you to switch between 2 source devices and send the signal to 4 displays at the same time (the 4 displays show exactly the same picture at the same time).

This HDMI switch splitter can output video signals supporting resolutions up to 4K@30Hz without compromising video quality. It is HDCP 1.4 compliant.

Switching memory function&2 switching methods
◆This device has a power failure memory function: in case of abrupt power failure or the need to cut off the power while using the device, the current settings can be saved and the preset operation will resume when the device is turned on again. It supports 2 switching methods: the front panel push buttons and the IR remote control.

Stylish design for different occasions
◆This device can help you organize cable clutter and save space and money with a slim design. For reliable performance, it has an aluminum alloy case that offers passive cooling. It covers all imaginable scenarios when you want to connect multiple source devices such as Skybox, PS 3/4, Xbox, etc. to multiple HDMI receivers such as TV, projector or home theater speakers.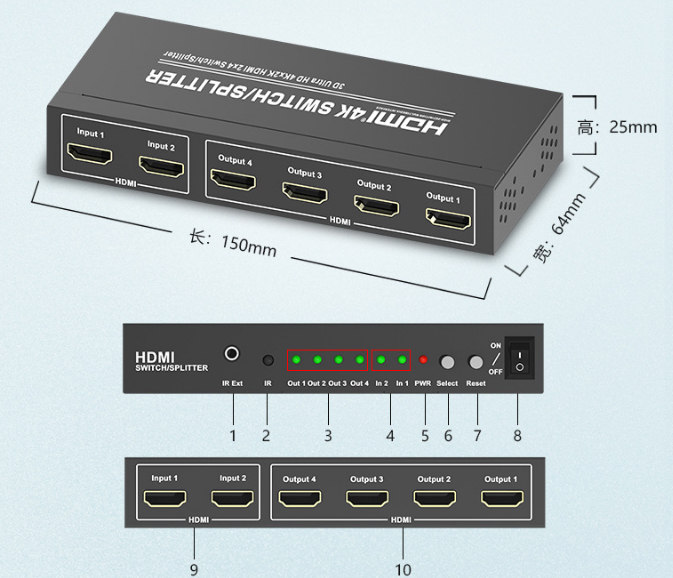 SPECIFICATIONS:

OperatingTemperatureRange

-5 to +35℃(+23 to +95℉)

OperatingHumidityRange

5 to 90%RH (No Condensation)

Video Input(Transmitter)

1xHDMI Type A, 19-pin, female

Video Output(Receiver)

1xHDMI Type A, 19-pin, female

Link(Transmitter/ Receiver)

1m~60Kmsingle / Multimode single / Duplex fiber optical cable

Module type required①

SFP Type, Single / Multi mode ,Single / Duplex fiber (optional)

Video Format

4K@60Hz YUV 4:2:0, 1080P@60Hz, 1080i, 720P, 576P, 480P

Audio Format

Support LPCM 7.1, Dolby True HD, DTS-HD Master Audio .

HDCP Input

HDCP 2.2, HDCP 1.4

HDCP Output

HDCP 1.4

Power consumption

Transmitter: 3watts(Maximum)

Receive: 3watts(Maximum)

Dimension (L×W×H)

Transmitter: 96*100*25mm

Receive: 96*100*25mm

Net Weight

475g(Pair)
.
Other Hdmi Product