HDMI Splitter 1×4 4K@30Hz HDMI Splitter
HDMI Splitter 1×4 4K@30Hz HDMI Splitter
HDMI splitter/Switch supports HDMI video resolutions up to 4K @30Hz

supports HDCP2.2 HDMI input and output signals

comprehensive EDID management - Multiple built-in EDID settings

1x2 4K30 HDMI splitter /Switch

HDMI extension for home theaters
2 HDMI Splitter 1×4 4K@30Hz HDMI Splitter
1 In 4 Out Supports HDR 3D HDCP 1.4 for HDTV/PC/STB/DVD Player/TV Box/PS3/4/Xbox/Switch/

Easily distribute signal from 1 HDMI device to 4 HDMI displays simultaneously. Supports resolutions up to 3840x2160 at 30Hz, 36 bit/pixel Deep Color, HDMI 1.4, HDCP 1.4 and 3D video. No lag or blur.
EDID management automatically detects and analyzes the EDID of all connected HDMI displays. In EDID management, the HDMI source display outputs the lowest resolution to ensure that all HDMI displays are supported.

HD audio formats supported: LPCM 7.1, Dolby TrueHD, Dolby Digital Plus and DTS-HD Master Audio. It provides long distance HDMI signal transmission up to 20m.
Ideal for home, business collaboration, classroom and sales displays. Works well with PS3/4, Xbox, Switch, Blu-ray players, set-top boxes, Apple TV, Fire TV Stick, etc. Elegant design helps you save space.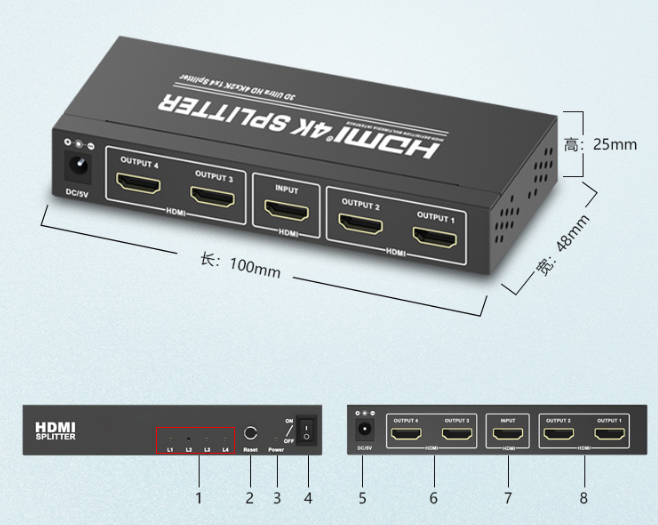 SPECIFICATIONS:

OperatingTemperatureRange

-5 to +35℃(+23 to +95℉)

OperatingHumidityRange

5 to 90%RH (No Condensation)

Video Input(Transmitter)

1xHDMI Type A, 19-pin, female

Video Output(Receiver)

1xHDMI Type A, 19-pin, female

Link(Transmitter/ Receiver)

1m~60Kmsingle / Multimode single / Duplex fiber optical cable

Module type required①

SFP Type, Single / Multi mode ,Single / Duplex fiber (optional)

Video Format

4K@60Hz YUV 4:2:0, 1080P@60Hz, 1080i, 720P, 576P, 480P

Audio Format

Support LPCM 7.1, Dolby True HD, DTS-HD Master Audio .

HDCP Input

HDCP 2.2, HDCP 1.4

HDCP Output

HDCP 1.4

Power consumption

Transmitter: 3watts(Maximum)

Receive: 3watts(Maximum)

Dimension (L×W×H)

Transmitter: 96*100*25mm

Receive: 96*100*25mm

Net Weight

475g(Pair)
.
Other Hdmi Product