2-in/1-out DVI switcher
2-in/1-out DVI switcher
SD/ HD/ 3G SDI extender over fiber optic/ fiber optic cable

Supports HDTV resolutions up to 1080p bie 60Hz (Full HD)

Fiber optic transmission : 300 m (MM)

10km single mode fiber (SM)

HDMI output: 1 x HDMI type A
2-in/1-out DVI switcher
The 2-in/1-out DVI switcher is a digital video switcher with 2-way DVI digital signal input and 1-way DVI output. Support key switch control function. In multimedia applications, a digital display terminal is often required to switch the display screen between multiple DVI signal sources. In DVI 1.0 standard, the highest signal transmission rate up to 4.95Gbps, if for each DVI signal source to configure a display terminal, which not only increases the system cost, but also greatly reduces the reliability of the system.

Product Features
Input and Output
2 DVI inputs, 1 DVI output.
Self-rotation
Self-imposed round-robin function, which can set the round-robin switch, round-robin time and round-robin channel.
Pre-programming
Provide up to 32 user-defined output channel configuration programs, and the program can be stored and called.
HD resolution
input and output channels support up to 1080P/60Hz resolution.
Power-down protection
with automatic power-down state storage protection, automatic power-on recovery memory function.
Multiple control modes
Support panel control, remote control, serial port multiple control modes.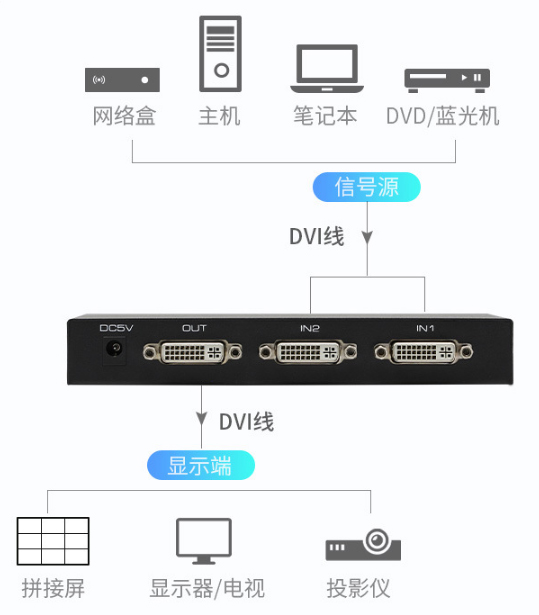 SPECIFICATIONS:

OperatingTemperatureRange

-5 to +35℃(+23 to +95℉)

OperatingHumidityRange

5 to 90%RH (No Condensation)

Video Input(Transmitter)

1xHDMI Type A, 19-pin, female

Video Output(Receiver)

1xHDMI Type A, 19-pin, female

Link(Transmitter/ Receiver)

1m~60Kmsingle / Multimode single / Duplex fiber optical cable

Module type required①

SFP Type, Single / Multi mode ,Single / Duplex fiber (optional)

Video Format

4K@60Hz YUV 4:2:0, 1080P@60Hz, 1080i, 720P, 576P, 480P

Audio Format

Support LPCM 7.1, Dolby True HD, DTS-HD Master Audio .

HDCP Input

HDCP 2.2, HDCP 1.4

HDCP Output

HDCP 1.4

Power consumption

Transmitter: 3watts(Maximum)

Receive: 3watts(Maximum)

Dimension (L×W×H)

Transmitter: 96*100*25mm

Receive: 96*100*25mm

Net Weight

475g(Pair)
.
Other signal Extend Product
Other Hdmi Product