4x4 DVI Matrix
4x4 DVI Matrix
SD/ HD/ 3G SDI extender over fiber optic/ fiber optic cable

Supports HDTV resolutions up to 1080p bie 60Hz (Full HD)

Fiber optic transmission : 300 m (MM)

10km single mode fiber (SM)

HDMI output: 1 x HDMI type A
4x4 DVI Matrix
4-channel dvi matrix, support button, infrared and rs232 switching operation, with 4-channel video input port and 16-channel video output port, with large capacity input and output capacity, support any input set to the default edid and edid learning parameters. Its unique board plug-in card design, so that you have more flexibility in the use of engineering. gf-dvi0404 using the new dvi full digital interface, so that the image signal can be high-fidelity output, the picture is clearer

Product Features:

- Support 2~4 channel dvi signal input, 2~4 channel dvi signal output.
- Support accurate adaptive compensation at the input, extending the large input distance to 36 meters.
- Interface bandwidth 1.65gbps,video bandwidth 165mhz,perfect support 1920*1200@60 resolution.
- Adopting high-speed digital switching technology, perfectly solving crosstalk, ghosting and trailing phenomenon. Real reproduction of the video effect of the input signal.
- Domestic integration of such a multi-channel dvi signal exchange matrix equipment, to adapt to the needs of the times of large-scale application of dvi signal.
- Support for fast switching operation.
- Support video signal type: dvi1.0 specification in dvi-d full digital signal.
- Video signal input and output with a fully digital dvi-d interface.
- With power-down memory function with power-off site protection and other functions.
- With infrared remote control function and rs-232 communication function.
- Adopt programmable logic display circuit, any interactive switching.
- Signal long-distance transmission distortion compensation technology.
- Support input signal status monitoring, can real-time monitoring and display whether the current input channels are valid signal access.
- Support load access status monitoring, can real-time monitor and display whether the output channel is connected with load.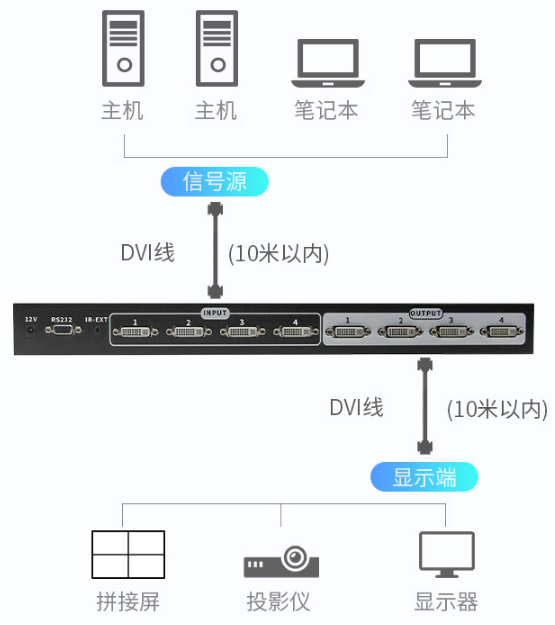 SPECIFICATIONS:

OperatingTemperatureRange

-5 to +35℃(+23 to +95℉)

OperatingHumidityRange

5 to 90%RH (No Condensation)

Video Input(Transmitter)

1xHDMI Type A, 19-pin, female

Video Output(Receiver)

1xHDMI Type A, 19-pin, female

Link(Transmitter/ Receiver)

1m~60Kmsingle / Multimode single / Duplex fiber optical cable

Module type required①

SFP Type, Single / Multi mode ,Single / Duplex fiber (optional)

Video Format

4K@60Hz YUV 4:2:0, 1080P@60Hz, 1080i, 720P, 576P, 480P

Audio Format

Support LPCM 7.1, Dolby True HD, DTS-HD Master Audio .

HDCP Input

HDCP 2.2, HDCP 1.4

HDCP Output

HDCP 1.4

Power consumption

Transmitter: 3watts(Maximum)

Receive: 3watts(Maximum)

Dimension (L×W×H)

Transmitter: 96*100*25mm

Receive: 96*100*25mm

Net Weight

475g(Pair)
.
Other signal Extend Product
Other Hdmi Product