8 in 8 out VGA matrix with 500MHz
8 in 8 out VGA matrix with 500MHz
SD/ HD/ 3G SDI extender over fiber optic/ fiber optic cable

Supports HDTV resolutions up to 1080p bie 60Hz (Full HD)

Fiber optic transmission : 300 m (MM)

10km single mode fiber (SM)

HDMI output: 1 x HDMI type A
8 in 8 out VGA matrix with 500MHz
8 in 8 out VGA matrix switcher series is specially designed for computer and video equipment display signal and high-resolution VGA digital image signal display switching and professional design of high-performance broadband intelligent matrix switching equipment, output with any road distribution function, can be multiple input signal arbitrarily choose one way output or multiple output to a display device, can also be a way input signal arbitrarily choose one way output or multiple simultaneous output. The series products can be widely used in large screen display project, multimedia teaching, lecture hall, military command and control center, traffic monitoring, security monitoring, hotels, multimedia conference room, audio and video showroom and other occasions.

Functional characteristics.

Routing specifications: 8 in 8 out
Standard configuration of infrared remote control, RS232 control, panel key control.
8-channel VGA computer signal input; 8-channel VGA computer signal output, fully cross-switchable.
Using the latest 32-bit ARM11 embedded processor.
Adopt 500M high bandwidth chip, with long line drive function.
This product is protected by power-off field switching memory.
Adopting signal long-distance transmission distortion gain compensation technology.
Adopt digital synchronous identification processing (DSIP) technology
Built-in rotation switching function, can arbitrarily set the interval time and channel
Built-in 32 groups of scene storage function, can be directly in the panel or infrared remote sensing operation
the use of programmable logic array circuit (FPGA), more stable performance
Dedicated port, can be directly connected with Ming Control wireless touch screen, plug and play.
Special TCP/IP network control management function, can be controlled via Ethernet; (optional)
The LCD display can show the switching status of each channel, input signal characteristics and other information, intuitive and convenient
The product is an intelligent device with high reliability, designed with fault-tolerant technology and a communication interface circuit with high anti-interference capability to ensure the reliability of communication, with infrared remote control function and RS232 communication function, the user can easily complete the signal switching during the demonstration.
with RS232 communication interface, can be easily used with computers, remote control systems or a variety of remote control equipment (such as: Ming control, Crestron, etc.) with.
Compatible with all codes and instructions of similar products in the market.
high quality, mass production, with high compatibility and stability.
ID address can be set to achieve multi-machine cascade, up to 255 matrix cascade
Control mode

key control: direct switching through the device panel keys.
remote control: use infrared remote control for remote control switching.
Software control: use the special matrix management software to control the switching through RS232 serial port.
Touch screen control: use Ming Control's programmable touch screen (MICOM-TCH100) to directly control switching (optional).
Central control: use the Ming Control central control system to control switching (optional).
Network control: control switching via Internet (optional).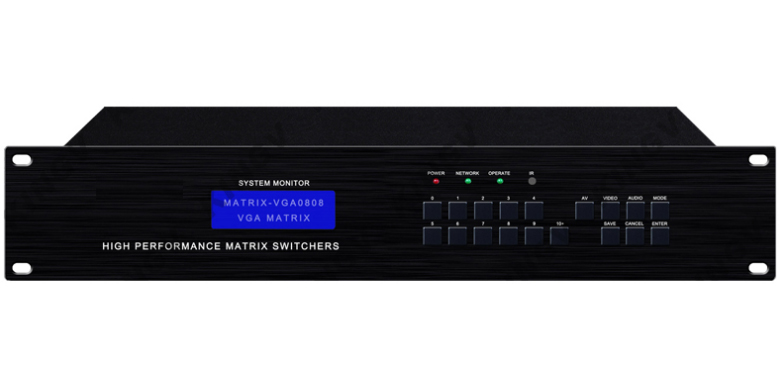 SPECIFICATIONS:

OperatingTemperatureRange

-5 to +35℃(+23 to +95℉)

OperatingHumidityRange

5 to 90%RH (No Condensation)

Video Input(Transmitter)

1xHDMI Type A, 19-pin, female

Video Output(Receiver)

1xHDMI Type A, 19-pin, female

Link(Transmitter/ Receiver)

1m~60Kmsingle / Multimode single / Duplex fiber optical cable

Module type required①

SFP Type, Single / Multi mode ,Single / Duplex fiber (optional)

Video Format

4K@60Hz YUV 4:2:0, 1080P@60Hz, 1080i, 720P, 576P, 480P

Audio Format

Support LPCM 7.1, Dolby True HD, DTS-HD Master Audio .

HDCP Input

HDCP 2.2, HDCP 1.4

HDCP Output

HDCP 1.4

Power consumption

Transmitter: 3watts(Maximum)

Receive: 3watts(Maximum)

Dimension (L×W×H)

Transmitter: 96*100*25mm

Receive: 96*100*25mm

Net Weight

475g(Pair)
.
Other signal Extend Product
Other Hdmi Product