4 in 4 out VGA Matrix with bandwidth 500MHZ
4 in 4 out VGA Matrix with bandwidth 500MHZ
SD/ HD/ 3G SDI extender over fiber optic/ fiber optic cable

Supports HDTV resolutions up to 1080p bie 60Hz (Full HD)

Fiber optic transmission : 300 m (MM)

10km single mode fiber (SM)

HDMI output: 1 x HDMI type A
4 in 4 out VGA Matrix with bandwidth 500MHZ
The matrix is beautiful in appearance and easy to install.
support Win98/ME/XP/2003/Vista/Win7,Linux,Unix,Apple,MAC and other operating systems.
support hot-swappable, you can add or remove computers at will, without closing the matrix.
support display resolution 2560 * 1600 @ 60HZ, bandwidth 500MHZ.
Plug and play, no software required.
support cascading.
Switching mode: ① front panel button switching, ② remote control switching; ② serial port command switching.
Panel indicator shows the current status.

Installation instructions
Please use special VGA and audio cables.
one end of the VGA and audio cable to the VGA and audio interface of the computer, the other end to the corresponding VGA and audio input interface of the matrix, repeat the above steps to connect all the computers with the cable and the matrix.
connect the output VGA and audio interfaces to the monitor and speakers with cables, repeat the above steps to connect all monitors, speakers and matrices.
check the connections to ensure that the cables are properly connected.
connect the external power supply to the computer, at which point the POWER indicator lights up.
power on the computer to turn it on.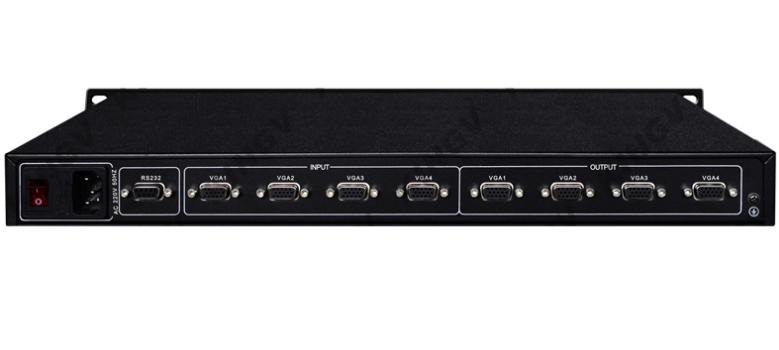 SPECIFICATIONS:

OperatingTemperatureRange

-5 to +35℃(+23 to +95℉)

OperatingHumidityRange

5 to 90%RH (No Condensation)

Video Input(Transmitter)

1xHDMI Type A, 19-pin, female

Video Output(Receiver)

1xHDMI Type A, 19-pin, female

Link(Transmitter/ Receiver)

1m~60Kmsingle / Multimode single / Duplex fiber optical cable

Module type required①

SFP Type, Single / Multi mode ,Single / Duplex fiber (optional)

Video Format

4K@60Hz YUV 4:2:0, 1080P@60Hz, 1080i, 720P, 576P, 480P

Audio Format

Support LPCM 7.1, Dolby True HD, DTS-HD Master Audio .

HDCP Input

HDCP 2.2, HDCP 1.4

HDCP Output

HDCP 1.4

Power consumption

Transmitter: 3watts(Maximum)

Receive: 3watts(Maximum)

Dimension (L×W×H)

Transmitter: 96*100*25mm

Receive: 96*100*25mm

Net Weight

475g(Pair)
.
Other signal Extend Product
Other Hdmi Product