3*3 Hdmi Splicing processor
3*3 Hdmi Splicing processor
Switches between 4 HDMI sources and 2 HDMI displays

Supports resolutions up to 4K 60Hz and HDR signals

Extract audio from HDMI signal to optical port or 3.5mm audio output

EDID management system to monitor

HDCP 2.2 support
-Made of metal material, anti-interference, corrosion resistance, easy heat dissipation and long service life.
This 2X2 splitter supports 1 HDMI start and 4 HDMI end.The main function is to split the HDMI which is the HD signal into 4 blocks, and to adopt the signal into 4 video display units (such as the rear proc- tion unit, the LCD.), complete the whole picture of a large size.
Support HDMI1.3 input, support 4 HDMI output.Support 1920 x 1080P 24/30/50/60Hz and below input.Support HD resolution of 1920 x 1080P at 60Hz.
Gold plated interface effectively reduces data transmission loss and improves signal transmission efficiency. Supports a variety of stitching, plug-and-play and easy-to-use functions.Supports splicing 2X1/3X1/4X1/1X2/1X3/1X4/2X2.
It is powered by 12V and has overcurrent protection for stable performance.

Specification:

Element type: LED video wall controller.
Material: Iron shell
Package size: Approx.24.50 x 17.40 x 5.80 cm/9.6 x 6.9 x 2.3 in.
Power supply: 12V/1A
HDMI: 1.3
Resolution: 1920 x 1080P at 60 Hz
Input distance: ≤ 5 meters
Output distance: ≤ 10 meters/33ft
.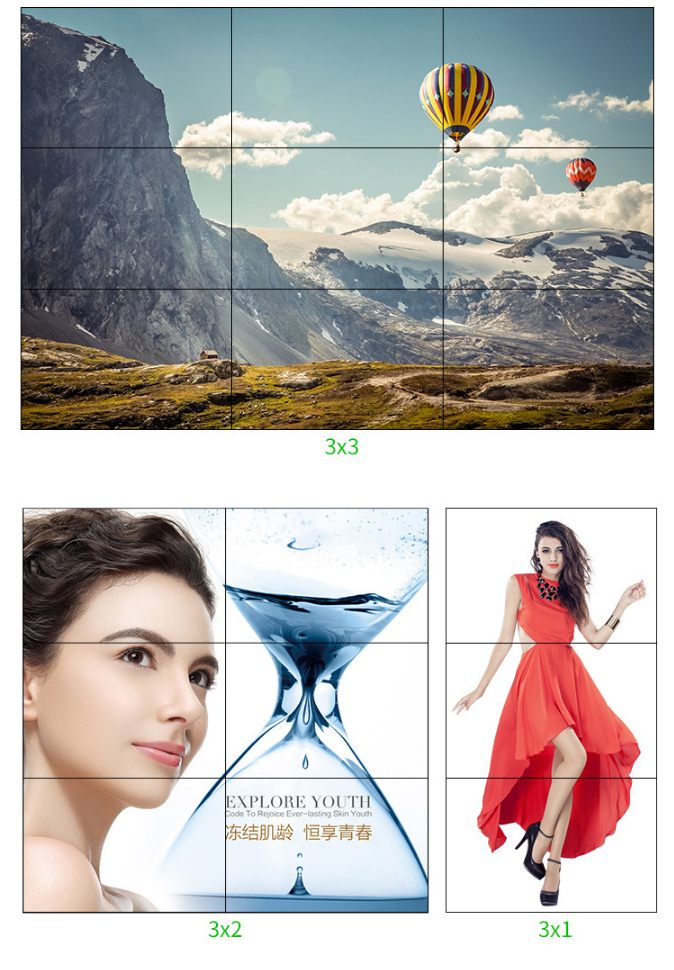 SPECIFICATIONS:

OperatingTemperatureRange

-5 to +35℃(+23 to +95℉)

OperatingHumidityRange

5 to 90%RH (No Condensation)

Video Input(Transmitter)

1xHDMI Type A, 19-pin, female

Video Output(Receiver)

1xHDMI Type A, 19-pin, female

Link(Transmitter/ Receiver)

1m~60Kmsingle / Multimode single / Duplex fiber optical cable

Module type required①

SFP Type, Single / Multi mode ,Single / Duplex fiber (optional)

Video Format

4K@60Hz YUV 4:2:0, 1080P@60Hz, 1080i, 720P, 576P, 480P

Audio Format

Support LPCM 7.1, Dolby True HD, DTS-HD Master Audio .

HDCP Input

HDCP 2.2, HDCP 1.4

HDCP Output

HDCP 1.4

Power consumption

Transmitter: 3watts(Maximum)

Receive: 3watts(Maximum)

Dimension (L×W×H)

Transmitter: 96*100*25mm

Receive: 96*100*25mm

Net Weight

475g(Pair)
.
Other Hdmi Product