2*3 Hdmi Splicing processor
2*3 Hdmi Splicing processor
Switches between 4 HDMI sources and 2 HDMI displays

Supports resolutions up to 4K 60Hz and HDR signals

Extract audio from HDMI signal to optical port or 3.5mm audio output

EDID management system to monitor

HDCP 2.2 support
2*3 video wall controller
- This video controller is customizable for 3 x 3, 3 x 1, 2 x 2, 3 x 2, 2 x 3, 4 x 2, 2 x 4 or 1 x 3 video walls.
The TV wall controller will support one HDMI, DVI or VGA input; all HDMI outputs, supports full 1080p.and the splicer can support USB access. When the U Disk is inserted the U Disk, the processor can directly decode video, images, and play MP3, documents, etc..
The remote control distance of this splicer up to 7 to 10 meters.
This splicer is perfect for radio and television technology, multimedia conference, hall, night clubs, casinos, hotels, or personal theater room
This processor provides 1 HDMI input and 9 HDMI outputs. It takes 1 video source (BluRay cable boxes, DIRECTV, PC, etc.) to the screen in 9 different divisions, for 9 different displays (TV, projector, etc.).

Product Description
We offer you a Brand New 3 x 3 Video Wall Processor Matrix. You can use each for TV, you can also use it for 2 x 1, 2 x 2, 2 x 3, 3 x 2, 2 x 2, 1 x 2, 2 x 2, and 2 x 4 walls respectively. As long as it has an HDMI input. No matter what brand, model, or how cheap the TV is. You can use any 9 TVs and mount in a 3 x 3 2 x 3, 3 x 2, 2 x 1, 1 x 2, 2 x 2, or 2 x 4 frame respectively.
Unique instrument among display processors, the controller Splicer is based on a specially designed with fast updates, display, high performance, flexibility, robustness and security. Real-time display of all inputs are guaranteed under all conditions, without dropped frames.
Note:
(1) This 9 processor with 1 HDMI input and HDMI outputs. The delivery takes 1 video source (BluRay, cable, TV, PC, etc.) to display the screen in 9 different areas for 9 different monitors (TV, projector etc.).
(2) It will support for one HDMI, DVI or VGA input.
(3) All HDMI outputs support 1080p.
Application
This product is the high-definition splicing processor for the LCD TV, ultra-narrow LCD display, the projector. Supports the splicer 9-way HDM signal output, and can connect the LCD TV or other display devices.
Function
The built-in scroll caption function can be used to control each of the subtitle scroll, position, speed, font, text and background color through the RS-232 communication interface controlled by the built-in software.
Remote control
Remote control operation can be available. Infrared remote control can control a series of functions splicing processor adjusting settings such as, switch. What's more, with remote control range of remote control up to 7 to 10 meters, with ultra-sensitive design.
Function
HDMI Input
9 WAY HDM Signal Output
1 HDMI input and 9 HDMI out
.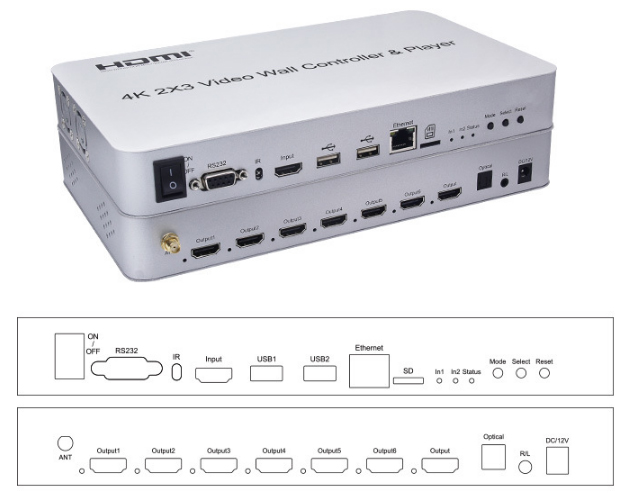 SPECIFICATIONS:

OperatingTemperatureRange

-5 to +35℃(+23 to +95℉)

OperatingHumidityRange

5 to 90%RH (No Condensation)

Video Input(Transmitter)

1xHDMI Type A, 19-pin, female

Video Output(Receiver)

1xHDMI Type A, 19-pin, female

Link(Transmitter/ Receiver)

1m~60Kmsingle / Multimode single / Duplex fiber optical cable

Module type required①

SFP Type, Single / Multi mode ,Single / Duplex fiber (optional)

Video Format

4K@60Hz YUV 4:2:0, 1080P@60Hz, 1080i, 720P, 576P, 480P

Audio Format

Support LPCM 7.1, Dolby True HD, DTS-HD Master Audio .

HDCP Input

HDCP 2.2, HDCP 1.4

HDCP Output

HDCP 1.4

Power consumption

Transmitter: 3watts(Maximum)

Receive: 3watts(Maximum)

Dimension (L×W×H)

Transmitter: 96*100*25mm

Receive: 96*100*25mm

Net Weight

475g(Pair)
.
Other Hdmi Product