Uncompressed VGA Fiber Optic Extender bilateral audio ,RS232 ,4 USB2.0 ,1920x1080P@60Hz
Uncompressed VGA Fiber Optic Extender bilateral audio ,RS232 ,4 USB2.0 ,1920x1080P@60Hz
VGA loop output on transmitter

Supports computer resolutions up to 1920x1080

Plug-and-play functionality - no software required

10km single mode fiber (SM)

Supports stereo speakers
Uncompressed VGA Fiber Optic Extender bilateral audio ,RS232 ,4 USB2.0 ,1920x1080P@60Hz
Main features
Processes fiber signals from FOX Series transmitters and delivers VGA, stereo audio and RS-232 control signals
Fully digital technology delivers pixel-perfect transmission of signals up to 1920x1080P@60Hz.

850nm multimode model for medium range transmissions up to 2km or 1310nm single mode model for extreme distances up to 30km
LED indicators for real-time status for troubleshooting and monitoring
Alarm indication in case of line interruption

The receiver is ideal for many different applications where high-quality transmission of high-definition content over long distances is required. Because the content transmitted over fiber is secure from outside access, applications using fiber are preferred in government, military and medical applications. The FOXBOX Rx VGA has connectors for industry standard LC connectors.

This model of VGA extender is available in singlemode and multimode versions. It's VGA MM supports 850 nm multimode fiber, which is mostly used in buildings or facilities with medium transmission distances. It's VGA SM accepts both singlemode and multimode 1310 nm fiber. Very long transmission distances of up to 30 km are possible with singlemode fiber. Singlemode is used in very large facilities, such as airports and stadiums, as well as to connect over very long distances, such as between buildings in a university.

The receiver and corresponding transmitter can be controlled and configured via the RS-232 port on the transmitter. With a second fiber optic connection installed, functions for both devices can be controlled from either location. Since the receiver is typically located far from the transmitter, this capability provides significant flexibility and allows for adjustment and calibration of video and audio at the receiver. It also enables status checks of the fiber link between the transmitter and receiver.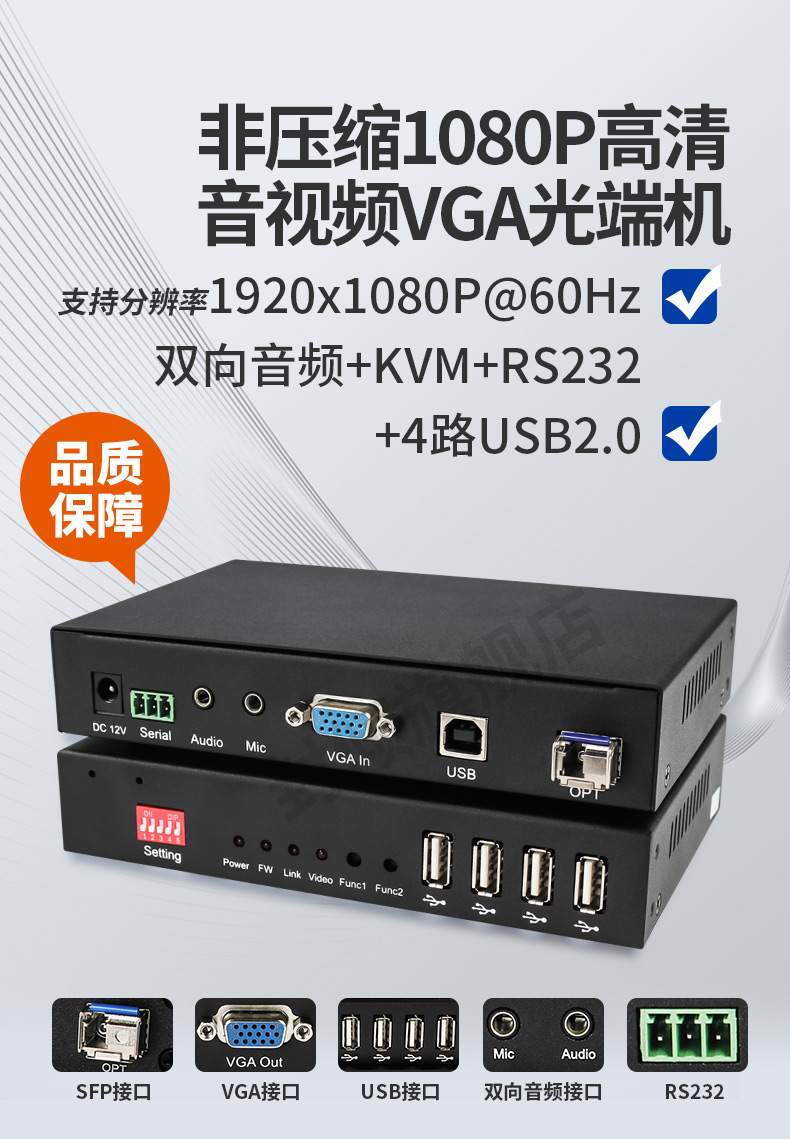 SPECIFICATIONS:

OperatingTemperatureRange

-5 to +35℃(+23 to +95℉)

OperatingHumidityRange

5 to 90%RH (No Condensation)

Video Input(Transmitter)

1xHDMI Type A, 19-pin, female

Video Output(Receiver)

1xHDMI Type A, 19-pin, female

Link(Transmitter/ Receiver)

1m~60Kmsingle / Multimode single / Duplex fiber optical cable

Module type required①

SFP Type, Single / Multi mode ,Single / Duplex fiber (optional)

Video Format

4K@60Hz YUV 4:2:0, 1080P@60Hz, 1080i, 720P, 576P, 480P

Audio Format

Support LPCM 7.1, Dolby True HD, DTS-HD Master Audio .

HDCP Input

HDCP 2.2, HDCP 1.4

HDCP Output

HDCP 1.4

Power consumption

Transmitter: 3watts(Maximum)

Receive: 3watts(Maximum)

Dimension (L×W×H)

Transmitter: 96*100*25mm

Receive: 96*100*25mm

Net Weight

475g(Pair)
.
Other signal Extend Product
Other Hdmi Product